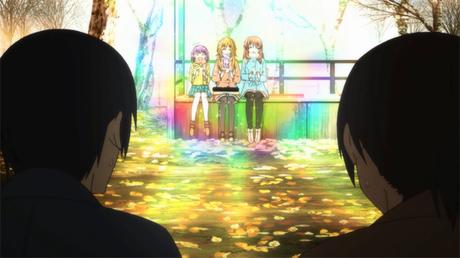 Dem SHAFT colours!!!
Something in this week's show made me think a lot, when it comes to family in anime. When it comes to shows set around school, the parents aren't there. In Koufuku Graffiti's case, it's that Ryou's mom and dad live and work abroad, but I've seen plenty of shows where they do exist and live under the same roof, only their presence is not shown. And the reason behind this, I think, is because they're just not needed for the show to flow. Taking K-on! as an example…we didn't see Yui or Ui's folks because we didn't need to; airhead Yui and yandere Ui ruled the home, and it was only in the movie where we got to see them. So as for Ryou's parents? They had some mystery job abroad, but I didn't care what.
I'm kind of straying away, but I did find this episode to be dull. Very dull. Ryou and Kirin had to do their entrance exams, while we had some stray thoughts on how lonely Ryou was (or wasn't) living alone. A filler show would have at least something mildly interesting, so I'm more than a little disappointed. Not even the running joke of Ryou's parents having super-duper secret jobs helped, although thinking on how she could have turned out (in Kirin's crazy little head) was…weird.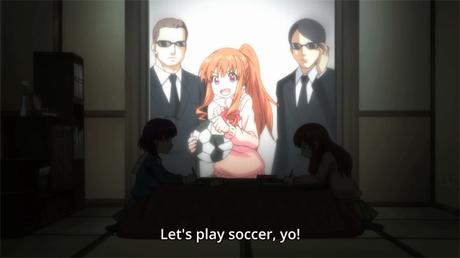 Kansai Ryou let loose.
I guess we can only wait until next week's finale; of course we all know that Ryou, Kirin and Shiina will end up at the same high school and carry on eating wonderful bento lunches and that Ryou and Kirin will carry on being waifu and husbando and adopt a child or something, and everyone (including Yuuki downstairs) will live happily ever after. Bah, I'm only joking, but this is a show where the unexpected won't happen, even it is a SHAFT show. But to this day, right when the show started, I immediately compared it to Hidamari Sketch…only without the super-wide faces…just super-wide…appetites? Wait, does that even sound right? Today's a poor grammar day for me.
But I can tell you something else: the food porn effect has just become so meh; like I'm so attuned to it, I just forget about it and almost wait for it to be over. A shame really since the food porn was what SHAFT wanted to bring in their viewers. I wonder, do other viewers of the show feel the same way at this point?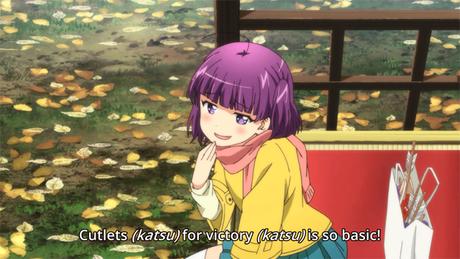 Well, once the Spring season starts, I might well just get back to appreciating the wonders of fast food again.