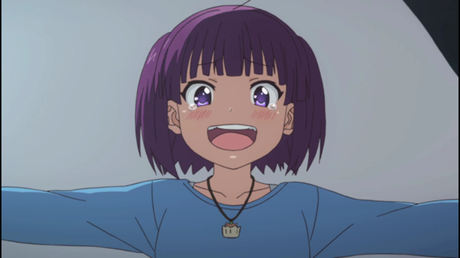 A perfect landing!
Well it was only last week when I was moaning about the girl downstairs, well here she is in the flesh…and she seriously wasn't the kind of girl I imagined her to be. Here was me thinking she would be just your average everyday working girl with no real qualities about her. You know those types; they're everywhere in every anime that ever exists. So I was actually pleasantly surprised at how this downstairs neighbor was represented.
This week belonged not to Ryo or Kirin, and not even the food surprisingly; it belonged to Yuuki. Call her the human Yuki Nagato multiplied by 100. She hated and was scared of the outside world, and ate take-out pizza everyday. A bit of a nod to a past SHAFT show, Denpa Onna to Seishun Otoko, perhaps? The lead girl in that only found comfort in her futon and ate nothing but pizza…Well anyway, I've always been attracted to dandere characters like Yuki, and Shiori from Tamako Market.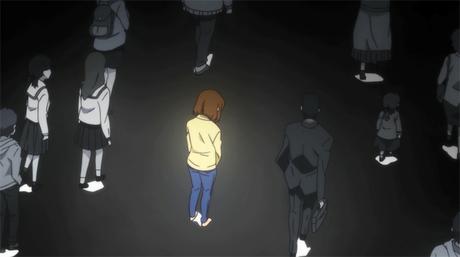 I do have to tell you that I could feel so much for Yuuki, having been there and worn the t-shirt whilst I was at high school and most of college, but I won't discuss my personal life…instead I'll say I'd be the kind of person that would see her, feel incredibly sorry for, and immediately give a hug. But then again she'd probably freak out at the fact a total stranger (and a male one at that!) would want to do such a thing. And I'd no doubt freak out if 2 middle-school girls came to crash in my apartment unannounced and ate my pizza with such orgasmic looks on their face.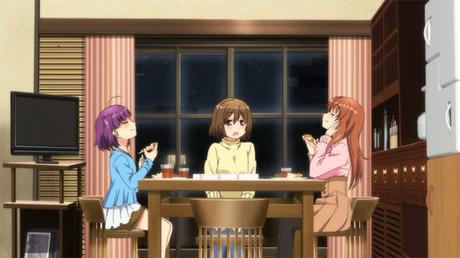 I'd be in her shoes too.
The food porn was just basic this week, or maybe something as basic as takeout pizza was perfect for Yuuki's little word. It was all she ever seemed to eat since leaving her family home, so actually making a pizza from scratch would sort of ruin the fun. I mean they still ate it with incredible pleasure, no? But I have to tell you that it did strike me as a little odd was that the food porn didn't crop up so much this week, with only Ryo and Kirin savoring Yuuki's takeout pizza while she's watching totally clueless. Well did I not say last week how Ryo would show her love of food to the neighbor downstairs with that airhead smile on her face? Not entirely sure if Yuuki understood how the melted cheese inside the crust tasted so good, or how the meat with pepper was so hot but too tasty for words. Well this is just another episode that goes back to episode 1; back before Ryo met Kirin, and how she couldn't appreciate the food she made because it made her feel so sad and depressed because it constantly reminded her of her grandma. Will we see more of Yuuki? Well maybe. She might crop up again if they decide to do a special episode or something. Christmas could be the theme, and she'd be invited to Ryo's party and everyone would go all orgasmic over Christmas food, even the spare potato chips and Pocky bought from the convenience store.
Unfortunately we never really got to understand how Yuuki felt at the end of it all. You'd think that, with the help of her neighbour, she'd appreciate the taste of her takeout pizzas more. Perhaps it was the fact that, because the episode was largely from Yuuki's point-of-view, her life of having no real contact with people aside from her family. Call it a slow and steady push into social life, so let's cheer her on. Dandere characters all need a hug. At the end, it appeared that she was to do something at a high school, and everyone online is already suggesting that's she's going to be a future high school teacher. Facing a classroom of 30-40 adolescents, not to mention other schoolkids and the other teaching staff; she'd be a wreck. She'll need all the pizza she can get her hands on…or maybe Ryo, her probable future student, will end up making her food. That would certainly be interesting to see…I ended up bringing up Yuuki last week and here she was, so maybe next week Ryo will end up feeding Yuuki as well as her husband.