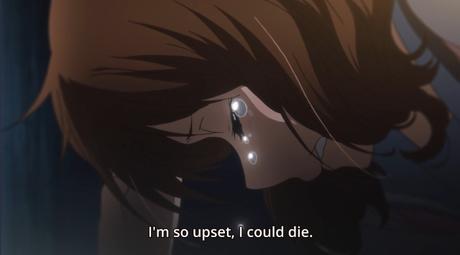 Who said serious emotion and drama in Kyoto Animation was dead? We have been so blinded, it seems, by their school comedies of past that it has become all too refreshing when they choose a new direction. I recall saying something similar when I was reviewing Amagi Brilliant Park. And so what has got to be one of the most powerful episodes in the show (largely because it revolves around Kumiko herself and her inability to improve), a part of me applauded the studio for bringing Kumiko's real reason for playing the euphonium to light (with the help of Reina, the summer heat, and a nose bleed)…and yet the other part saw this still as a filler. And here was me thinking Episode 12 would be the last one. But while I'm loving the show, so much of me wants it to just end already. And the one reason is because we know what the ending will be. That's the one curse of KyoAni: happy endings.
I don't know if it was me but while the summer break was happening (and the band still kept on practicing), Kumiko just felt like she was in a limbo. I mean she could have had this time off school, but this strange feeling to play her instrument kept her at school, and her failure to perform a certain section and her section leader Asuka refusing to help her only frustrated her even more. Also, it was only until now when I discovered Kumiko's older sister chose to quit so she could put her college studies first (despite not getting her first college choice).
So after all that hard work practicing, she was still cast aside. With all that upset and anger and frustration, she could have quit her instrument, the band and torn up every single music-related item in her room…despite the fact that Reina would no doubt come after her if she did and give her more of a scolding for just giving up on something that well be construed as trivial. Over these part episodes, thought, we have seen Kumiko play her euphonium, and make it into the final audition fine enough. She could well have chosen another instrument (she was planning to after all the moment she started high school), and we can finally see why she chose to stick with what she played in middle school: it's because, deep down, she knows how to play, and she enjoys playing it. While achieving the top mark and winning competitions is something to be most certainly proud of, without the sheer enjoyment of playing an instrument, you're just a machine. While Reina has been playing (and teaching) and has been able to produce natural sound that people can fall in love with, the only person who can make Kumiko's euphonium sound as if it were naturally played is Kumiko herself.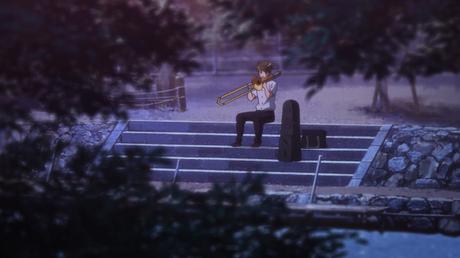 Face it: you're a bad player. Quit already.
Committing to something you firmly believe in, no matter what it is, isn't difficult, once you put your mind to it; Kumiko only needed a couple of nudges by Reina, Hazuki, Midori and even Sensei for her to realize that. But while I say it, I can flip it by saying that losing interest isn't a bad thing; only how you feel matters. Kumiko's older sister and Aoi chose their studies because the spark and the passion in them had just fizzled away; for all we know they could have been fantastic at their instruments…but they both wanted college to be their top priority, so why should some silly brass instrument that I'll never play again once I've graduated matter? We don't know if Kumiko wants to go to a music college, but being happy to play would be the first step if she did decide it. Reina would already be there to help her, after all…
Perhaps there will be a second season, perhaps not. But now I have had a good chance to look at everyone (the first-year harem, the third-year girls, and the miniscule amount of second-years in the band), while we can always rely on Kumiko and Reina being the new Mio and Ritsu, there's always that other couple in the show.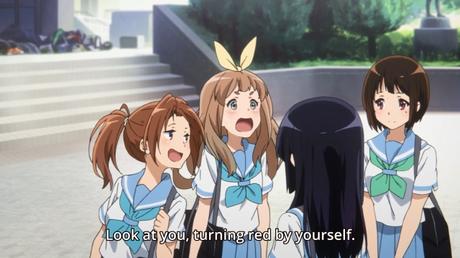 You know it's true.