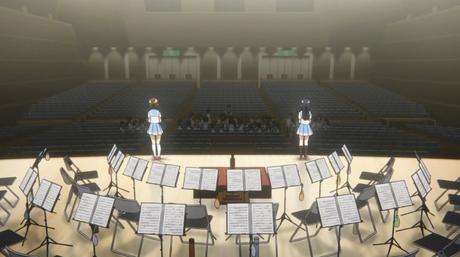 Live coverage courtesy of ESPN pay-per-view.
And so Hibike! Euphonium has finally started to reach its climax, even if the finale will only be the band reaching the competition…or something along the lines of that. I see adaptations of light novels (especially KyoAni adaptations like Chuunibyou and Amagi Brilliant Park) become a mass of filler episodes with only a slither of the main storyline, so it's been absolutely wonderful to see a ongoing story with barely any room for fillers. Okay so perhaps I'm ruling out when we all felt sorry for Hazuki because she couldn't play the tuba and maybe the chemistry between Haruka, Asuka and Kaori. I'm very certain now that we'll see season 2 soon; no doubt it'll have some exotic subtitle like 2nd ensemble or something, instead of masses of exclamation marks. And the sole reason why we'll see a season two is because we've reached so far with only one more episode left, and the competition hasn't even begun yet. And we'd all certainly hope that the drama/romance/music will be at the same level (or better)…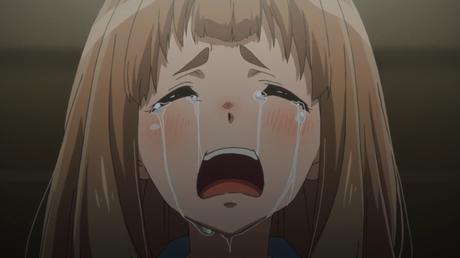 I think a single tear ran down my cheek too.
…because it's the drama that's been the one constant in this show, and has had us loving characters when they do crazy things or soppy things or whatnot; I don't even have to mention last week when chihuahua Yuuko kicked off. Seems now that Reina has taken back the harsh words she said to Kaori (it wasn't shown, but why else would they be having lunch now?), but both of them knew the heat was on. But I will actually have to applaud Yuuko for her act this week. She's changed from that silly middle-school girl clinging to her precious senpai to someone we could actually sympathize with. She has finally realised how good Reina is with her trumpet, and thus effectively putting the favoritism rumors of last week to rest. The final Reina vs. Kaori was quite a sight, as we saw Yuuko's emotions and thoughts on both sides: praise and applause for her beloved Kaori, and shock and wonder for her senpai's rival. Being the upperclassman diplomat, Kaori made the right choice I think. Not only would the band have a solo trumpet force to be feared by the competition, but some peace can now be seen between her, Reina and Yuuko. There was nothing Kaori wanted but peace, so by sacrificing her position to be a strong leader of a trumpet section who wouldn't bicker and fight meant she wouldn't look selfish in desperately wanting the solo position, but to her that would be okay because enjoying the music is more important to her, as opposed to Reina who is aiming to become pro and live up to her father.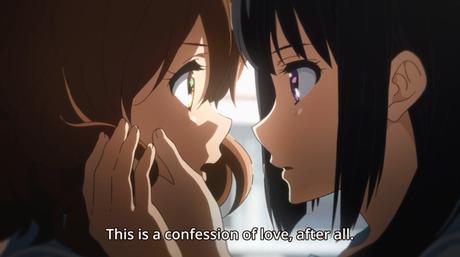 And just when we thought Kumiko x Reina was dead; Anitwitter exploded after this scene, for sure. With their most intimate scene so far, the viewers can safely call this a OTP, even if Reina confessing she has a crush on Sensei. Throughout the show, Kumiko has always had one eye on Reina, whether it be a means to reconcile, or curiosity on how much she stands out among not only her section but to the rest of the band. Confession of love or not, Kumiko knows that Reina needs someone to be on her side. Deliberately standing out and excluding herself from the band's social circles and the school cliques has made Reina sad and depressed, even if she refuses to accept it being the tsundere she is. So even with this potential reconciliation with the remainder of the trumpet section, will Reina feel that much better now she has some more people on her side? Perhaps. But in her lens flare HD eyes, that will pale compared to Kumiko.
The show will be over soon, and we can look forward to the Summer season next month. I will miss this show so much, as will a lot of people no doubt. Has this become the surprise hit of the year? Yeah, I think it has. And so while we (in other words, I) were expecting the hype train to ram into us and deliver something mediocre or okay at the very least, KyoAni are on a bit of a roll right now. Chuunibyou season 2, Tamako Love Story, Amagi Brilliant Park…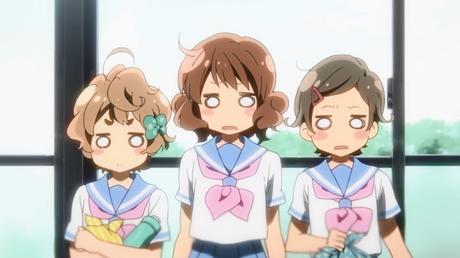 …and here's me talking too quickly. I'll leave the series review for next week.