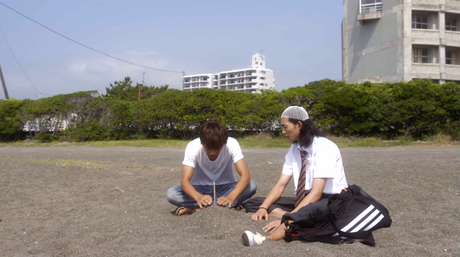 This is taking sand building to a brand new level
Last week's GTO had Kuzuki go on the rampage, Fujikawa submitting to authority, and a pissed Onizuka. All of those problems got solved, except now Onizuka and Fujikawa find out that Ayuna…WAS pregnant.
Summary of Great Teacher Onizuka 2014 Episode 8
Serizawa (Ryo Ryusei) ends up suffering from the complications of hitting his head back in Episode 6 while in basketball practice, and has been diagnosed with a chronic subdural hematoma. Thankfully, it was only minor. However, with his starting spot in jeopardy, he tries to get better quickly and get back to the team, but in showing how healthy he is, he falls back on his head again, and this time suffers major damage to his brain, to the point where he can no longer walk or stand again. Serizawa ends up giving up on everything, and even tries to commit suicide (he can't even do that properly). However, Onizuka, Fujikawa, and Kaeko Furuya (Airi Matsui) manage to save him by getting him to play wheelchair basketball.
My Take
So, not surprisingly, as I watched what was going with Serizawa, I immediately thought back to Takehiko Inoue's REAL series. REAL is what some would call an upgraded version of Slam Dunk for a seinen audience, but I just look at going deeper into why people play basketball, among other reasons. Of course, the hook for that is wheelchair basketball, and how you work around whatever you're disabled with in order to play the sport you love.
As Serizawa ended up dealing with his chronic ailment, the first thought that came to mind is: "Takahashi."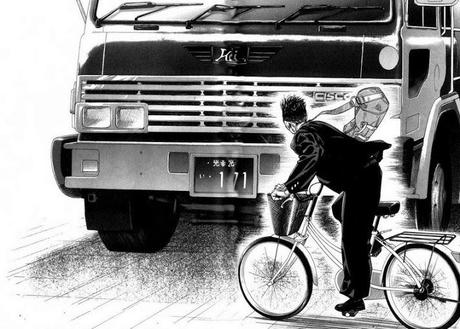 Just like Serizawa, Hisanobu Takahashi was a very good player who pretty much expected to succeed at whatever he does, including basketball. He was the team captain. He was liked by a lot of people in his class. But in a flash, he gets hit by a truck while on a bike, and loses all of his feeling in his legs. Just like Serizawa, he can no longer stand or walk again. And just like Serizawa, he ended up giving into despair and that led him to lash out at his teammates, at people, and just totally not give a crap about what happens to him anymore. So, as the episode was concluding and despite him getting saved, that was the character Serizawa was based off of.
But then I realized I was wrong. The problem with labeling Serizawa as Takahashi would imply that he was an absolute jerk, which is what Takahashi was before he suffered his injury. Hell, he stole the bike and was trying to get away from its owner when he got run over. He was definitely a talented but troubled kid that everyone expected to do well. Serizawa wasn't like that at all.
So instead, he's not a Takahashi. He's instead Kiyoharu. Kiyoharu Togawa.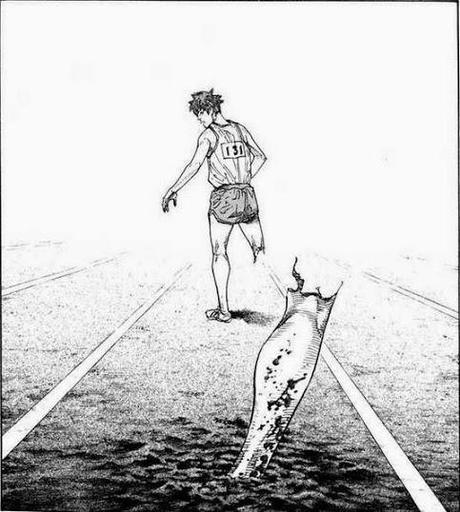 Kiyoharu, unlike Takahashi, was actually a good person who had the support of his friends in track. He was a sprinter, not someone who played basketball, but he was the guy, and the one who even his coach believed had superstar potential. He was going to be great. Unlike Takahashi though, he didn't lose his ability to walk or stand from getting hit — he lost his due to his excessive training that ultimately strained his right leg, and it happened while he was running in a race. He lost it all right there, and in front of a lot of people to boot. After that, just like Serizawa, he didn't want to associate with anyone, and it took a while before he could accept that he could no longer run. Until he met someone who could change his path for the better…
…Just like Onizuka did! Though for Onizuka, who believes in life and in just caring for his friends, responding to Serizawa took a while. Thankfully Serizawa had someone backing him up and who believed in him.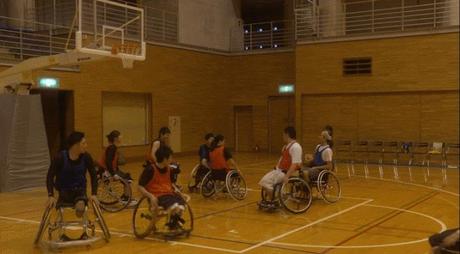 Boy does he suck though
Now you just wonder why the GTO staff doesn't run with the Kaeko/Serizawa ship at this point.
Oh, one last note on Serizawa: why doesn't he know how to land better? This guy…
Ok, one more thing on Serizawa: dude's got some potential as a coach, I think.
Anyways, I think the other point of interest in this episode is how they're gonna incorporate Onizuka's friend, Sawamura, into the next couple of episodes. It was brought up at the end of episode 1, and referred to for much of the season. I expect that'll be tied into any of the events upcoming in this series.
I think the only major arcs upcoming left will be this one with Meiri, who we will finally get to (that sure took a while) and while we have focused on Ayuna for a bit, she hasn't exactly been developed like everyone else, so I'm expecting she'll take center stage too. Then who knows what's gonna happen with this series after that…
The following two tabs change content below.

Justin
Justin is the founder of Organization Anti-Social Geniuses. Anime & manga fan that likes to blog about anime and manga, is addicted to sports, and weak to crossovers. You can follow Justin on Twitter
@Kami_nomi
.

Latest posts by Justin
(see all)
Notes of Great Teacher Onizuka 2014 Episode 8

- August 29, 2014

Manga Worth Reading August 2014

- August 29, 2014

D-Frag! Vol 1 Review

- August 28, 2014

Ed Chavez and The Success of Knights Of Sidonia

- August 27, 2014

Reference Resource Mondays: I'll Feed You Drama

- August 25, 2014