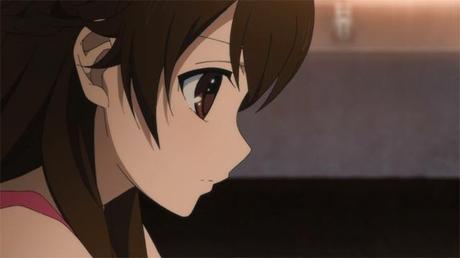 Last week on Glasslip, Sachi made a love confession to both Hiro and Touko, wishing that she be close friends with them both regardless of what happens during the summer. Yukinari returns from his track meet trip to discover Yanagi doing his regular 5.30 runs, and with this the two rekindle as friends and step-siblings. Kakeru's parents explain to Touko about how they feel they've done a poor job in raising their son, which prompts Touko to find Kakeru and tell him about the snowy-scene visions she has now.
Summary of Glasslip Episode 11
Touko and Kakeru begin to contemplate if their relationship can last, as both of them begin to notice differences in each other. Regardless, Kakeru invites her and her family to his house for lunch. Yukinari and Yanagi begin to spend more time with each other, her inviting him to her dance class, and later doing their daily run together. And Sachi asks Hiro if they go hiking, where she apologises to him for putting him in an awkward position in Episode 9. Then Kakeru drops the bombshell on Touko by telling her he might leave town to join his piano-playing mother who plans to tour the world.
My Take
I thought I had enough of filler episodes in shows. But then again, every otaku says that, and then they find episodes where action is nowhere to be seen and everyone's sad and trying (and failing) to deliver emotional words…hell, this episode had the full-length version of the opening theme, so that must mean this is a filler!!!
It might just be me, but the characters just feel like they've all become more and more excruciating to watch. Hiro has always been the grinning idiot, Yukinari has always been the emotionless puppy dog, Kakeru has always been…well…you see where I'm getting at. I'm even starting to get annoyed with Sachi now…
So that just just leaves the others:
Touko: Only because she's the main protagonist. No other real reason now.
Yanagi: For many reasons. Slapping Kakeru when he deserved it, acting tsundere for pretty much the entire show, and looking cute at the same time.
Hina: Onee-chan. She's arrived in the show too little too late, but now she's here, and she may partly be in the show just for humour, but onee-chan's are onee-chan's.
Jonathan: He might not be able to say anything, but his pure and innocent eyes say it all.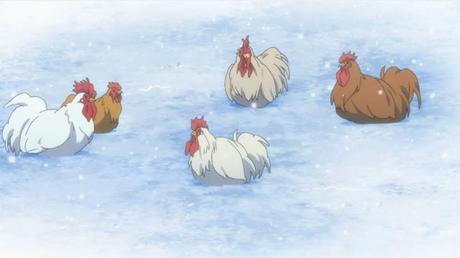 I recall saying something about how the look of the show was annoying me a lot, and now it's just become plain obvious that making the show look like some kind of 'work of art' just makes the whole viewing experience worse. Characters that vary from being good to being bad, along with a script that often makes little sense (especially when Kakeru is in shot)…a 'work of art' in terms of an anime show would have quality/innovative animation, very strong characters, excellent voices and, of course, a good script. I've pretty much lost hope already here, as Glasslip has about…*thinks*…*thinks some more*…25% of that.
This might just have to be the most painful filler episode I have ever seen in my 20 years of anime following. And I wish I was exaggerating. And of all things, the filler episode had to be a P.A Works one too! I wanted a pay-per-view episode with Touko and Yanagi clawing each other. I wanted Sachi to confess to Touko, and only Touko. I wanted Hiro to leave the show. And I wanted Kakeru to turn into a punching bag. I never got any of these things and I'm upset. But we still have 2 more to go, so let's hope something will happen. Anything.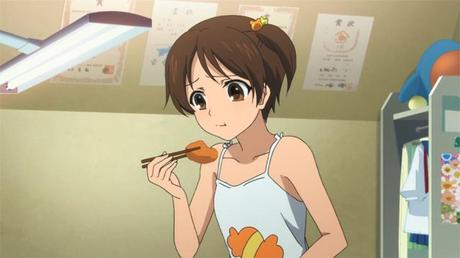 Hang in there, Hina!! Because we are too!!
But watching poor Hina was fun though. Why wasn't she seen more in the earlier episodes?
The following two tabs change content below.


I'm British, and live about an hour outside of London. My first encounter in anime was with bargain bin DVDs at my local rental store, but it was only until around another 5 years later when anime took over me properly...so to speak. I used to turn to fantasy shows a lot (including magical girl shows) but now I'm more of a sucker for school and slice-of-life shows. Don't even turn to me when it comes to mecha; can't stand it. I'm also a Final Fantasy 14 addict. And I'm allergic to mushrooms.


Latest posts by Neomo
(see all)
Notes of Glasslip Episode 11

- September 13, 2014

Notes of Glasslip Episode 10

- September 6, 2014

Notes of Glasslip Episode 9

- August 29, 2014

Notes of Glasslip Episode 8

- August 22, 2014

Hanamonogatari Review

- August 22, 2014