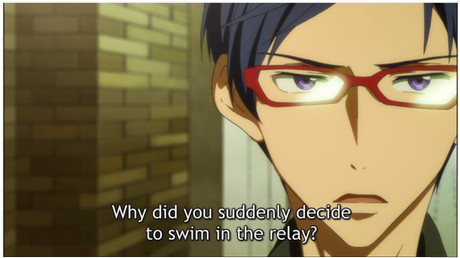 FINALLY! FINALLY! **Ahem** I mean – Yay Rei!
Recap of Episode 10 – Aw!  Aren't they cute?  We get to see Haruka, Nagisa, Makoto and Rin as children and learn a little bit about how we got our predicament in present day.  Not much has really changed, unless you count Rin's teeth getting even more pointy.  In the present, Coach Goro runs them ragged and Rei finally gets upset about everyone going on and on about Rin – which leads to a confrontation between the two! Crazy!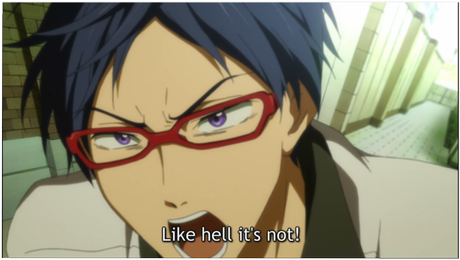 See! See! Rei is awesome! He's the best and I adore him and he is awesome! **ahem** I mean – WOW! He's upset!
Summary of Episode 11 -  So Rei wasn't sick.  He was on his way to Samezuka Academy to face Rin about why he has been so weird and why he decided to join the relay team.  After some intense exchanges, the two go their separate ways.  Back at Iwatobi High School, Coach Goro gives the boys some gift buying money and tells them to go check on Rei – who Goro thinks is sick.  The boys spend some time shopping for Rei and Nagisa spills the beans about Rei's true intentions and what he was probably doing instead of going to swim practice.  They guys show up at Rei's house where he tells them what happened and that "it is not his problem to worry about."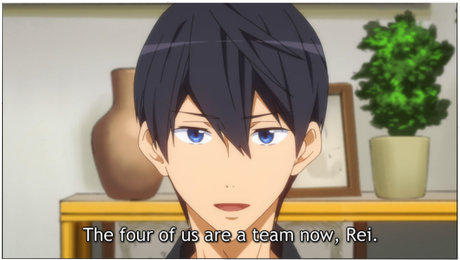 Aw! Haru has feelings!
Next we see the guys head to regionals – bus trip, shopping (again) and finally at the hotel.   Settling in the night before their big race, they talk about being nervous and journey between starting their swim club and where they are now.  Rei goes and meets Rin (at his request), who tells him exactly why he stopped swimming after Haruka beat him all those years ago and his inspiration for wanting to swim in the relay again.  And then we cut to the credits.  Or not!   If you stayed and watched, you found out that Rin was removed from his melody relay team because his coach feels "his mind is else where" and "it is the job of the team to put their best swimmers out there" and he is not performing at his best.  Drama!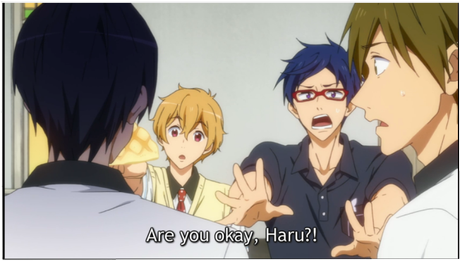 I love how Nagisa is worried about Haruka, while continuing to stuff his mouth full of bread.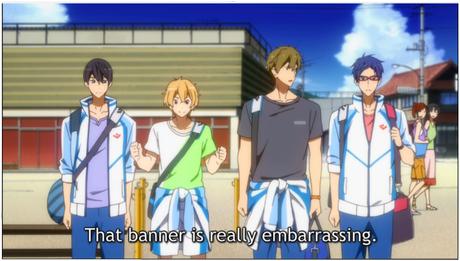 That's not very nice! Even if it's a bad poster.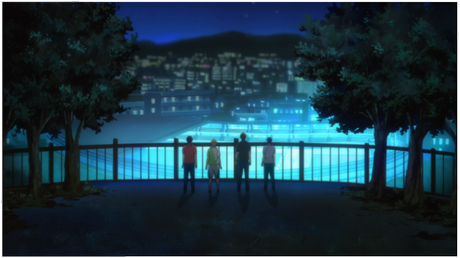 Pretty foreshadowing!
My Take – I'm going to run around and fangirl for a second….. AHHHHH!!!!!  Did you see that?  Did you?  It's like he took all the issues I had with Rin and just went to him and asked "Yo Rin, WTF?"   OK, OK.  In all seriousness, I have to say that the part of that confrontation that I really liked the most was Rei's explanation for why Rin's actions have bugged him so much.  That he is "a victim" in all of this as well.  That all he's wanted is to swim with his team, to work as a team and have the chance to be a successful as a team without the interference of someone who has no right to act like a giant dick.   Rei's frustration weren't based on jealousy or just plain hate, they were based on seeing his teammates – mostly Haruka – suffer because of Rin's own weakness and pride.
Yes, I'm sure telling everyone you know that you're going off to another country to become a swimming god and then return home in order to be beaten by your friend who doesn't really care about the competitive aspect of swimming would kinda suck but honestly it's not a reason to hold a hang up for as long as Rin has and it's that point of the plot behind this entire show that has kinda driven me slightly nutty since day one.   Luckily for the show, it's kinda easy to get distracted.   I mean, there's other things going on… **ahem** Yes. Anyways, I'm a little annoyed it took them so long to clear (and clean) this up but I'm glad they did it.
I'm not sure if I'm ready for the series to be over! Are you?  One more episode left….