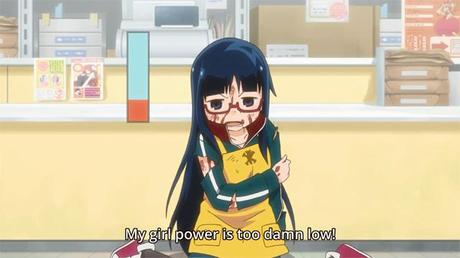 IT'S UNDER 9000!!!
Last week on Denki-Gai no Honya-san, Christmas and the New Year takes over Umanohone. After the Christmas party at Director's apartment, Hio-tan learns that he isn't always the mean person he is whilst at the store. On New Year's Day, Sensei shows Umio a part of town where she goes when she has writers' block.
Summary of Denki-Gai no Honya-San Episode 3
It's Valentine's Day, and all the girls go frantic with worry over who to give chocolate to; Sensei forgets to get some for Umio, and Fu Girl ends up traveling across town to give Sommelier hers, only to discover it's a manga he hasn't read. To add to this, Director has also placed everyone in charge of designing their own manga stalls to show off manga they like to the customers. While everyone already has their stalls up, Hio-tan is stuck because she doesn't have a genre she likes.
My take
The intro episode, check. The first filler episode, check. The Christmas/New Year episode, check. Now…Valentine's Day episode, check. Let's see what we haven't had so far…beach/swimsuit/water park episode. Hot summer episode. Fireworks episode…I could go on. And I can guarantee already that the jokes that we've had in episodes 1, 2 and 3 (and now this one) will crop up in the future ones.
Am I disappointed? I'm not really sure, to be honest. That doesn't mean that I'm praising this show now. At the end of the last show I did for OASG, I said that I was contemplating leaving the slice-of-life genre (one that I've been following for a long time), and yet here I am watching this, thinking it would be kind of funny, but now I'm thinking all sorts of things…most of them negative ones. So now we're a third of the way through. And what do I make of everything and everyone so far? Well…how can I put it in simple words? Dull? Uninteresting? Unexciting? No really, I am. The 3 couples have now firmly been established: Umio/Sensei, Fu Girl/Sommelier, Hio-tan/Director. So Kameko is really…well…not even needed in this show anymore. Unless an episode crops up showcasing her, of course.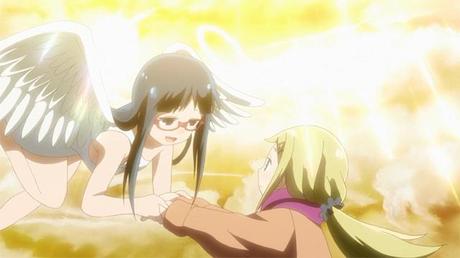 Now where have I seen this before……?
Like in every episode so far, stories seem to be split into two; in this case, it's each character developing manga shelves and Hio-tan finding an idea for one, and Valentine's Day. I can quite easily accept that the producers have so much trouble writing a solid story to keep the viewers hooked that they have to resort to 'fantasy' to fill the gaps. In this instance, Hio-tan gets stuck on what manga she truly likes so, for some reason, Sensei turns into an angel and guides her. Call me incredibly incredibly old-fashioned but this just not flow well at all in this show. That other otaku parody show I love, Lucky Star, didn't bother beating around the bush with 'fantasy'; it just told it like it was, and made the viewers make up their own mind……true there was the so-called school sub-genre in it, but even still Denki-Gai no Honya-san seems to have taken (or attempted to take) this otaku parody genre, develop jokes for it (regardless of whether they're funny or not) and created episodes with stories that are, for the most party, dull as dishwater.
The Sommelier party makes a comeback. And…it was funny the first time. Now I don't even care. The mandatory Valentine's Day story comes up, and someone always forgets (in this case it's Sensei), and there's the mad rush to give chocolates. I don't care. This is something that's quite easily going to become a trend in this show. Okay, so I'll say that this hasn't turned into the car crash that was Glasslip; I mean for some reason I'm quite warming to a couple of the characters. Only a couple though; each time Umio and Sensei blush in front of each other is quite cute and charming, if not predictable. Every other character just has nothing behind them. And that's just the problem with this show; it's too dull and predictable.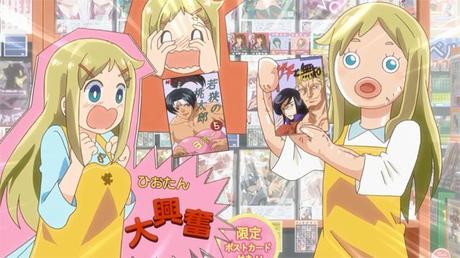 Ummmmmm……