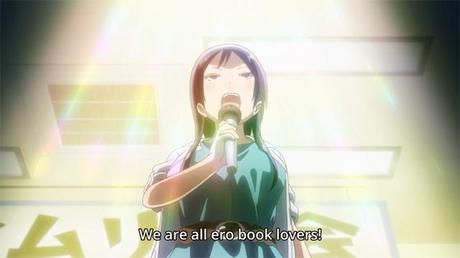 Well put.
My choice for the fall season. For me it was between this and Amagi Brilliant Park; I went for this because…well…doujinshi is doujinshi! I will be keeping a good eye on Amagi Brilliant Park, but Denki-Gai no Honya-San is my episodic review show for OASG.
Summary of Denki-Gai no Honya-San Episode 1
Under the 'eclectic' control of Director, the anime/manga/doujinshi/general otaku store Comic Umannhone is manned by all sorts of otaku boys and girls; mostly girls. The uber-ditzy Hiotan, the elusive Fu Girl, the sleep-deprived mangaka Sensei, the so-cute-it's-terrifying Kameko, the silent genius Sommelier and new recruit Umio. After an unannounced 'government inspection', a party held by the silent Sommelier takes place, revealing his hidden talent of finding the perfect manga/doujinshi for the general public. Later, Sensei realises she has a close deadline, and begs Umio and Hiotan to help her finish her manuscript in time for that well-known comic event we all know.
My Take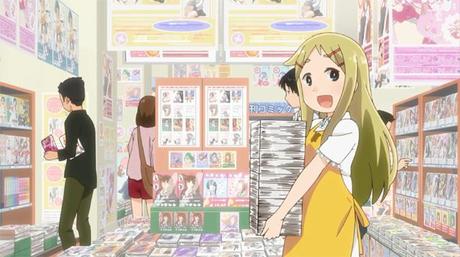 There was something about this show that grabbed me the moment the doors of the store opened. I was just too reminded of Working!!; a good thing I guess, because it had a solid script in terms of highly-amusing comedy mixed with very likable characters. Yes, that's right. I actually liked every single character in this show, which is a total rarity for me. In a lot of shows I watch, there's always at least one character (whether they be main or secondary) that I find faults in, or I just find incredibly annoying. This is certainly refreshing considering how much I disliked so many characters in Glasslip, the show I reviewed in Summer 2014.
The store is just like your everyday anime/manga/doujinshi/other otaku stuff store you see in those shows where schoolchildren flock to after school before they go…I don't know…the arcade, or the local family restaurant or something. But a show would be too boring with just everyday faceless staff; the girls are fangirls, the owner is perverted, and the new recruit is, unsurprisingly, normal. And they're all adorable too. I'm sure we'll all be introduced to them properly, but right now, the "will they, won't they" scenario between Umio and Sensei has started already. Not quite as interesting as Souta and Mahiru in Working!! (the hapless boy and the man-hater), but still just as adorable.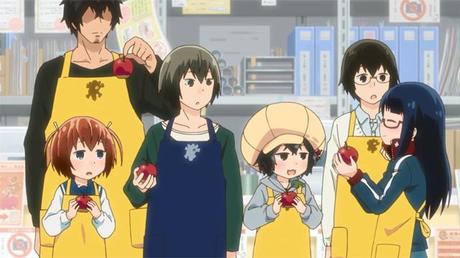 Apples, the food of otaku champions.
After what I experienced in the season before, I was very reluctant to do another slice-of-life show, but I'm glad I chose this. Umio: not an idiot. Sensei: Hopeless, embarrassed at anything, but determined (and the obvious choice for Umio's partner). Sommelier: Silence speaks louder than words. Director: General weirdo. Hiotan, Fu Girl and Kameko: Fangirls. Noone's ordinary here, and that's what makes the show all the more better. And I'm really excited and looking forward for more otaku jokes.
On the other hand, though, Denki-Gai may well have potential of having predictable jokes that might become wary and possibly boring over time. As a fellow hardcore otaku, I'm being optimistic, though.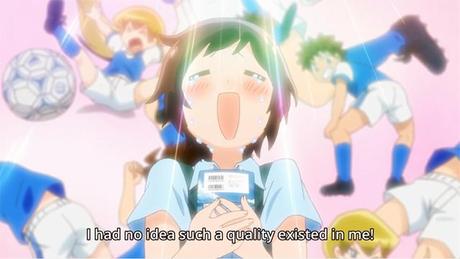 The next convert.
You know you want a party like this; a genius chooses the perfect manga for you. Fans who didn't think soccer manga, uber-long mecha manga, creepy ecchi manga, animal romance manga and…yaoi manga.
The following two tabs change content below.


I'm British, and live about an hour outside of London. My first encounter in anime was with bargain bin DVDs at my local rental store, but it was only until around another 5 years later when anime took over me properly...so to speak. I used to turn to fantasy shows a lot (including magical girl shows) but now I'm more of a sucker for school and slice-of-life shows. Don't even turn to me when it comes to mecha; can't stand it. I'm also a Final Fantasy 14 addict. And I'm allergic to mushrooms.


Latest posts by Neomo
(see all)
Notes of Denki-Gai no Honya-San Episode 1

- October 3, 2014

Notes of Glasslip Episode 13 + Series Review

- September 28, 2014

Notes of Glasslip Episode 12

- September 20, 2014

Notes of Glasslip Episode 11

- September 13, 2014

Notes of Glasslip Episode 10

- September 6, 2014