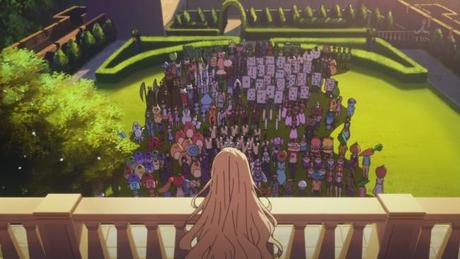 The awkward silence.
Last week on Amagi Brilliant Park, transfer student Isuzu Sento makes Seiya Kanie go out with her on a date, to the rundown Amagi Brilliant Park. Seeing worn-out rides and attractions, tacky merchandise and low-paid and bored staff, Izusu then shows Seiya the theme park's true side: manned mostly by a group of people from Maple Land. Seiya meets the manager, Latifa, who gives her the power to hear other peoples' thoughts.
Summary of Amagi Briliant Park Episode 2
After another visit to the park, where he and Isuzu are met by local management who deliver them the harsh truth about the imminent closure, Seiya contemplates whether he should accept the role Latifa gave him: to be the new manager of the park. But after witnessing an out-of-hand and emotional meeting with the Maple Land community when Latifa announces the park will close, he eventually gives in. His first decision: closing the park the next day for refurbishment.
My take
Many many people would think, by seeing a lot of new shows, that episode 1 would be the one that would bring the characters in and let the story establish. Sure it has, but in this case, episode 2 does the job better. Now we know Seiya has this special magical sparkly power that he only use once per person (and that Isuzu has quite easily taken advantage of already), now we know that bears and lambs and lollipops can talk, now we know that Latifa is the moe of the show, now we know that Isuzu is in fact the rock of the park (instead of Latifa), and now we know that the theme park isn't just some place; it's a life-or-death situation for Maple Land.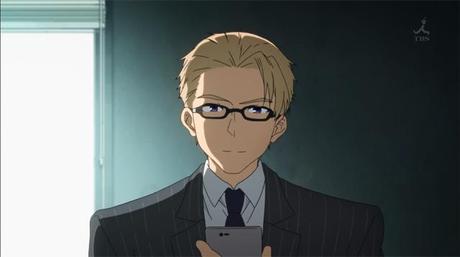 The friendliest council guy you've ever met.
With the eyes of a true villain, this guy just looks so nice and friendly when he says he wants the Amagi Brilliant Park land for…I don't know…to build housing, a shopping mall, or maybe a car park for the love hotel next-door. But now we can see some emotion from poor Isuzu and poor Latifa. And there was me thinking Isuzu was entirely human but from Maple Land, and isn't quite accustomed to how humans act……I don't know why that fact didn't cross my mind last week. I'm an idiot. But it isn't as if she isn't without passion…here we can see she's absolutely oozing with it. We now know the park needs the right number of visitors or they have to find work in other rival parks (or 'cease to be') and both she and Latifa are desperate for former child actor-in-denial Seiya to take charge. Why him? Well we'll find out, I'd say, three-quarters of the way in the show, when those visions/flashbacks/whatever they were were revealed.
I don't know if it's safe to say that Kyoto Animation are starting to take risks now. I mean, this show isn't set at school at all. School shows are their forte; it's as if it's all they know…or maybe it's that they're too afraid if that they stray too far from those school gates, shows will crumble within a heartbeat. Kyoukai no Kanata has immortals, Tamako Market has a marketplace and a talking bird, and now in Amagi Brilliant Park, our hero has mountains of business paperwork to deal with as well as his schoolwork. So in a way, I'm very pleasantly surprised that, after only 2 episodes, Amagi Brilliant Park hasn't gone down the school route this time around. KyoAni fans will see show traits and won't have to worry about that much deviation, but aside from that, I'm happy to say that this show is KyoAni's best this year so far.
And maybe the park will succeed like Seiya promised, and that nice guy will pay a visit and leave with a big smile on his face, that he'll get beaten up by the gang-of-three in the show: Moffle, Macaroon and Tiramie…who I already love to bits now.