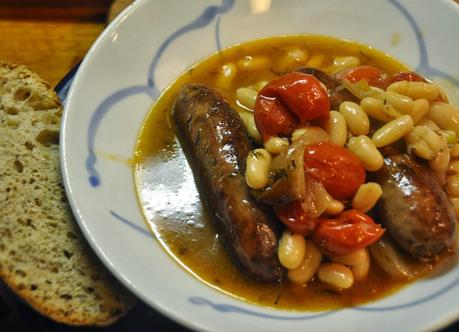 No, not Beanie Weenie but Italian Sausages with Cannellini Beans. This is an amazingly easy, incredibly tasty, one-dish meal. It fills the house with an aroma that makes you think an Italian nonna has been slaving away in the kitchen for hours. Thanks to Sam Hoffer of My Carolina Kitchen for sharing it. .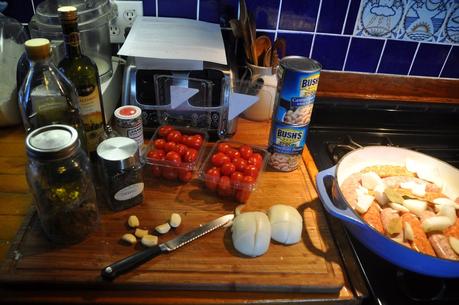 The only prep is chopping onions and garlic. Otherwise you just dump the ingredients in a roasting pan, put it in a hot oven, and wait for the magic to happen.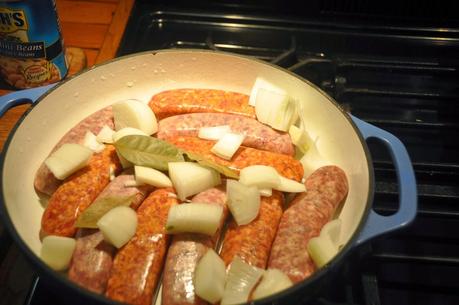 This is my version of Sam's recipe (which, in turn, was a version of someone else's.) I like more onion and garlic and fewer beans.
2 lbs. Italian sausage links (I used 1 lb. sweet, 1 lb. hot)
2 pints cherry (or grape) tomatoes
2 medium large onions, cut in 1 1/2 inch chunks
8 cloves garlic, sliced
3 tablespoons extra virgin olive oil
1 1/2 tablespoon balsamic vinegar
2 teaspoons dried thyme
3 bay leaves
Salt and freshly ground black pepper
2 cans (about 16 oz. each) cannellini beans, undrained
Put oven rack at lowest position and heat oven to 425 F.
Pt all the ingredients EXCEPT the beans in a heavy casserole or roasting pan. Put in oven and roast till sausages are brown and tomatoes have reduced to a thickish sauce -- about 45 minutes.
 Remove from oven, stir in beans, turn sausages and arrange across top to brown their undersides, and return to oven for another 10-15 minutes.
 Remove bay leaves and serve with crusty bread for dipping, a simple green salad, and maybe a nice glass of wine. Serves 4 or 5 very hearty eaters (two sausages apiece) or (with another can of beans) 8 or 10 moderate eaters.
Mama mia, that's good!
Click 
HERE
 for Sam's version -- it includes a buttered crumb topping which I totally forgot to do.