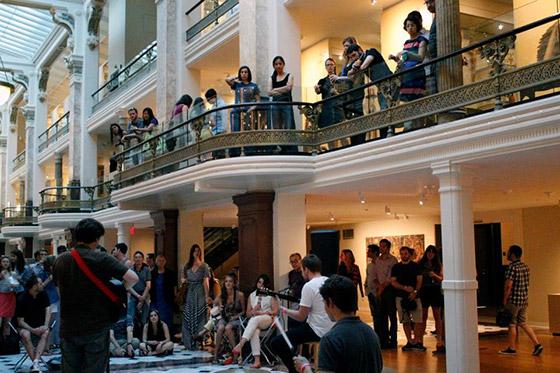 Locals enjoy the music of More Humans at the Luce Foundation Center's Luce Unplugged
Last Friday night, American Art's Luce Foundation Center hosted local bands, brews and great art all in one place— and with no cover charge. Amid the 3,000 artworks located in the Luce Center, we presented the latest installment of our Luce Unplugged Community Showcase.
Art museum-turned-concert venue, the Luce Center once again teamed up with City Paper to present an eclectic lineup of local talent: America Hearts, Lyriciss, and More Humans. This sampling of local music was served up with a sampling of local beer from Alexandria's own Port City Brewing Company. Each of the three acts also paired their music with artworks currently on display, sending concert-goers upstairs to check them out.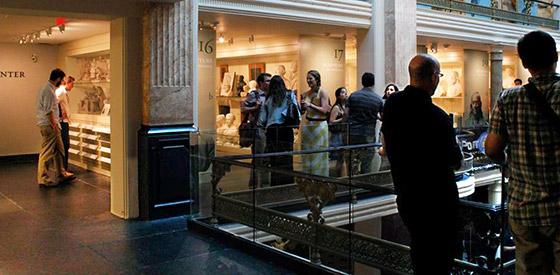 Concert-goers explore the art as the band plays.
America Hearts kicked off the night with a set that could have easily been transported from a divey nightclub. But even while jumping around and surging their electric pulse to the weekend-ready crowd, they couldn't help but take note of the sculptures and Victorian-era architecture around them. Before they dove right back into their unapologetic blend of garage rock and quirky pop, frontwoman Jess Matthews paused just for a second to admit this was the one of nicest places they've ever played. American Hearts chose to pair their new song "I Like Bad Music" with a delicate portrait miniature entitled Brother of the Van Buren Family, which reminded them of Kirsten Dunst as Marie Antoinette, "young and privileged" in a small Polaroid-like keepsake. The song will soon be added to our ongoing Luce Unplugged Mix Tape audio tour.
Next up, Metro area native Lyriciss spent much of his set paying tribute to his DC-Maryland roots, sharing how they have fostered his own upbringing, outlook, and hip hop stylings. He also fittingly chose a painting that reflects these experiences, Blind Musician by William H. Johnson:
Blind Musician speaks to me because I feel it represents any artist dealing with the perils of being involved with the politics of art...It's almost like walking blind with nothing but our talent, and that definitely speaks for me and my career.
Rap artists always bring a unique, expressive presence to the Luce Center, and Lyriciss epitomized this on Friday. It became clear why he has reached wide audiences in recent years (notably donning a Washington Nationals cap in a music video that has well over 50,000 views).
Alt-rock trio More Humans turned things down a bit to finish the night. Their intimate, acoustic set provided the "unplugged" portion of the evening. And they reminded us how stripped-down sets can sound great in our museum space, thanks to the band's fine-tuned musicianship and vocal harmonies. More Humans chose Wayne Thiebaud's painting Three Sandwiches, calling it "simultaneously straightforward and alienating," a beautiful description also reminiscent of their own haunting music. They too brought fresh material for their setlist. Old and new fans closed in and around (and above!) the band, lining along the mezzanine as the natural lighting of the Luce Center gradually dimmed to reflect the approaching night through the skylight.
Before wandering out of the museum after-hours to carry on with Friday night, it was gratifying to hear how many visitors appreciated not only the night's local music, but American Art's collection which they explored during the various musical sets. There's nothing like experiencing art in a new way!
The monthly Luce Unplugged series will be back again this summer on Sunday afternoons, so come get to know this interesting new local music venue.