I got up early this morning. I heard my phone vibrate, assumed it was my alarm and jumped out of bed and turned on the lights. Then I realized it was 2:30 am. Whoops. I never fully got back to sleep, so I got out of bed a couple of hours later and washed my hair (yay!) and picked out a decent outfit to wear.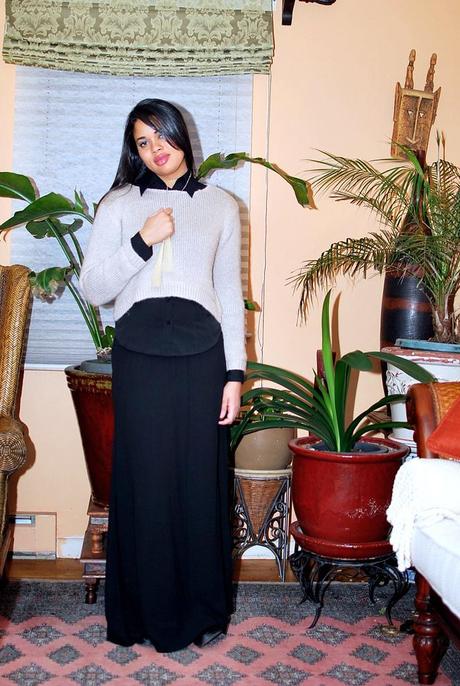 I wanted to be comfortable, but suspected my boss would give me the side eye if I came into work wearing jeans again. So I went for a long skirt. I threw on a black button-down and was going to leave it at that, then I realized it's not 1995 and I'm not an extra in The Craft. I added some color and some horse hair tassles and took photos before the sun was even fully out.
Also, I owe you folks a picture of my ear. That's not code for something weird- I got three studs in my cartilage in January and have been meaning to take photos of it since then! I went to Chameleon tattoo in Cambridge, where I got my second tattoo TEN YEARS AGO. Wow, does that make me feel old. I was lucky enough to go in when Owen was there. He did a great job with the piercing and I contemplated asking for his hand in marriage until I saw that someone had beat me to it. Seriously, so adorable.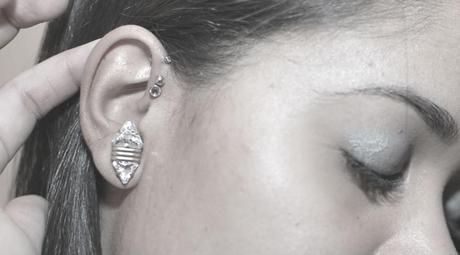 Sweater- H&M
Shirt- Express
Skirt- Eileen Fisher (swapped)
Necklace- Covetous Creatures
Share/Bookmark