...because this time the tournament is fairly in nearby beautiful Durango, Colorado.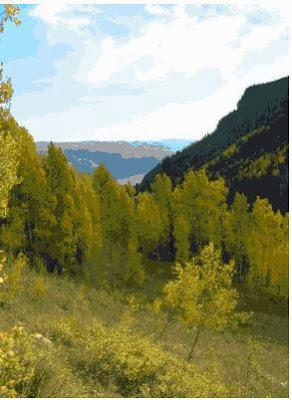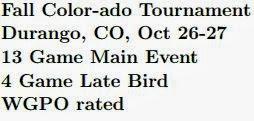 In a few hours I'll be on the road to Durango to fling down tiles over the next two days.  All the details are here.  It should be a beautiful road trip with the fall colors still displayed.
In this morning's Daily Mail there was a post about 101 ways to win at Scrabble, a small book by Barry Goldman.  The tips are what most tournament players already know, but darned if he won't make a mint of money on his little book because he got great print media coverage for his production.  Well, good on him.  He does not mention cheating of any sort.  (By the way, if you want to read of my little heartbreak with a cheating scandal five years ago in a Calgary tournament, check out my prior post from 2008.)
The Apple app Words With Friends is a really fun game, in my humble opinion.  But people do cheat there (a lot) with a cheater app, so it is really just a fun kind of way to learn new words withouth taking the game seriously, win or lose.  My friend Ginger played the word ZAPTIEH and told me she looked it up; she got over 125 points for it, if I remember correctly. We both laughed and decided neither of us would remember that word.
If you play Scrabble and want to play me on WWF, invite me with my handle of "templeton7" and I'll be sure to let you beat me.
Onward!