Even though nothing I planned for this new abstract painting has worked out as I expected it to so far, I haven't given up!  Half-awake before falling asleep, I saw the painting in my mind and tried out things I thought might work.
In the morning, I began to execute:  I drew freehand circle shapes, large and small, beginning with lemon yellow at the top of the painting and working my way down through cadmium yellow, indian yellow, orange, and so forth.  After I drew the circles in each color, I filled them in with paint mixed with glaze so that the image beneath would still be visible. 
I managed to finish the top half of the painting: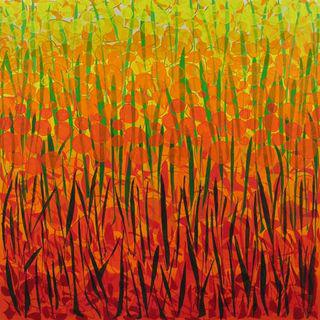 Canvas #125, 44" x 44" acrylic on canvas.
I like it better so far--we'll see what the next painting session brings!