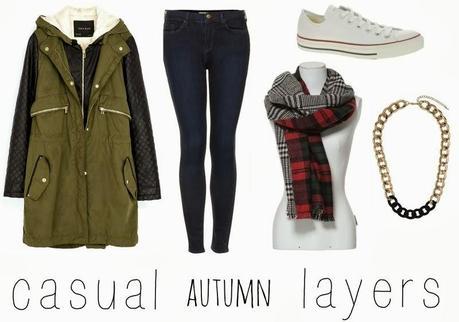 Zara 
Khaki Jacket Topshop Indigo Jeans Zara Tartan and Tweed Scarf  Converse White Trainers Topshop Gold and Black Chain
Ok, so the seasons have changed! Dark in the mornings and the sun setting by 6.30pm, it's officially autumn. This does mean, however, we get to start layering up our clothes and bringing out those comfy knits from last year, slinging on some boots and a scarf and feeling snug. Yey! I'm loving all of the above - what a perfect chilled outfit it'd make?!
Talking of shopping, this is a bit of a fail I suppose, as I'm vouching to not buy any clothes for the whole of October. Yesterday Kat and I made a very exciting booking - we're going to Paris for two days in October half term! We were very kindly given two free tickets to Disneyland Paris, so have snapped up some fairly reasonable Eurostar tickets (and a cheapie hotel at some point) and can't wait for 48 hours of French loveliness. I absolutely love Paris; the architecture, food, culture... I just love it. Rich and I went about six years ago for our first ever trip away together, and I've been dying to go back ever since. Granted, it wont be the romantic trip we had last time (watch out Kat!), but I can't wait to really explore and see the sights with my pal. Anyway, as a result I need to be a bit careful of the pennies and with Christmas fast approaching (yes, I said it), so a shopping ban is impending.
This is going to be tricky!