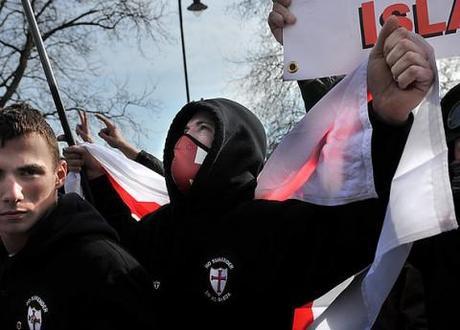 English Defence League march in support of Geert Wilders, March, 2010. Photo credit: Belkus
The head of Norway's intelligence services has said she thinks massacre suspect Anders Behring Breivik acted entirely alone in carrying out Friday's twin terror attacks which left 76 dead. But that has not stopped speculation that Breivik had significant links to far-right extremist groups including the English Defense League (EDL). Meanwhile Norwegian police say they have
detonated a cache of explosives
found at a farm north of Oslo which Breivik had rented.
"At this moment in time, we don't have evidence or we don't have indications that he has been part of a broader movement or that he has been in connection with other cells or that there are other cells," Janne Kristiansen, head of the PST security police, told the BBC. Her verdict did not tally with Breivik's assertion that he knew of "two more cells" planning similar attacks or claims by anti-racism campaigners that Breivik had developed links to extremist organisations.
Reading through the manifesto, Norwegian police have learnt that Breivik planned a "second operation" after "breaking out of prison," tweeted Ketil B. Stensrud.
'Sigurd' and the EDL. The Guardian reported that anti-racism campaigners Searchlight have discovered that Breivik used the pseudonym of 12th-century Norwegian king Sigurd to communicate with people on the EDL forum as recently as March. In one posting the author described the EDL as "a blessing to all in Europe, in these dark times all of Europe are looking to you in such [sic] of inspiration, courage and even hope that we might turn this evil trend with islamisation all across our continent." The link between Breivik and the EDL is seemingly stood up by Breivik's many, mostly supportive mentions of the EDL in his 1,500-page manifesto. In the document, he claimed to be "one of the individuals who supplied them with processed ideological material (including rhetorical strategies) in the very beginning." However, at another point, Breivik described the EDL as "naïve fools."
In their own words, the EDL are "fed up and sick to the back teeth of Islamic extremism in the UK." The group, best-known for its provocative streets demonstrations, was formed in Luton in 2009.
EDL leadership deny links. The EDL leadership has denied any links to Breivik and, in a series of statements, has condemned the killings and insisted it rejects all forms of extremism. Stephen Lennon, the leader of the EDL, told the BBC on Monday he had never met Breivik and added that he did not believe the Norwegian had attended any EDL demonstration. However, The Guardian reported that there have been claims that Breivik attended EDL demonstrations in London and Newcastle upon Tyne last year.
"As well as being completely unjustifiable, the attacks in Norway were in no way a direct or coherent response to the particular problem that Norwegians have with radical Islam. But that is not to say that these problems do not exist, or that any country in the world is immune from what radical Muslims believe to be a truly global jihad," stated an EDL statement.
Muslim Council: Link is worrying. "The lesson from Norway is to always be prepared and I think given Breivik's connections with the EDL, given how closely he was fraternising and how closely he was communicating with the EDL we have to be concerned," Faisal Hanjro, spokesperson for the Muslim Council of Britain, told Dina Rickman at Huffington Post UK.
Hysterical reaction in unhelpful. Writing at The Guardian, Simon Jenkins hit out at the "hysterical British reaction" to the attacks: "We do not need a mass killing in Norway to know that the English Defence League and British National Party are distasteful and xenophobic organisations. The 'experts in far-right studies' emerging from British universities to suggest 'possible link' merely feed the hysteria, publicising what is best ignored." Jenkins insisted it was wrong of Prime Minister David Cameron to "leap forward" and order a review of the far right: "The hysteria of the moment may require a knee jerk from those in power, but why the national security council was summoned, or 'a review of our security at home' needed, is a mystery."
More on immigration and extremism

How many more Breiviks are there out there?
What Anders Breivik means for Norway and Europe
Far right could rise in UK
Geert Wilders acquitted of hate speech
True Finns' election surge rocks European Union