One may wonder that for almost four days, I just took these four visits, plus some walks in the city. But such a slow pace allows me to absorb more of a place and its people.
I had always had this magical love for Norway, and strangely enough part of it stems from the fact that some regions of the country lie well above the Arctic Circle. It is my dream to visit those parts during the winter, when the mercury dips well below minus 30 and the sun can stay away for days.  But for now, I had to contend myself with visiting just Oslo, and that too during the summer with long days and short nights.
I come from Asia where most of the time days and nights are equally divided but have lived in Europe before moving to southern Canada where longer summer days and shorter winter days are common. Yet, as one evening I drove and then walked up to Ekeberg, which is a short ride from Oslo city center to its south east, passing a camping site and into a wooded area, the sun was shining very brightly, and this was my first hint that the northern European summers are different. They are very long.
A short while later, I walked past the Ekeberg Restaurant, where dozens sat in the patio and cozied up to the view around them, and came to an edge that gave me a panoramic view of the Oslo city, including the Opera House, the Harbour with the majestic cruise liners and the Oslo fjord.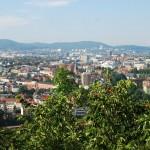 View from Ekeberg
A day later, my friend and I were seated outside on his deck and deeply engaged in catching up — I had met him after about thirty years — while he was sipping vodka and I beer, and suddenly the realization dawned on me that it was almost four am. Darkness had enveloped the city well past eleven pm, and at some point past midnight we decided to call it a night, but went on to talk more. And now, as I watched the time on the cell phone and then looked up at the sky, I saw the first hint of day light and my heart skipped. I quickly counted the hours — just about four hours of darkness.
A Connected City
Oslo is a connected city. It has a fantastic underground train system – the T -bane subway/metro system, as well as a tram/street car and a bus network. Of course, like all other major European nations, it also has a fantastic rail network connecting the country though I could not enjoy it during this trip.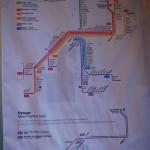 Oslo Public Transit Map
But there is no flamboyance in the city. There are not many skyscrapers and even those chic ones appearing across the Opera House or on the Aker Brygge Promenade cannot be compared to the tall ones being erected in Toronto, Canada.
But they are colourful, in keeping with the Scandinavian tradition. There are at least two reasons given for the strong red, yellow and white tones of the buildings: the first one being the color depended on geography and the financial situation of the house owner, with red paint being the cheapest produce while white the most expensive. The second reason is the weather; the bright buildings infuse light in every sense during those long, lugubrious winters. I had also heard that one reason why buildings beyond a certain height are generally not allowed is because they block direct sunlight to the streets below.
With the oil wealth gushing, however, Oslo perhaps feels the need for some flashiness. One such project is the fast developing Aker Brygge Promenade with its chic clothing stores, restaurants and apartment buildings.
The city has also been moulded for people, and not for buildings or vehicles for that matter. In fact, as a friend noted, they seem to do everything to prevent you using a car in Oslo.
Contradictions
But then Oslo itself is a small city with, as mentioned before, a fantastic public transit system, so there are no worries about getting to a destination. Besides, they also offer very cheap plans for frequent public transit users.
Norway is also one of those countries where public officials are not treated as royals. In fact, even the Royals are not treated as the Royals of, say, Britain. The Royal family's abode is out there, not so enclosed though when I went to take a look at it the front entrance was an ugly sight because of construction work. Apparently there had been complaints about the state of the tarred road leading up to the Palace's front entrance, so there are doing a thorough retreatment job.
In some ways Norway is a country of contradictions: take, for example, its relationship with the European Union. It is in Europe but its people have said no to the European Union, yet they work very closely with the entity.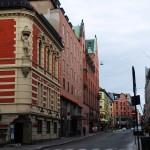 Colours, Buildings
And Norway is one of those European countries where rightwing politicians have found pretty good fertile ground to the point some of them are considered mainstream.
Yet, Norway, particularly Oslo, is also changing demographically. Oslo is one of the fastest growing cities in Europe and that is mostly because of immigration. Of the 600,000-plus people more than a quarter are considered immigrant and their influence can be seen in the Groenland neighbourhood, which is considered the ethnic enclave of Norway. Here the religions and cultures mingle, as Somali, Pakistani, Indian, Nigerian and other nationalities establish their stores to cater to not just their own communities but the wider world as well. In fact, one can see Norwegians also stepping into this world to find stuff unique to other cultures.
And diversity is restricted not just to Groenland but to all around Oslo. Kebab houses, Chinese restaurants and Sushi places are abound across the city. In fact, as I was walking from the Vigeland Park towards the city centre, I wanted to taste 'typical' Norwegian food. Alas, after walking about a kilometer I could not find one single place that blatantly promoted itself as a restaurant offering Norwegian food. I walked into a coffee house and asked the lady whether she could point me to a Norwegian restaurant, and she could not think of any. Well, I ended up in a Chinese restaurant.
And, oh, I also have point out the pissoir in Norway's public toilets are made for tall men; not for the not-so-tall men like me! I had a tough time, having to raise myself on my heels on more than one occasion.
Perhaps one lasting impression Oslo left on me during my short stay was the willingness of people to help me. I got lost in some places, and they did stop to show me where I was and how I could reach my destination. But beyond this I felt captivated by the willingness of Norwegians to look directly at you, instead of avoiding eye contact. It mesmerized me.