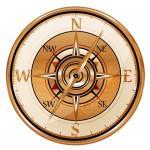 Tiffany kindly asked if I'd guest post on a new monthly blogging initiative which was launched in July for the expat community. More than happy to oblige, I wanted to let you know about the arrival of
NorthSouthEastWest: Expat Dispatches
, which brings together myself and three other expat bloggers from the four corners of the globe.
 The brainchild of Linda Janssen at
Adventures in Expat Land
,
Expat Dispatches
brings a unique angle to expat blogging with the aim of providing our readers and the wider expat community with interesting and insightful stories, comparisons, observations and adventures from four very different expat lives.
 We four bloggers will rotate guest posts on each other's blogs from around the world at a synchronised time and day each month - and with a distinctly expat or international focus. Sometimes, we'll have a theme. For example, July's theme was
Where We Are Right Now
and looked at our individual situations – collectively, we posted on life as a repatriate, making the decision to stay put in a current home abroad, figuring out where to go next in the context of wherever 'home' is, and life as a recent expatriate mom.
 In future months, we'll continue the expat theme, written from our own individual experiences and which may be humorous, serious, poignant or even gently ranting. And each member of the anointed 'quad squad' will take turns to pick the theme each month for us all to post on.
 So who are we and where are we blogging from? We bloggers are:
Linda at Adventures in Expat Land - http://www.adventuresinexpatland.com/wp/ (North – Netherlands)
Myself (Russell) at In Search of a Life Less Ordinary - http://www.insearchofalifelessordinary.com/ (South – Australia)
Erica at Expatria, Baby - http://www.expatriababy.com/ (East – Japan)
Maria at I was an Expat Wife - http://www.iwasanexpatwife.com/ (West – Canada)
Between us, we have a whole host of experiences, insights and advice from life lived on the expat circuit in many different countries. Based on the cohesive effort of the team in pulling together the inaugural feature, combined with the quality of writing, I've found myself to be in a talented tribe of international and somewhat nomadic bloggers, each bringing their personal and unique perspective to the whole.
 On the day of our inaugural round of guest postings, we received some great reviews, tremendous support and many thoughtful comments so we're grateful to the folks out there in the bloggerverse who read, linked, commented, shared, liked, tweeted and provided great support and feedback to our posts.
 We'd love to hear from the readers of
Clogs and Tulips
if anyone has an idea about a particular theme, topic or issue that they'd like us to address in the future. If so, please don't hesitate to contact any of the NSEW crew as we'd love to hear from you.
 Our next round of Expat Dispatches is scheduled for the second half of August in which we'll write about the culturally different ways in which people interact in the places we've lived in. We won't look at the obvious spoken differences but rather the physical, non-verbal differences, which should produce some very interesting examples from our four international homes.
 We hope you can join us and follow this exciting new series of
NorthSouthEastWest: Expat Dispatches
from the four corners of the globe.  
Image Credit: digitalart portfolio 2280 freedigitalphotos.net
Russell V J Ward
Russell is a British expat living on Sydney's Northern Beaches in New South Wales, Australia. Russell spends his time traveling the world and enjoying life by the ocean. He lived in the UK until 2003, before emigrating to Canada (Vancouver and Ottawa), then most recently to Sydney, Australia (his wife's home city). Read more about his expat search for a life less ordinary at www.insearchofalifelessordinary.com. He can also be followed on Twitter at twitter.com/russellvjward.

Did you enjoy this post? Subscribe via rss feed or email to catch the latest from Clogs and Tulips: An American in Holland.
©2011, Clogs and Tulips: An American in Holland. All rights reserved. On republishing any part of this post, you must provide a link back to this original post