Drawn primarily by the sheer number of notloB alumni musicians involved*, at the end of January I took a trip north of the border to Brattleboro, Vermont to attend the sixth annual Northern Roots Music Festival (January 26, 2013), produced by the Brattleboro Music Center.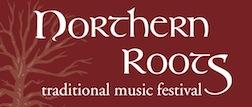 What craic! So much to do in one day. Offered but I did not participate in, were youth-oriented  afternoon workshops; instead I chose to attend three afternoon sessions (song, Quebequois and Celtic) at the award-winning McNeil's Brew Pub (the Russian Imperial Stout is killer).
After a dinner break came the evening concert at the intimate New England Youth Theater. Spectacular! Judge for yourself, courtesy of Brattleboro Community Television.
A day trip from Boston to Brattleboro and return is possible, but you may wish to consider staying in an area bed and breakfast or hotel. Mark your calendar for next January, I guarantee there will be no conflicting notloB concert.
*Keith Murphy and Becky Tracy (11/1/12)
Lissa Schneckenburger
(3/15/08 and 11/6/09 and
Corey DiMario
(
3/15/08)
Katie McNally (5/16/09, 3/2/12 and 
1/18/13)
 and
Eric McDonald
(7/20/07, 11/2/07,
3/2/12 and
 1/18/13)