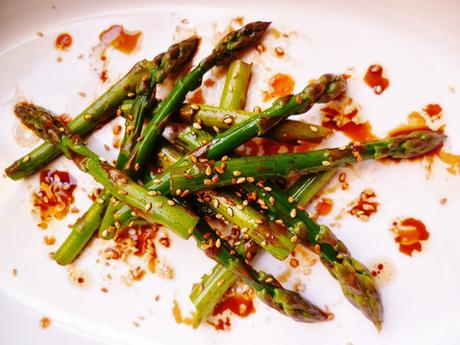 northern chinese (shandong) style asparagus
Asparagus doesn't appear much on Chinese menus, apart from in the northern region of Shandong, where asparagus is actually grown. I've kept things simple with the salty-savoury flavours of soy and sesame. They work perfectly.

In the UK, home-grown asparagus just sings of spring. Officially the British Asparagus season lasts from 21st April to 21st June. However, the season is clearly dependent on our notoriously capricious weather.
I recently managed to get hold of a bunch of English asparagus, stronger tasting and the stems were a little woody. This recipe is the perfect way of cooking the vegetable at this time of year. It is a recipe that is not dependent on the subtle green flavours of asparagus, but makes a virtue of its more vital flavor and texture.
In May this year, The Guardian newspaper's Readers' Recipe Swap challenge was ASPARAGUS. Food writer Eve O'Sullivan introduced that week's challenge with "At the first suggestion of spring, I eagerly anticipate the first crop of asparagus. I've always believed that nothing beats a few freshly cut spears doused in butter. This spring, though, I've enjoyed your experiments with asparagus so much that I've started to question myself." The inclusion of this recipe rather proves the point.
Eve O'Sullivan continues with "the light but spicy dressing melded beautifully with the robust flavor of the veg." Well, you know I'm not going to argue with that!
I've steamed mine, but clearly at this time of year and weather permitting, these asparagus would be fabulous grilled on a BBQ grill.
Serves 4
Skill level: Easy
ingredients:
1 kg asparagus, trimmed and cut on the diagonal into 5cm pieces
1 tbsp dark soy sauce
1 tsp sesame oil
a splash of Chinese chilli oil (or Tabasco)
½ tsp toasted sesame seeds
directions:
Cook the asparagus in boiling water for about 1½ to 2 minutes. The asparagus should still retain some bite as well as its bright green color. Drain and refresh in a bowl of ice-cold water. Set aside to cool for a few minutes.

Drain the asparagus and pat dry.

Whisk the soy sauce and oils (or Tabasco) together. Pour over the asparagus and toss to ensure that the asparagus is well-coated.

Sprinkle over the sesame seeds and serve at room temperature.