By Susan Duclos
North Korean leader Kim Jong-un is crazier than his daddy was and has allowed the release of photos from an "emergency meeting," showing charts of bombing targets in Hawaii, Washington DC, Los Angeles and Austin, Texas.
According to KCNA news agency "He finally signed the plan on technical preparations of strategic rockets, ordering them to be on standby to fire so that they may strike any time the US mainland, its military bases in the operational theatres in the Pacific, including Hawaii and Guam, and those in South Korea."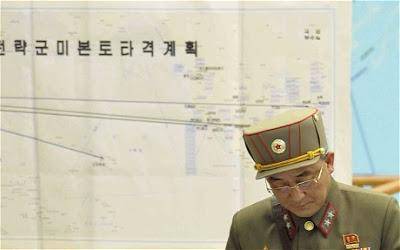 The text on the map, which shows the west coast of North America, says "Plan to hit the U.S. mainland" 


Close up photo via
NKNews
, below: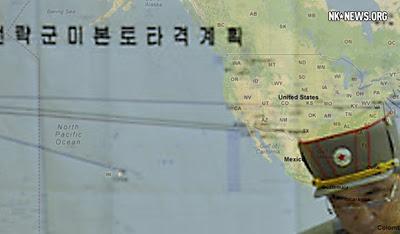 Although North Koreas long distance capabilities are untested, analysts do not believe
North Korea
has the capability of striking targets as far away as the U.S. mainland.
This follows what is being termed as a "show in force" by the U.S. after prior threats from Kim Jong-un.
On Thursday, the United States flew two radar-evading B-2 Spirit bombers on practice runs over South Korea, responding to a series of North Korean threats. They flew from the United States and back in what appeared to be the first exercise of its kind, designed to show America's ability to conduct long-range, precision strikes "quickly and at will", the U.S. military said.
More from Reuters:
South Korea's Yonhap news agency reported there had been additional troop and vehicle movements at the North's mid- and long-range missile sites, indicating they may be ready to fire.
Opinions differ on whether this threat from North Korea is any more credible than previous threats. Some believe it is and some believe it isn't.
Foreign Policy:
But there's another point that is often overlooked: North Korea today can threaten all of South Korea and parts of Japan with its conventional missiles and its conventional military. The North can fire 500,000 rounds of artillery on Seoul in the first hour of a conflict. Stability has held for 60 years because the U.S. security alliances with South Korea and Japan make it clear to the North Korean leadership that if they attacked South Korea or Japan, they would lose both the war and their country. And, for half a century, neither side believed that the benefits of starting a major war outweighed the costs. The worry is that the new North Korean leader might not hold to the same logic, given his youth and inexperience. 
CNN World
:
But the fact is that despite the bombast, and unless there has been a miraculous turnaround among North Korea's strategic forces, there is little to no chance that it could successfully land a missile on Guam, Hawaii or anywhere else outside the Korean Peninsula that U.S. forces may be stationed.
Even if North Korea did have the capability and chose to use it, the likelihood of an overwhelming U.S. military counterattack would render any such attack self-defeating for Kim Jong Un's regime. Indeed, as Danger Room's Spencer Ackerman tweeted a few weeks ago, any such move would amount to "North Korea basically telling the world it would like to be made into a parking lot."
Maybe
Dennis Rodman
could call his new best friend and ask him what he is thinking.