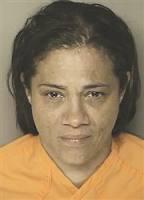 Local news reports
A North Carolina woman has been charged in the shooting death of her husband and his son in South Carolina.
Horry County police have charged 40-year-old Sandy Lee Locklear of Tabor City, N.C., with two counts of murder, burglary and filing a false police report.
Locklear is accused of shooting and killing her 66-year-old husband, Amos Hatfield, and his son, 40-year-old Thomas Howard Hatfield, at their home in Loris early Sunday.
Officials say Amos Hatfield had bought the home for his wife in Tabor City in June, while he lived with his son in Loris.
Retribution for domestic abuse is the first thing that comes to my mind, but really it could be anything. Heck, she could have been the abuser.
One thing for sure is, Sandy was one of the adherents of that school of thought which says "the gun is the answer."
What do you think?  Please leave a comment.