notloB Folk Concerts has produced not-for-profit concerts in the greater Boston area since 2007. The series is volunteer-run; 100% of the donations go to the musicians and production expenses. We are proud to announce concerts 84-87.
Live acoustic music makes a wonderful holiday gift. To make arrangements, send an email to notlobreservations at gmail dot com.
"In this era of pop-driven acoustic music, notloB is keeping the folk tradition alive." ~ Jack Hardy
notloB Folk Concerts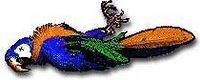 presents.....
Jenni Lyn Gardner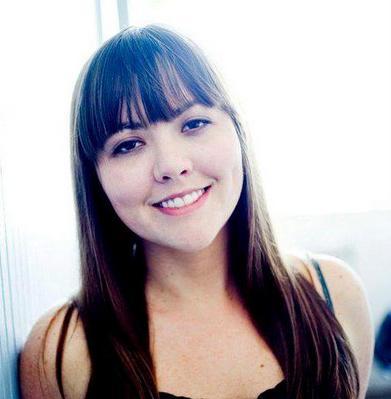 Saturday, January 14, 2012Doors 7:30, Concert 8:00Loring-Greenough House12 South StreetJamaica Plain, MA 02130Jenni began playing with her family at local bluegrass concerts, church, and school.A sought after session musician, songwriter, and side woman, Jenni has performed everywhere from the Cornish Bluegrass Festival (Newquay, England) to the Grand Ole Opry. She toured extensively with 2007 IBMA Male Vocalist of the year, Bradley Walker, and was part of the 2009 IBMA Recorded Event of the Year, "Proud to be a Daughter of Bluegrass".
With Celia Woodsmith, Kimber Ludiker, Courtney Hartman and Amanda Kowalski, Jenni is a member of Della Mae, of whom Mike Marshall says ""These gals can get down and aren't messing around."
More Information: 
http://heyheydellamae.com/
http://www.myspace.com/dellamaeband
https://www.facebook.com/della.mae.fb
Suggested donation $tbd/$tbd advance reservation and JPTC members.
Doors 7:30, Concert 8:00
Reservations - notlobreservations at gmail dot com
Susie Burke & David Surette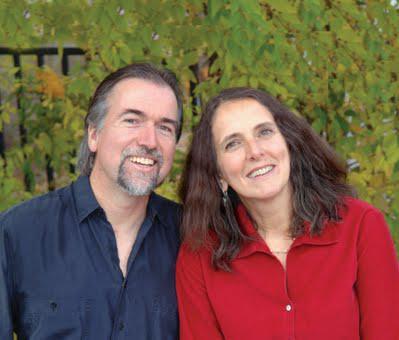 Saturday, January 21, 2012Doors 7:30, Concert 8:00Loring-Greenough House12 South StreetJamaica Plain, MA 02130Susie Burke and David Surette have made a name for themselves as one of the finest acts on the lively New England folk scene. Together since 1988, Susie and David have built a steady following for their own blend of contemporary, traditional, and original folk and acoustic music. Burke's vocal style is at once stunning and heartfelt, and is matched by Surette's fluid fretwork. Both are well-respected within the folk music community, as is demonstrated by the fact that they have appeared as backing musicians on numerous recordings. Many of these have come out of the New Hampshire Seacoast area, where Susie and David are based, and which has a well-deserved reputation as a haven for folk and acoustic music. Susie Burke has been singing on Seacoast stages since the early 80s, as a soloist, a member of several local bands, and in several duos, including one with guitar whiz Harvey Reid. Her musical tastes and influences are varied and many, encompassing contemporary and traditional folk, swing, country, topical songs, and acapella singing, with detours along the way for Broadway showtunes and classic ballads. "She posesses one of the finest, purest ballad sopranos heard in folk music today" writes Scott Alarik in the Boston Globe, noting that "her phrasing is unerringly devoted to the lyric" and that "Burke displays a gift for pulling honest emotional chords - all too rare in these clever and cynical times." Before devoting her energies to music full-time, Burke worked as a day-care teacher, and her love of kids is evident in her wonderful participatory children's concerts.
David Surette has been performing in the Seacoast area since the mid-80s, both with Susie and with a number of other groups and musicians. He is well-known as a top-notch accompanist in New England's contra dance and Celtic music circles, and is also in demand as a studio musician. As a multi-instrumentalist, David brings a variety of stringed sounds to the duo; Folk Roots magazine notes that his "bouzouki, guitar, and mandolin playing is exemplary." In addition to performing and recording, Surette maintains an active teaching schedule, and is head of the folk department at the Concord (NH) Community Music School. He was awarded an NEA travel grant in 1994 to study the traditional music of Brittany, France, and has written a book of Celtic guitar arrangements for Mel Bay Music. Recipients of Individual Artist Fellowship awards from the NH State Council on the Arts in 1993, Susie and David are also on the Council's Touring Arts roster. They have released five albums since 1990 on the Madrina Music label, to positive response from both critics and audiences. Their latest recording, a duo effort titled Sometimes in the Evening, was released in early 2000. Together, they bring skill, taste, feeling, and pure enjoyment to their music, and are bringing their music to an ever-widening circle of listeners.
http://www.burkesurette.com/
Suggested donation $15/$12 advance reservation and JPTC members + $1 preservation fee that goes to the Loring-Greenough House.
Reservations - notlobreservations at gmail dot comJulie Metcalf and Andy Reiner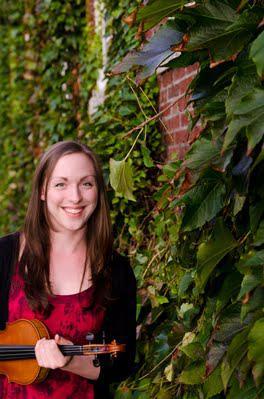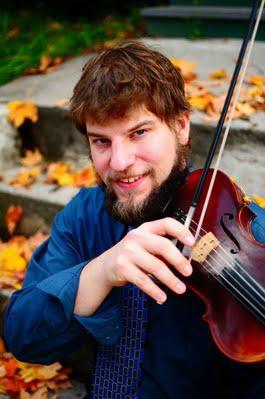 Saturday, February 4, 2012Doors 7:30, Concert 8:00Loring-Greenough House12 South StreetJamaica Plain, MA 02130notloB Parlour Concerts is proud to once again present Julie Metcalf and Andy Reiner.  Julie's first notloB performance was on 4/11/09, with the Folk Arts Quartet. She since performed with Mariel Vandersteel (Blue Moose and the Unbuttoned Zippers) on 12/4/10.  Andy has performed for notloB three times, twice with Blue Moose and the Unbuttoned Zippers (5/23/09 & 1/23/10) and once with BMUZ mate Stash Wyslouch (2/5/11).
Julie Metcalfhttp://www.myspace.com/juliemetcalfFiddler Julie Metcalf began as a classical violinist in Worcester, MA. Coming from a family of musicians, she was encouraged to make music from an early age; Julie picked up the violin for the first time when she was 4 years old and has been playing ever since. When she was twelve, Julie discovered fiddle music and jazz through PBS and country radio, and began learning Celtic tunes on her own. 
Julie studied classical violin at Boston University's College of Fine Arts. Recently, she has immersed herself in the study of both traditional folk and contemporary styles of music, including Celtic, Appalachian, bluegrass, jazz, and Latin music. She is a graduate of Berklee College of Music with a degree in Violin Performance. 
Julie plays viola in the Paper Star Trio, formerly the Folk Arts Quartet. The Paper Star Trio is a grooving chamber-folk string ensemble that plays contemporary arrangements of world fiddle music. She can also be spotted playing violin with Mariachi Palenque.
Andy Reinerhttp://www.andyreiner.com/Andy Reiner grew up in a musical family in Lexington, Massachusetts.   He began playing at age 5, learning fiddle from his father, (award-winning and Mel Bay Published Author) Dave Reiner, as well as taking classical violin lessons.  Just when the young Andy was struggling with the issues of whether playing the fiddle was "cool", attending Mark O'Connor's Fiddle Camp in Tennessee in '97 and '98 changed his life forever.
Andy continued to attend fiddle camps over many summers which were a constant source of inspiration, learning, and jamming.  Traveling from Maine to Colorado and even to Cape Breton NS, he took classes with many legends including Vassar Clements, Darol Anger, Richard Greene, Natalie MacMaster, Buddy Spicher, Jerry Holland, Bruce Molsky, Ashley MacIsaac, Becky Tracy, Rachel Maloney, Casey Driessen, Mark Wood, Laura Risk, and Aubrey Haynie.  
In high school, Andy was priveleged to participate in a renowned jazz program which helped to lay the groundwork of a future uninhibited by any kind of stylistic barrier.  As well, he was deep into an obsession with heavy metal, which, combined with his love for traditional folk music, resulted in the fiddle speed metal band Devil In The Kitchen.  He entered and won many fiddle contests, most notably at the Lowell, MA Banjo and Fiddle Contests, where he has won 1st in Bluegrass Fiddle, 1st in Ethnic Fiddle, three 1sts in Twin Fiddle, and the Andy Wolf Award for Musical Excellence.
Andy soon realized that music was the only option.  He moved to Boston and earned his BM in Violin Performance from Berklee College of Music, graduating in May 2008.  Through his mentors at Berklee - Eugene Friesen, Mimi Rabson, Christian Howes, Stephen Webber, Bruno Raberg, and many others - Andy further developed his sound, ears, and chops.
Along the way, two original pieces of his were performed in the Berklee Performance Center by the Berklee String Orchestra, and he shared the stage with Herbie Hancock, Paul Simon, Gloria Estefan and more at Berklee's 60th Anniversary Concert, which sold out the Wang Center in Boston.  
Andy found true happiness in Boston as he created a network of hardcore jammers who would descend upon his apartment, "The Fiddle Barn," to form a unique groove that represented styles from all over the world.  Berklee proved fertile ground for meeting unbelievable musicians.  Between jamming and gigs, he met all the future band members of Blue Moose and the Unbuttoned Zippers and FiddleFoxx.  Stash Wyslouch, guitarist of Devil In The Kitchen, was finally convinced after a year of studying civil engineering at Tufts to come to Berklee to focus on music.  The two are musical soulmates of groove, traveling in countless wacky situations and playing music everywhere from Montreal to Berlin.  
After a temporary relocation for a winter to Salt Lake City to be a music ski bum on the legendary powder and steeps of Little Cottonwood Canyon, Andy now resides in Brighton, MA where the jamming never ends.  Andy tours with Blue Moose and the Unbuttoned Zippers, The Earth Stringband, and Intergalactic Blam as well as teaching lessons, composing, and running his own production and publishing companies!  While Boston shines brightly as a new mecca for acoustic musicians, who knows what the future may hold!   One thing is for sure: Andy Reiner is a powerful musical force that will be playing and creating wherever he is for a long time.
Suggested donation $10.Doors 7:30, Concert 8:00Reservations - notlobreservations at gmail dot com
Kimberly Fraser, Brian Conway & Mark Simos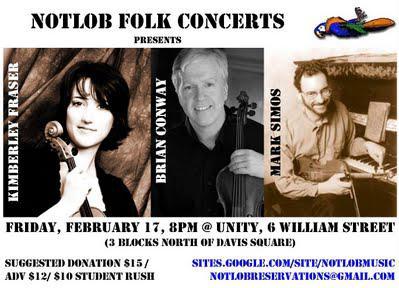 Friday, February 17, 2012Doors 7:30, Concert 8:00Unity6 William Street Davis SquareSomervilleKimberly Fraserhttp://www.kimberleyfraser.com/Kimberley Fraser was born on Cape Breton Island, and nurtured within its rich musical heritage. She first began to impress audiences at the age of three with her step-dancing talents. Soon after that she took up both the fiddle and the piano. Though still in her 20s, Kimberley's already has a distinguished career. She has traveled the world, from Victoria to Afghanistan, performing at venues such as The Kennedy Center in Washington D.C. bringing Cape Breton music with her wherever she goes. Dan MacDonald of the Cape Breton Post says about Fraser's versatility, "She has matured to become one of the stellar players of the Cape Breton fiddle tradition, equally at home at a house party, playing for a square dance or on stage for a concert in Bras d'Or or Boston, Scotsville or Scotland." Kimberley has shared the stage with the finest acts in Celtic music, such as Alasdair Fraser, Martin Hayes and Lunasa. Kimberley is also in demand for her piano skills, accompanying musicians at home and abroad.
Kimberley holds a degree in Violin performance from Berklee College of Music and in Celtic Studies from St Francis Xavier University in Nova Scotia. Education is important to her, reflected in Kimberley's dedication to teaching Cape Breton music both at home and abroad. A master at the trio of fiddling, step dancing and piano, Kimberley is a much sought after teacher for all three. Her reputation as a teacher has brought her to conduct workshops at many camps and festivals, including Alasdair Fraser's Valley of the Moon Fiddle Camp, the Swannanoa Gathering in Asheville, North Carolina, and The American Festival of Fiddle Tunes in Port Townsend, Washington to name a few. Kimberley also has experience giving workshops to string orchestras demonstrating how traditional music can be arranged for classical ensembles.
In 2006, Kimberley released her second studio album, Falling on New Ground, a winner of the East Coast Music Award for best Roots/Traditional Album of the Year. This self-produced album reflects on her experiences and growth as a musician since the release of her first studio album Heart Behind the Bow in 2000. Falling on New Ground demonstrates Kimberley's many talents and versatility.  
Brian Conway http://www.brianconway.com/New York born fiddler Brian Conway is a leading exponent of the highly ornamented Sligo fiddling style made famous by the late Michael Coleman. The winner of two All- Ireland junior titles in 1973 and 1974 and the All-Ireland senior championship of 1986, Brian's early studies were with his father Jim of Plumbridge County Tyrone and with Limerick born fiddler/teacher Martin Mulvihill. However, it was the legendary fiddler and composer Martin Wynne who taught him the real secrets of the County Sligo style. Later, Brian met and befriended the great Andy McGann of New York a direct student of Michael Coleman, who further shaped his precision and skill on the instrument. In 1979, Brian recorded a duet album, The Apple In Winter (Green Linnet) with fellow New York fiddler Tony Demarco. He released his debut solo CD, First through the Gate, on the Smithsonian-Folkways label in July 2002. This CD was voted the prestigious Album of the Year by the Irish Echo. Brian is also featured on the CD, My Love is in America, recorded at the Boston College Irish Fiddle Festival, and on the documentary "Shore to Shore" which highlights traditional Irish music in New York. He is considered one of the musical rocks of the New York area. Brian remains faithful to the rich tradition handed down to him. The distinctness of his tone, the lift of his playing, and the deft ornamentation he brings to the tunes have placed him among the finest Irish fiddlers of any style, Sligo or otherwise. He has performed all over North America from San Francisco to New York and places in between such as Chicago, Milwaukee and Colorado. His talents have also been enthusiastically received throughout Ireland and the rest of Europe. His current CD, First through the Gate, exemplifies the versatility that characterizes his concert performances and festival appearances. He is also a noted instructor who has mentored many fine fiddle players, including several who have gone on to win All-Ireland championships. In 2007, Brian released a CD titled A Tribute to Andy McGann on the prestigious Irish Label Cló Iar-Chonnachta. This CD pairs up Irish Music legends Joe Burke and Felix Dolan along with Brian in a CD which has received glowing accolades since it's release in the summer of 2007. Brian followed this CD with a much anticipated new Solo CD titled "Consider the Source" in deference to the rich environment from which Brian learned his music. This CD was released in 2008 on the Cló Iar-Chonnachta Label. This CD features guest appearances by music greats Niamh Parsons, Dan Milner, Billy McComiskey, Joannie Madden, Felix Dolan, and Brendan Dolan. Earle Hitchner of the Irish Echo described this CD as "Easily one of the best releases this year".
Mark Simoshttp://www.devachan.com/The musical imagination of Mark Simos weaves a lifetime love of many traditions into innovative musical forms. As songwriter and composer, fiddler, 'tunesmith,' and guitar and piano accompanist, Mark draws on long apprenticeship in a wide variety of genres—Irish, Southern old-time, New England, Quebeçois, bluegrass, and Klezmer among others—creating a musical language grounded in traditional forms, yet uniquely his own.
"... a musician's musician, versed in many musical idioms and excelling at all of them. He is one of the few musicians I know equally at home in the often incompatible roles of traditionalist and innovator." —Mick Moloney
Suggested donation $tbd/$tbd advance reservation $tbd students.Doors 7:30, Concert 8:00Reservations - notlobreservations at gmail dot comMore info - https://sites.google.com/site/notlobmusic/Join the mailing list -http://groups.google.com/group/notlobmusic

Jeff Boudreau

notloB Folk Concerts

Website / Facebook / Newsletter / Contact