Norelco is an American brand name for Philips' Consumer Lifestyle division's dry electric shaver and other personal care goods. Philips utilized the Philishave trademark for personal care products sold outside of the United States until 2006. Philips eventually ditched that moniker in favor of the Philips moniker. With advancements in technology, newer versions of devices get better among which is the Philips Norelco shaver. Here is a complete conparison of two famous Norelco 5200 vs 9800.
Improvements might also be the result of rivalry, since businesses do not want to be relegated, thus they work harder. The Norelco 5200 from the 5000 series and the 9800 from the 9000 series are in the same boat. They both increased the power of your hair and glided through it with precision, leaving your skin clean and smooth. A comparison table of Norelco 5200 vs 9800 shavers is given below.
Table of Comparison
Also Read: Best Facial Hair Removal Cream for Men
Similarities in Norelco 5200 VS 9800
Super Lift & Cut Technology
Both shavers include exceptional Lift & Cut Technology, which allows them to cut very closer to the skin. 
Wet or Dry Feature 
Because of the wet and dry features, both Norelco shavers can only be used in codeless mode.
Lithium-ion battery
Both have a Lithium ion battery that can be recharged fully in under an hour.
Washable
Both are easily washable with water with no resistance.
Voltage
They both operate at the same 100-240 V voltage.
Differences in Norelco 5200 vs 9800
Shaving Heads 
The shaving heads of these two rotatory shavers are different. While the Norelco 5200 has an SH50 head, the Norelco 9800 has an SH90 head.
Flex Heads
The Norelco 5200 has 5-direction flex heads, whereas the Norelco 9800 has 8-direction flex heads.These points give us clear cut direction in Norelco 5200 vs 9800.
Run Time 
Both shavers have different running times. The 5200 lasts 40 minutes and shaves 13 times, while the 9800 lasts 50 minutes and shaves 17 times.
Shaving Styles
Both of them have different shaving styles. The V-Track precision blade system is used on the 5200, whereas the multi-precision blade system is used on the 9800.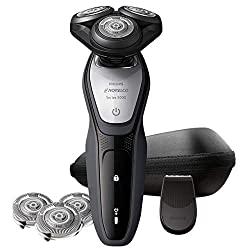 Your best bet is the Norelco 5200 wet and dry shaver. This high-speed, high-quality shaver with wet and dry technology is great for your grooming time. For a faster and closer shave, the Norelco 5200 is set to flex in five directions. The heads rotate in 5 different directions independently to provide a close contact shave on the neck and jawline as well as for speed. You may be confident there will be no ingrown hairs or discomfort on your skin thanks to the close-cutting ability. 
Cuts through long and short hairs quickly and accurately; suitable for all hair types. With just a few strokes, the Norelco 5200 can give you smoother skin with minimal irritation. With only a few passes, the 5200's Multi-Precision Blade technology elevates itself while cutting through small stubbles, flat-lying hairs, and lengthy hairs. The powerful and long-lasting Lithium-ion battery allows you to shave for extended periods of time with each charge. 
It does not take an eternity to fully recharge and be ready for use again; it takes only one hour. For a faster and closer shave, the Norelco 5200 is set to flex in five directions. The heads move in 5 different directions independently to provide a close contact shave on the neck and jawline as well as for speed. In addition, if you can't wait for the battery to fully recharge, you may do a 5-minute quick charge for one shave.
The sideburn and mustache trimming is perfected and smoothed out with the Click-on trimmer feature. To acquire that flawless and clean finishing look, click on the precision trimmer. 5200 is ideal for grooming and maintaining your facial hair, particularly your mustache and sideburns.
Buy Now on Amazon
Norelco 9800
In comparison to the 5200, the Norelco 9800 is a more advanced shaving system. It's part of the 9000 series and uses V-Track precision blades to cut hairs up to 30% closer to the skin. The dual-blade Super Lift & Cut Action on the Norelco 9800 brings shaving closer to your skin. The first blade lifts each hair of the shaving head, while the second blade cuts softly and precisely below skin level for an appealing smooth appearance.
A handy pouch included in the travel case is included in the Norelco 9800 shaver set. The Norelco 9800 is backed by a two-year warranty that is applicable globally. The shaving heads endure a long time and can be replaced once a year with another SH90 head. The Norelco 9800 shaver is built for speed, durability, and performance, resulting in a razor-sharp shave. During your grooming time, the Aqua-Tec wet and dry feature allow you to pick how you want to shave.
Unlike other regular shavers that only have two speeds, the Norelco 9800 has three. It has three speed settings: sensitive, normal, and fast, making it a one-stop shop for everyone. You may personalize your shave by selecting the appropriate speed setting. It is extremely easy to use as you can shave in the shower or bath with your Norelco 9800 grooming buddy. It enables really relaxing skin by removing unwanted facial hairs and give a pleasurable grooming experience.
You won't have to worry about irritation, especially if you have sensitive skin, and the Norelco 9800 will take care of ingrown hairs.
Buy Now on Amazon
Conclusion
While both shavers are unique in their own right, they are both of excellent quality and will outperform your wildest expectations. The Norelco 5200 and 9800 are both high-quality shavers that make excellent grooming companions. The Norelco 9800, on the other hand, is far more advanced than the Norelco 5200, especially when it comes to personal comfort settings such as sensitive, normal, and quick. As a result, if you need 5200 or more, the Norelco 9800 is the way to go. Furthermore, if you are searching for an affordable price to have a check of foil shavers on your skin, then Norelco 2100 would be the best.