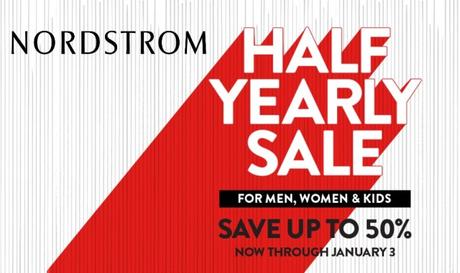 It's Nordstrom Half-Yearly Sale time and while many of the items are holiday-themed and those sort of trendy things that will look utterly passe by March, I dug through and found some real gems. Below, my picks from the Nordstrom Half-Yearly Sale (and all of them are under $75!):
Bags, Jewelry and other Accessories:
Clothing, Sleepwear, Athletic Wear, and Lingerie:
Now's the time to stock up on cashmere! Halogen's cashmere v-neck and cashmere crewneck are on sale for less than $70 each, come in regular and petite sizes and a bevy of colors.
These same sweaters also come in plus size - the cashmere crewneck and cashmere v-neck are a couple dollars more but the same shape and colors.
It's nice to have an arsenal of slips for those certain pieces that require more coverage. This half-slip from Halogen is simple enough to be invisible under lightweight and knit fabrics and is under $20.
I have these skinny jeans from JAG and they are AWESOME. I shouldn't call them jeans, they are a heavyweight knit that looks like denim but stretches and holds their shape. Regularly $79 they're on sale for %52.93 and come in a bunch of great colors.
These same JAG jeans also come in a classic denim color. Same price, same comfort and fit!
A casual lightweight sweater in bold stripes paired with boots or booties and skinny jeans makes for a perfect weekend ensemble. And when the sweater is only $20.40 and gets positive customer reviews? Even better!
The holidays would have been easier if I had a metallic sweater in my closet like this one from Matty M. Available in silver or gold, this can be styled with jeans for a casual get together, or leather leggings or ankle pants and heels for a dressier house party.
Always nice to have a dressy topper for sleeveless dresses, this plus size lace bolero from Eliza J does the trick and is on sale 40% off.
I have and love the Zella Z5 tee, it's fitted but not skin tight, fits the bust, flatters one with a belly, wicks away moisture, and doesn't flip up when doing an inversion. Right now it's 33% off in this color, a steal!
This faux leather dress from BB Dakota is too cute. Wear in winter with thick tights and booties, or come summer with clogs or chunky black sandals with a wood heel. I've been really liking the style, quality, and fit of BB Dakota these days, and think this dress is a steal.
I had this robe from Natori and loved it so much and was so sad when I accidentally left it on a trip. Buy it at this amazing price and enjoy the silky knit, awesome fit, and deep pockets that can hold a bunch of stuff.
This sleeveless top from Gibson is a officewear workhorse. Regular and petite sizes and a bunch of colors, this will look great with skirts and pants and under blazers and cardigans all for less than $27.
I have a version of this drapey top from Topshop and adore it. Style with jeans for the weekend, but it also looks great with skinny pants, work trousers, ankle pants, even pencil skirts and right now it's 50% off!
I have this sweater. I love this sweater. Know it runs big, a Large is like a tunic on me and I pair it with leggings or jeggings and boots. It's on sale 50% off and a great deal.
Elomi makes great bras for large busts; this one is usually $55 but on sale for $33 and receives rave reviews.
I love the unexpected twist in this blouse that takes it from boring to stunning. I also love that it's on sale for less than $35.
My friend swears by NYDJ silky henleys, they're her favorite top for work and for play. This gorgeous print is a knockout, in plus sizes and on sale for less than $60.
Simple black crepe ankle pants with a slouchy feel are perfect for the office with a blouse or a night out with heels and a drapey camisole. Regular and petites available and less than $55.
I love the color combination in this striped sweater from ELOQUII and adore the sale price of $35.94.
Same color combo from ELOQUII, but this time in a crepe tee. On sale for $41.94
The Zella Power Fleece Leggings are my JAM. I have two pairs and they're a great fit, durable, and keep you cozy warm whether you're exercising outside in the cold or trying to stay cozy on the couch. Regularly $58 on sale for less than $40.
I also have this half-zip jacket from Zella and think it's pretty fantastic. Usually $78 on sale for less than $40.
Gabby Skye makes great knit dresses and this plus size floral scuba fit and flare frock is no exception. On sale for $58.80.
Classic navy work pants with stretch for only $52.80!
Highly rated ponte ankle pants in plus size also on sale for $52.80. Love Halogen!
I mentioned this Oscar de la Renta nightgown in my loungewear post and now it's on sale 40% off! I dig it, it's a good deal for a good gown. Also available in plus size.
Another great nightgown, this one in plus size from Lauren Ralph Lauren and on sale for $41.98.
Plus size sequined midi skirt for less than $45. Yes please.
I have this blazer in white and think it's great. In metallic grey with a black collar (and under $45) it's utterly badass.
Another metallic blazer for a nice price; this would look chic for an event with black ankle pants and heels or wear out on the town with a band tee and skinny jeans.
Ellen Tracy makes some of the most flattering dresses and this printed one is a great example. A couple of you ordered this dress the last time I featured it and said you love it. On sale for less than $60.
I have this sweater from Kensie and each time I wear it I get strangers complimenting me on it. Stylish, warm, cozy, and less than $45.
Gorgeous lace detail on this turtleneck sweater. No seriously, this is an elegant sweater, comes in regular and petite, on sale for less than $60 and will be chic for years to come.
I love my faux leather front ponte pants; I got them a few years ago and they're so versatile. These from DKNYC are a nice alternative and on sale for $53.70.
I dig a coated skinny jean; not as expensive or high maintenance as leather but just as cool. These plus size skinnies from JUNAROSE are on sale for $53.40.
The 'Marilyn' from NYDJ is a classic fit and straight leg; in sueded twill it is a casual pant with the comfort of stretch jeans. I find the twill runs a bit bigger than the denim for NYDJ so if you're unsure go down a size. Regular and petites in a variety of colors 50% off!
I have the NYDJ 'Samantha' in black sueded twill and LOVE them. Super stretchy, keep their shape, and have stayed a rich color even from years of washing. Also on sale 50% off.
The NYDJ 'Barbara' is a subtle bootcut, small enough to work with a variety of shoes but enough flare to flatter the figure. This classic denim color in plus sizes is on sale for less than $60. It also comes in a few different colors for $62.
I know, a lot of NYDJ but the Nordstrom Half-Yearly Sale is the time to stock up on this brand! The 'Poppy' pull-on jeggings are great; thicker and more structure than leggings but just as versatile and relaxed. I prefer the saturated black denim; regular and petites and 40% off.
I've been rocking an Eliza J dress in a similar silhouette and same fabric for over 10 years. The brand makes quality and stylish dresses. This is a fun graphic print, available in plus sizes and on sale for less than $65.
I think I'll be wearing this dress New Year's Eve; I found it on Poshmark in a different color and am getting it hemmed. It's not itchy, it's fully lined, and the fit is super flattering. Get it now to be ready for next year's holiday parties or that trip to Vegas! On sale for $67.20.
I hate when brands misuse the term peplum. This is not a peplum top, it's a cool looking tunic with a wrap front. I can't decide which color combination is better, but I am in love with this non-peplum blouse from MICHAEL Michael Kors.
I ordered this sweater dress. I haven't received it yet so I can't give a proper review but I envision it with black fleece tights and ankle boots.
Shoes and Outerwear:
So many of you have asked me for low heels in cool colors and textures; the 'Kandy' from French Connection has an elegant elongated toe, a lower heel, and come in super shiny silver and black snakeskin, both on sale for $71.96. The 'Kornelia' also from French Connection has a low heel and feminine cut and comes in leopard print and plaid for the same price.
A simple leather structured flat in a style that can go from weekends with jeans to the office with trousers for less than $45? Score!
Another great structured flat for under $50. I love the shape of these.
If you're looking for a classic black leather Chelsea boot, Nine West has you covered and for less than $70.
Yes, chic rainboots exist, these Sam Edelman Chelsea boot-inspired ones are proof and on sale for $39.90!
Another great pair of rainboots, these a bit more rugged and under $50.
I love my BOGS boots, they're super comfortable and really durable. These waterproof boots from the brand are on sale for just $71.99 and have the quality to last a lifetime.
A packable parka is great for travel and also if you live in a warmer climate and only need to bundle up for a short part of the winter. This one from GUESS comes in five great colors, has a hood, is machine washable and on sale for less than $60.
These are the same style of oxfords I have in silver; for this great price I am tempted to get another pair in one of these available colors. So cute with ankle pants, cuffed jeans, or even a midi skirt!
Recently my mom asked about shoes that are flat, comfortable, but on trend. I recommended a pair of fashion sneakers to pair with leggings, jeggings, boyfriend jeans, and even shift dresses and midi skirts. I adore the high-top shape and metallic finish of these from Sam Edelman; they're not too kooky and will show you're aware of current trends and have a sense of humor!
This is a really chic walking coat that would be fantastic for travel or just for everyday. Love the collar and how the contrast fabrics flatter the figure. On sale 50% off.
Another great fashion sneaker (and one I have featured in many capsule wardrobes) are these slip-ons from Superga. The brand has a roomy toebox and is on trend... and currently 50% off.
Another shoe I have featured in many capsule wardrobes is this animal print flat from Dr. Scholl's. And now it's on sale for less than $70!
I love a wedge bootie; the height of a heel with more comfort. This one from Bella Vita has an elegant pointed toe, comes in a variety of widths and colors, and is on sale for less than $60!
I am seriously considering this jacket from Zella. Such a flattering silhouette and I have always had success with Zella. On sale for $65.66.
This jacket from Zella reminds me a lot of my beloved orange Talbots jacket; I love the color. Available in plus sizes on sale for $65.66.
This wrap coat is a flattering shape and you know I love the subtle leopard print! Also comes in pale pink, right in line with one of Pantone's 2016 colors of the year. On sale for less than $70.
Did you shop the Nordstrom Half-Yearly Sale? What items did you score during the promotion?