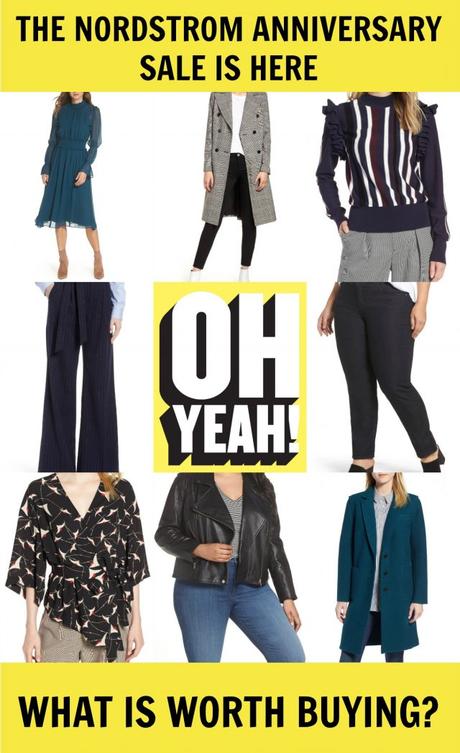 When I wrote my Nordstrom Anniversary Sale picks post last Thursday I wrote it that day, early in the morning, and it seems during a time when the site was having a ton of glitches. I thought I did a good search but seems I missed a ton of really good items in the sale. In fact the filtering still seems glitchy as I searched once for just plus sizes and got pages and pages of items not plus. I will have a second post going live today 3pm ET with all the deals for Amazon Prime Day so I didn't want to have something really fab go live this morning and get lost in the sale sauce. So here's the things I missed Thursday that look pretty fabuloso. And don't worry those who hate sale posts, we'll go back to regularly scheduled programming tomorrow!
Outerwear


I can't believe I said there were no decent faux leather jackets in the Nordstrom Anniversary Sale. What was going on with the filtering tool because there ARE and they're good brands at good prices! Also some other fab coats and jackets I missed:
This faux leather moto from BLANKNYC has an extra cool edge with a removable hood. Basic black and a badass green color available and it goes up to XXL/16.
Another moto jacket from BLANKNYC, this time in suede. BLANKNYC makes great faux suede and leather that is soft, breathable and looks quite real. Love the Ruby color.
This boiled wool topcoat from J. Crew is a classic that will be chic for years to come. Five utterly fabulous colors to choose from, I'm in love with Winter Pine.
A similar silhouette but from Lauren Ralph Lauren and in plus sizes. The camel reminds me of my Tommy Hilfiger coat I wore to death last winter.
The perfect weekend throw on and go jacket. Like a hoodie but much more stylish, a great longer length, looks great open or zipped.
This wrap coat from Tahari is part of the NSale every year but that's because it's eternally chic, flattering, and a classic. Four colors available and $100 off.
This boiled wool drape front jacket reminds me a lot of a cashmere and leather jacket that I own and wear the heck out of all fall, winter, and spring. Lined sleeves keep the jacket comfy, cool neckline looks chic (and is also great to hide your old sweatshirt when heading out for a Starbucks run).
The same jacket in plus sizes.
A longline puffer coat with a hood but what makes this one from MICHAEL Michael Kors stand out is the faux leather trim. Not in a cheesy or trendy way, but in a chic this coat costs a lot more than $150 way. I'm partial to the black on black but both colors are good. BTW it also comes in petites.
"Wubby" is the right way to describe this fluffy cozy fleecy pullover. I wish I had this the other chilly weekend at the beach!
Super chic glen plaid double-breasted midi coat. Only larger sizes left, on sale less than. $85.
Sleek and sophisticated real leather moto jacket from Halogen in regular and petite sizes. I like the black hardware, it makes it look more elegant.
The same jacket in plus sizes.
Another chic leather moto jacket, this time from Badgley Mischka. Two colors, I'm partial to the rich burgundy shade. Plus sizes only.
Cool, a leather moto jacket with removable sleeves. Two looks in one and on sale for almost $100 off!
This ruffle-trim leather jacket is so sassy. Wear with a striped tee and jeans on the weekend, but it's sleek enough to wear over dresses to the office. Plus sizes only.
Denim


How did I miss all the good jeans part of this sale?
Pants


Sooo many good pants in this sale. I shared a lot in Thursday's post but found even more pairs that are great for work, for nights out, for weekends, for fashion, and much more!
Dresses and Jumpsuits


I didn't share a ton of dresses last time because my focus was on workwear and not all the dresses were appropriate for that. But there's many I missed that could work for the office, but also for nights out, weddings, early fall days, cocktail parties, brunch, and much more.
Sweaters


Fall is right around the corner. While right now the idea of a sweater may sound like torture, now is the time to get them at a great price to be ready when the temps drop.
Blouses and Statement Tops


The NSale always has a great variety of cool tops and blouses that make an outfit just with simple pants or jeans. Here's a few cool ones I've found: