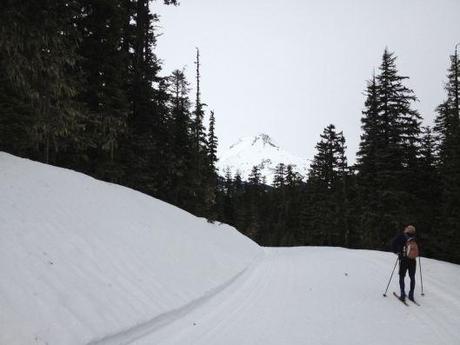 View of Mt. Hood from Teacup Lake trail
One of the best things about living in Oregon is that no matter the outdoor activity, there's someplace to go enjoy it.
Cross-country skiing is one of my favorite winter activities. I like that it's relatively inexpensive (compared to downhill, which I also know how to do). I've had the same skis, boots, and poles for years.
I love how it gets you on a trail, whether groomed or ungroomed, that takes you into the woods or to a viewpoint. I enjoy watching for birds and skiing when a light snow is falling.
In fact, one of my dream trips would be to go to Scandinavia, not in summer, but when there's snow, to cross-country ski.
Recently, Mr. Miscellany and I went cross-country skiing at Teacup Lake near Mt. Hood. We went early to avoid a crowd and were rewarded with great snow, quiet trails, and a superb mountain view.