Come tour my Nordic Christmas home. Fresh greens, candles and texture galore: It's dressed to the nines for the Holiday season.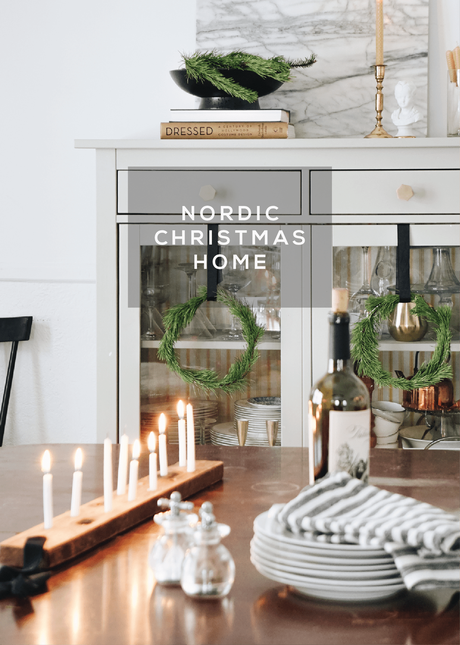 As with so many of us, decorating for Christmas is my absolute favorite time of year, second only maybe to early May when we finally shed our heavy coats and boots-oh the boots-after a LONG winter. Christmas is a close second though. It's such a happy time of year!
The funny thing is, I don't actually go 'all out' decorating as compared to some. We do a garland on our living room arch, a tree in the corner of the living room, and then little additions of fresh greens, berries, potted amaryllis and candles throughout the house. No décor in the bedrooms.
My decorating game plan definitely skews Nordic with a focus on bringing outdoor elements in, celebrating light during this dark time of year, and overall just creating a warm, cozy place. We mostly use the same decorations from year to year with a few additions and tweaks here and there.
What is your decorating M.O.? Do you go all out? Use the same décor every year or switch things up completely? I'd love to hear your traditions!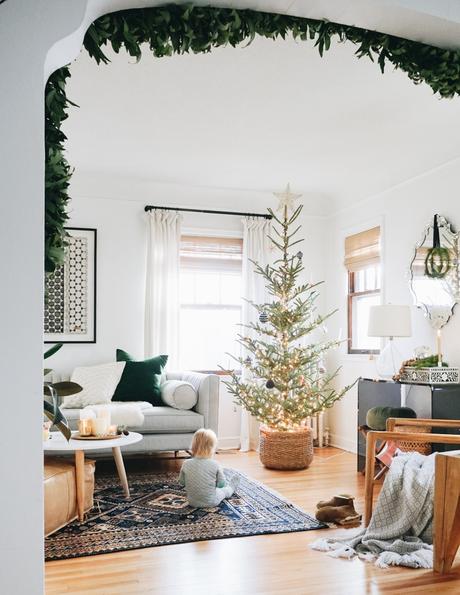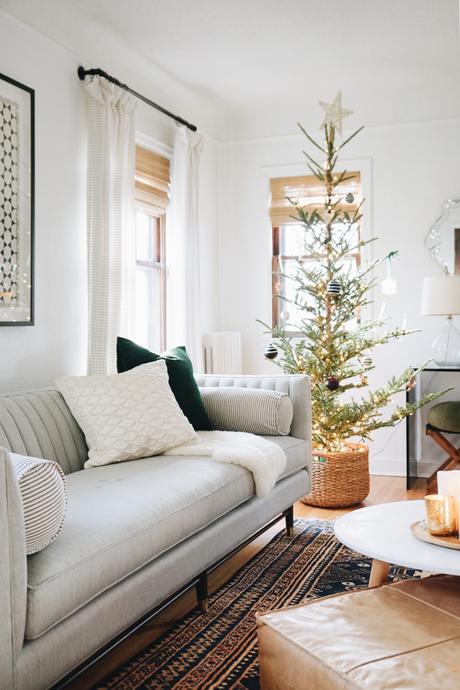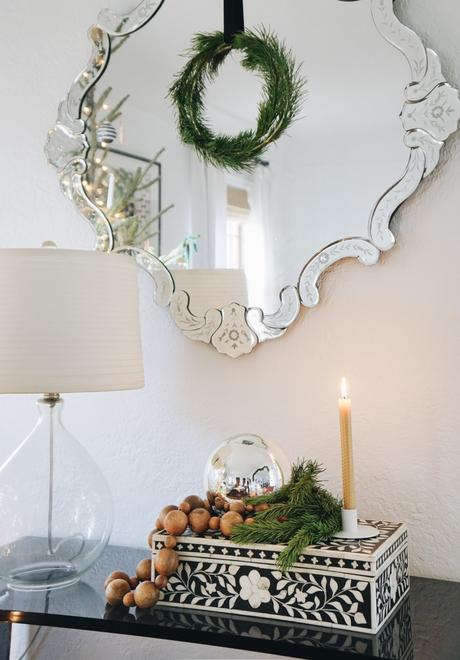 Okay, so we got a similar tree to last year. A fraser fir from Tangletown Gardens here in Minneapolis. They have the most charming tree scouting ambiance in the city. Plus, they're locally owned, and so darn friendly and helpful-if you're a Minnesotan, definitely check them out!
Ornaments are pretty similar to last year, candle clips, black and white bulbs, straw ornaments, and key nostalgic ones too, of course.
I bought a yard of green velvet fabric last year, but didn't get around to making pillows until this year. So we're focusing on green elements along with black and white.
Over the summer we switched out the non-kid-friendly blanket ladder in the living room for a console table and mirror, and I LOVE that the mirror is the perfect spot for a little wreath.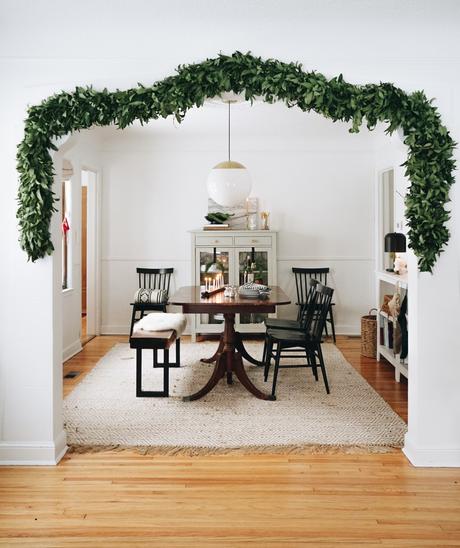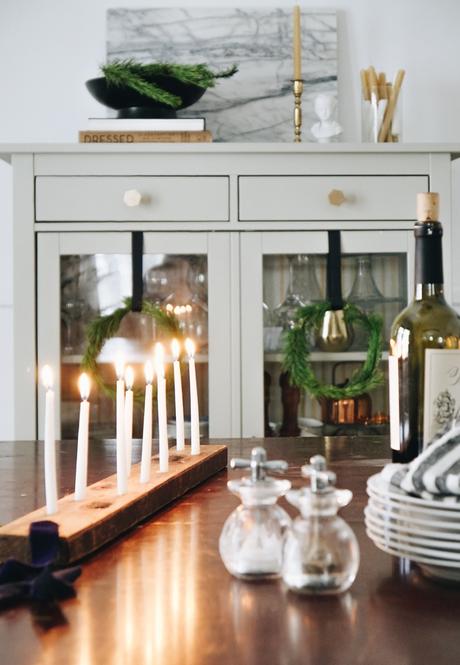 The tree was my fave last year, and this year I think the view into the dining room takes the cake. After a few years of pine/cedar garlands that look super sad after 10 days, we sprung for a bay leaf garland this year. Though bayleaf garlands too dry out after a week or two, they don't look dead once dry. They keep their fullness, and stay pretty vivacious looking. This garland has been up since before Thanksgiving and is completely dried in this shot.
On the dining table, things are pretty simple (because this is where we eat everyday), but I did bring out the Nordic Candle Centerpiece I made years and years ago that I recently unearthed in my blog closet.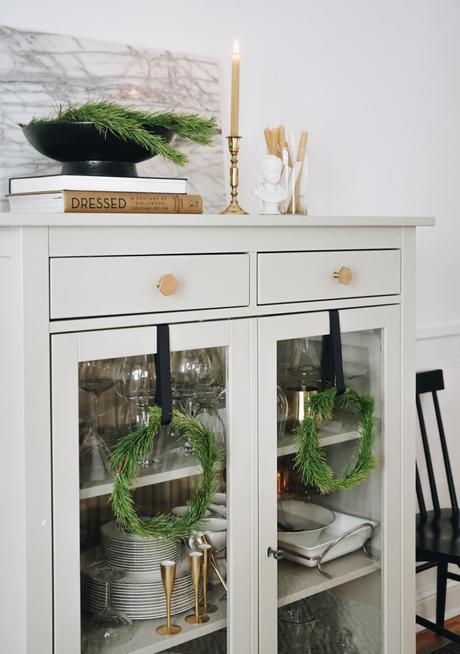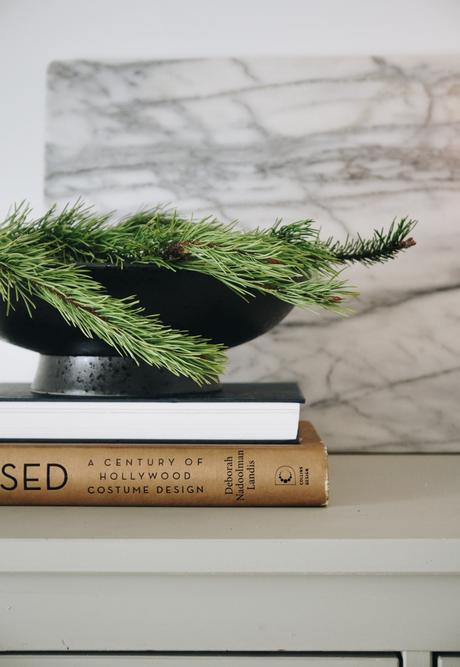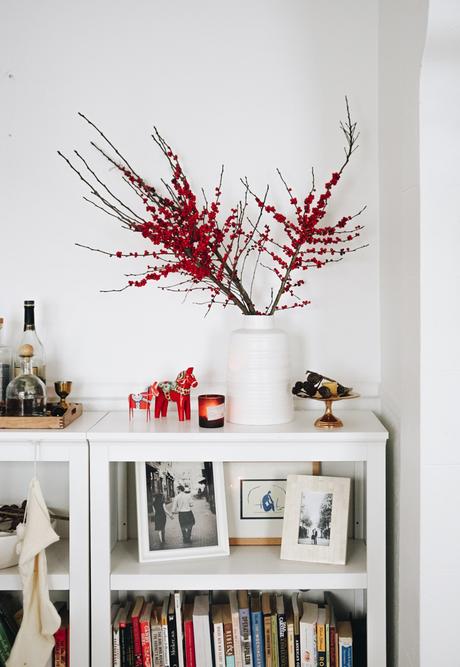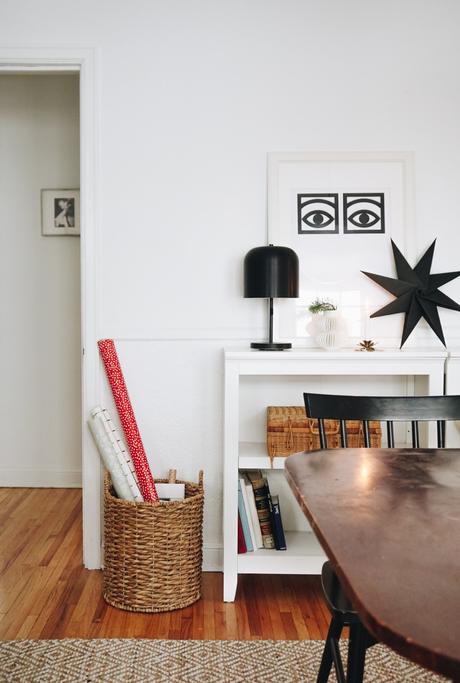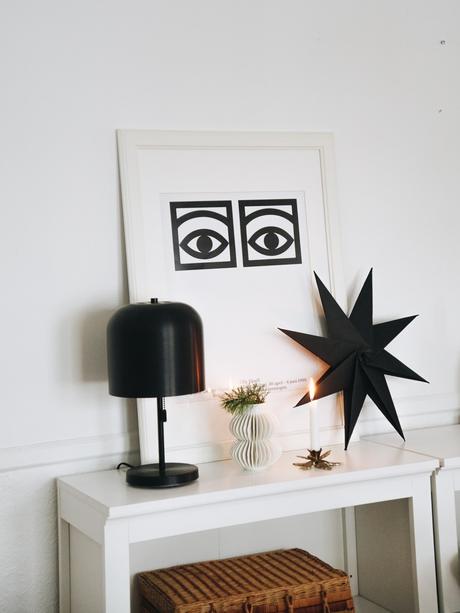 I made two more mini wreaths for the china cabinet, and sprinkled candles and greenery around here like fairy dust.
I can't tell you how many times I've keyword searched for 'nordic christmas' on Pinterest over the past month and something that always came up were paper stars. I looked everywhere-ikea, amazon, google-and I only found them through EU retailers. $6 for the star and and $50 for shipping.
So I found this origami star tutorial, and made some myself. Video tutorial coming soon on these!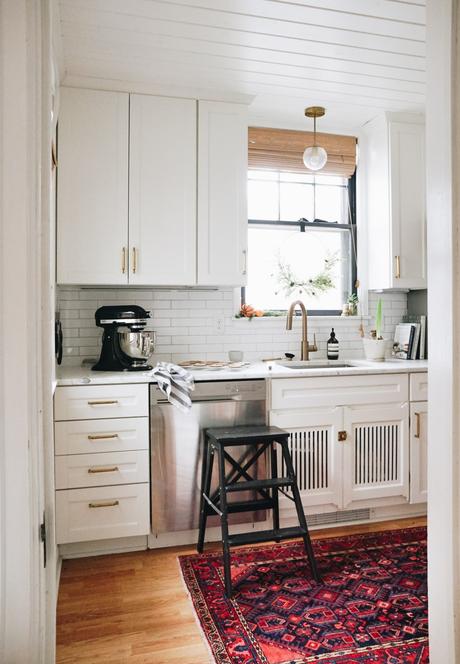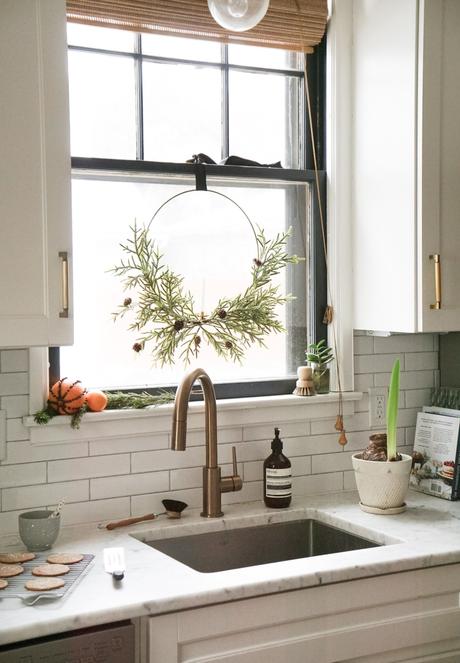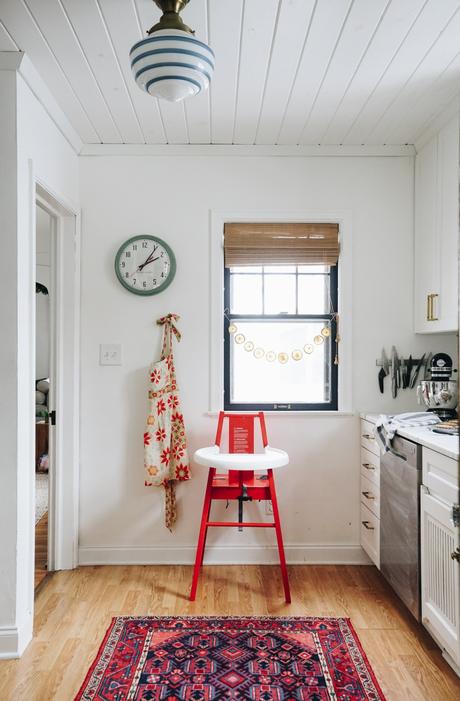 In the kitchen, I hung the dried orange garland in one window, planted an amaryllis, and hung another faux green wreath above the sink.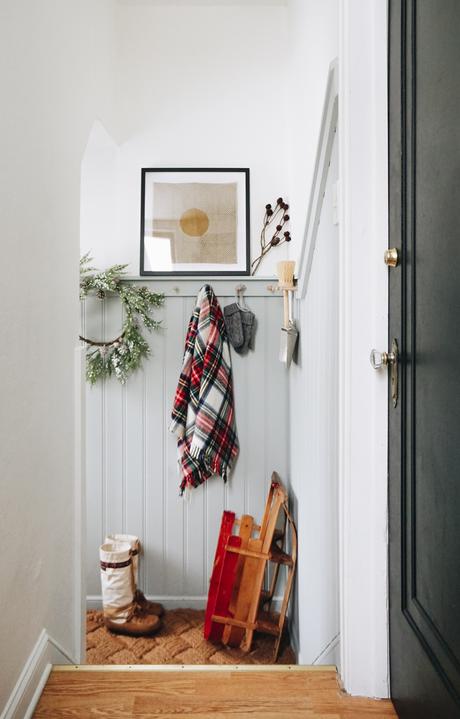 Then in the back hall, I dusted off the old toboggan my parents gave to Sylvia so it's ready to ride her around the yard once we get enough snow. The tartan blanket was my grandma's before she passed, and those boots are the WARMEST from Minnesota made, Steger Mukluks.
Ken gives me free reign to decorate the house mostly because he knows how much I love it, and he gets carte blanche with the lights on the outside of the house. I'll try to post the outside of the house in Instagram stories soon, so you guys can see his handwork. He takes a lot of pride in the house lights and does a really good job!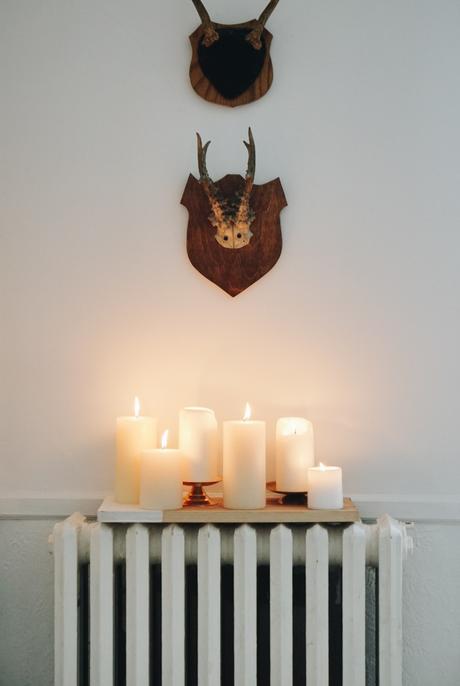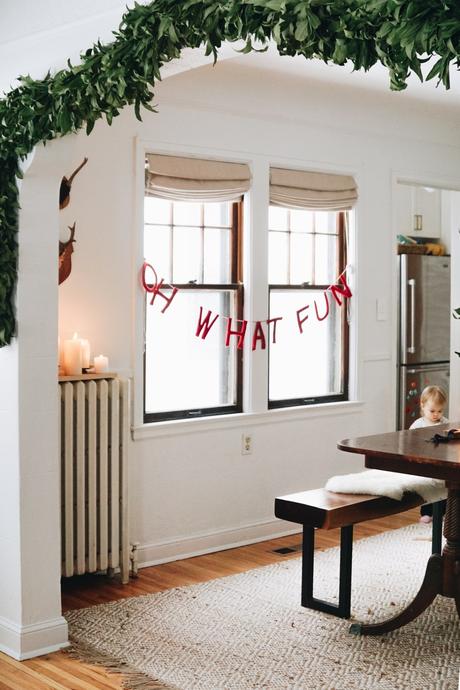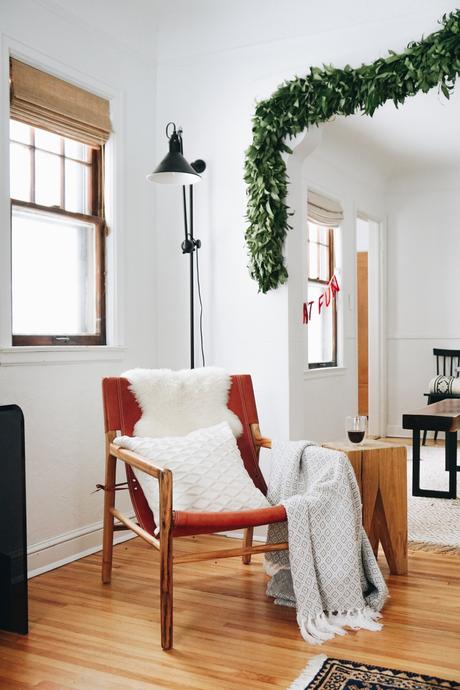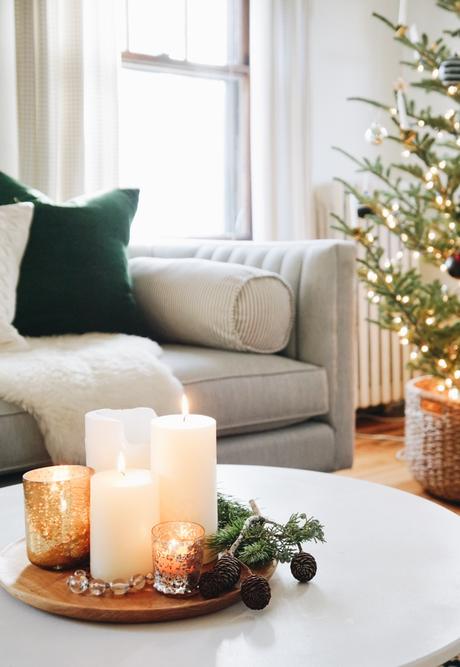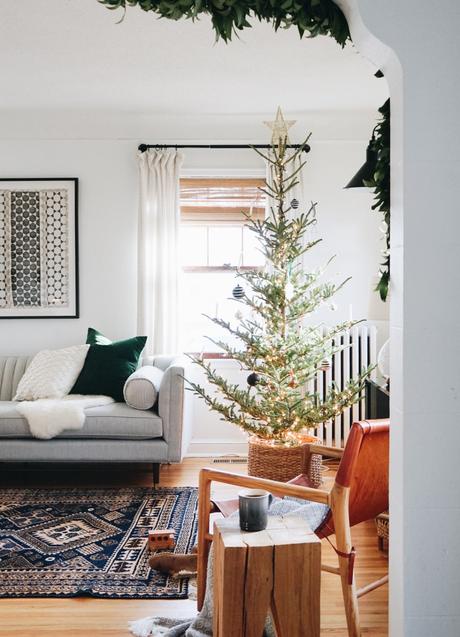 Want more Holiday ideas? See all my Christmas posts.