Month of May flew by really, really fast. It was quite a busy month jam packed with a lot of fun and food -- celebrated my birthday, Mother's day, met some blog buddies, took a painting class along with couple of friends, planted a raised bed garden and caught up with family and friends. I wish all months are this way -- even though it went fast, a lot of things have happened and most of the time is accounted for unlike some months were absolutely nothing happens in the whole entire month.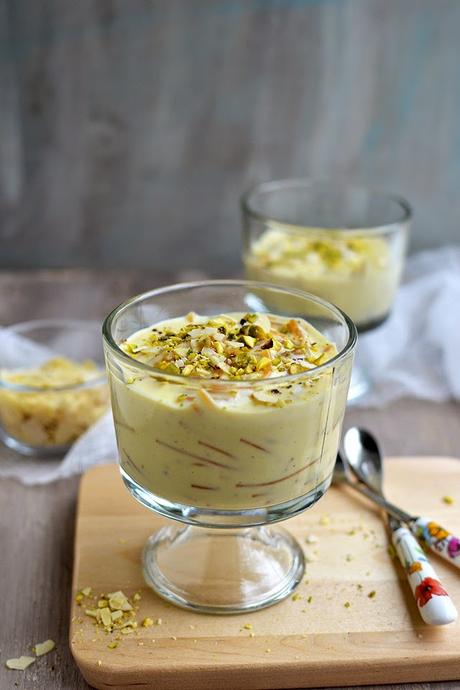 Along with the other happy incidents, my blog completed 9 years and entered into it's 10th year of blogging. I don't think I even knew what I was doing or what I wanted to do with the blog 9 years ago when I started it. This space was my way of documenting my recipes, never thought I would last this long. Being a stay at home mom for the last 3 years, the blog has become my main hobby -- it gives me something else to think about other than the mundane everyday chores.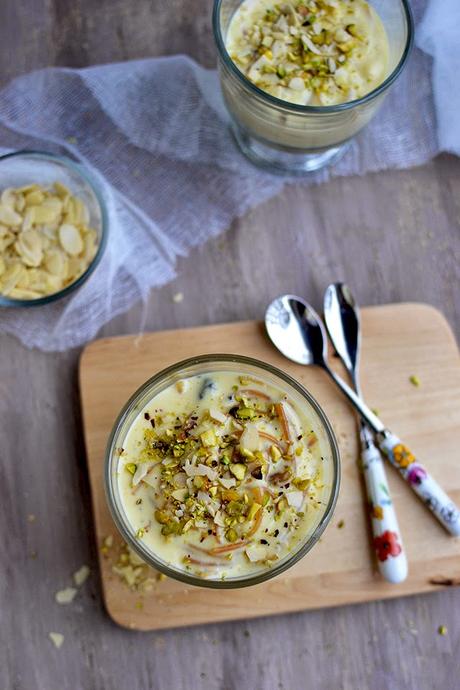 I have to thank my family for all their support. Thank you to
Valli
& the BM group for all their inspiration and encouragement -- without which I'm 100% sure I would have stopped blogging many years ago. Thank you to all my readers for visiting my blog and leaving your valuable comments.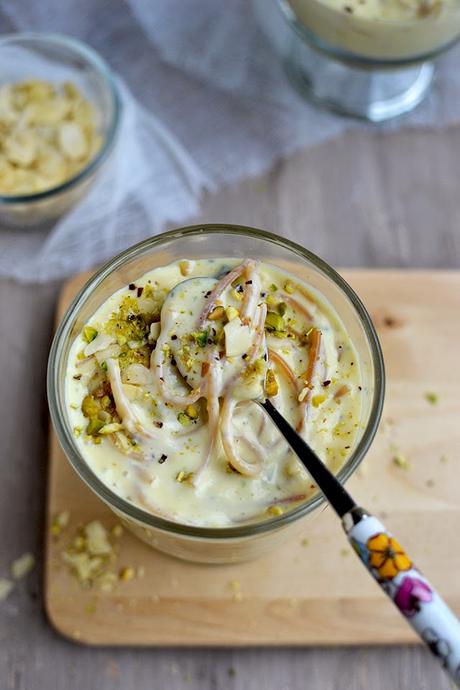 Here's a dessert to celebrate the occasion. This Noodley pudding or Siwayan is a creamy, custardy and spiced dish made with semya or vermicelli. Recipe is from '
The Middle Eastern Vegetarian'
cookbook by Sally Butcher. I bookmarked it the minute saw it in the book and made it recently.
This pudding is similar to
semya payasam
except that it is thicker and creamier with the addition of custard powder. My daughter and I thoroughly enjoyed this dish (both my husband and son avoid milk based dishes -- which means more for the ladies -- yay!!)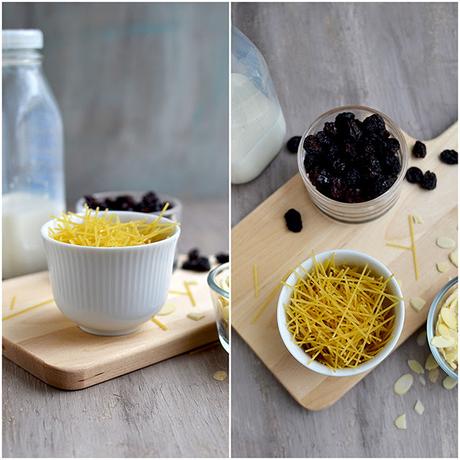 Ingredients
: Vermicelli/ Semya - ⅓cup, roughly broken
Unsalted butter/ Ghee - 2tbsp Turmeric - ½tsp  Ground Cardamom - ½tsp
Milk - 2cups Custard powder - 2tsp
Condensed Milk - ½cup
Raisins - ⅓cup, soaked in water for 10~15 minutes
Almonds/ Cashews/ Pistachios - ⅓cup, roughly chopped
Method
:
Break the noodles roughly and fry them in the butter/ ghee, tossing them occasionally. After a few minutes, add turmeric and ground cardamom.
Pour the milk into a heavy bottomed pan, add the spiced, browned noodles and bring the mixture to a gentle simmer. After about 12~15 minutes, the noodles should be soft and cooked.
Take a couple of tablespoons of milk and mix it with the custard powder, then stir it back into the pan along with the condensed milk.
Cook the mixture for another 5~6 minutes, stirring well. If it looks too thick, then add more milk.
Finally stir in the raisins and most of the nuts, reserving a few to decorate. Serve hot or cold.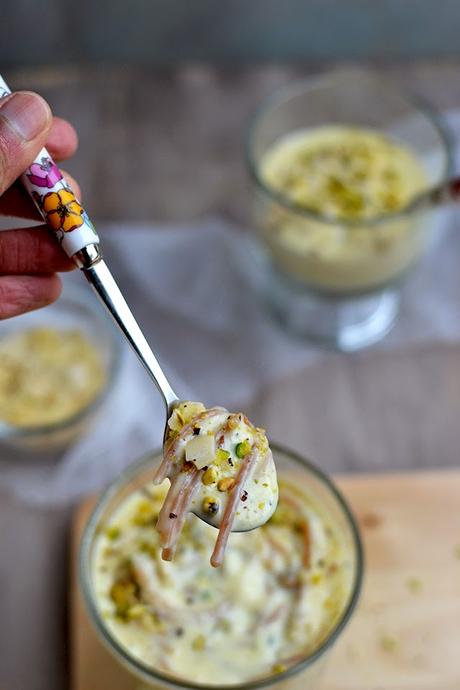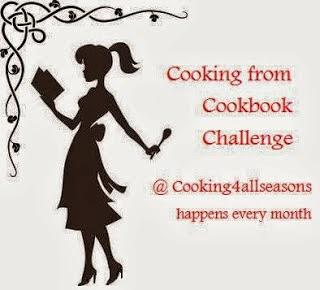 Linking this to Valli's '
Cooking from Cookbook Challenge: May -- Week 5'.