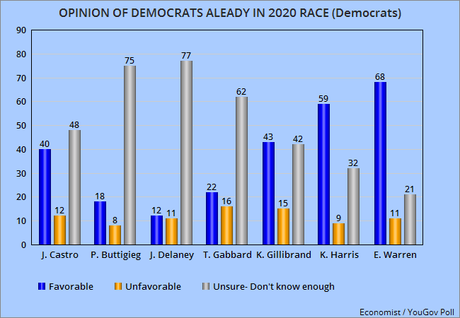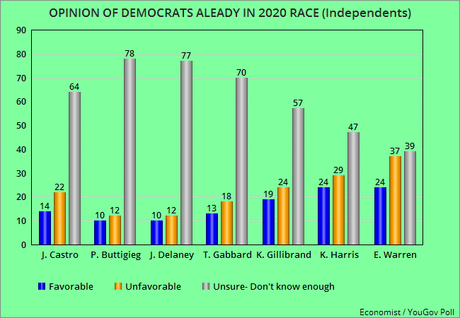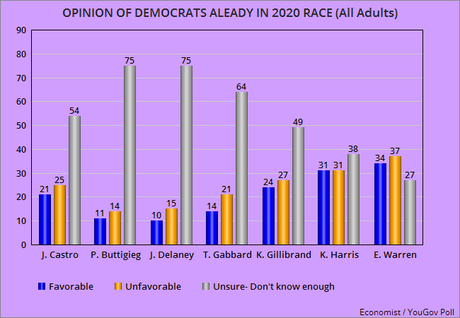 The charts above were made using information in the latest Economist / YouGov Poll -- done between January 27th and 29th of a national sample of 1,500 adults, with a margin of error of 3.2 points. The margin of error for only Democrats or Independents would be slightly higher.
The poll asked respondents whether they had a favorable or unfavorable opinion of the Democrats who had declared their candidacy for president in 2020. (Cory Booker had not declared at the time of this poll.)
Among Democratic voters, only two candidates scored higher than a 50% favorable rating -- Elizabeth Warren (68%) and Kamala Harris (59%). Gillibrand was third with a rather poor 43% and Castro was fourth with 40%. Buttigieg, Delaney, and Gabbard all had less than a 15% favorable rating from their fellow Democrats.
All of them rated poorly among Independents, with Warren and Harris leading the pack at 24%. All of the others had less than 20% favorable rating. This is important because Independents can participate in Democratic primaries/caucuses in many states.
The third chart shows the opinion of all adults. None got anywhere near a 50% favorable rating. Warren (34%) and Harris (31%) led the field.
There is still plenty of time before the fist primaries and caucuses begin -- about a year. And some of these candidates will be able to build a stronger place in the public's opinion. They need to do that, because none of them have any bragging rights yet.