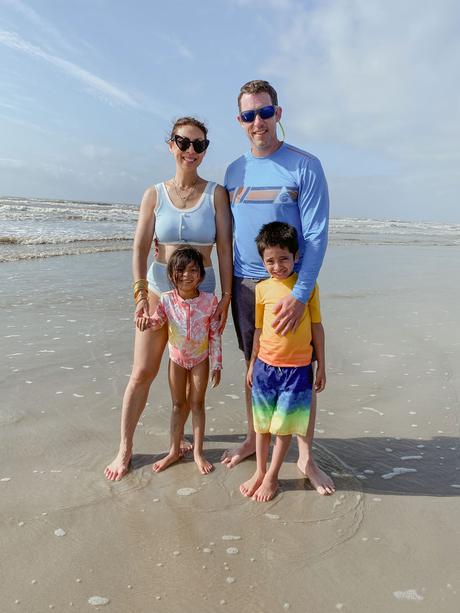 Hello GlamFam! It's officially an oven in Texas with temperatures in the triple digits. I thought this would be a great post to share since I wear sunscreen every day and slather it on the children so frequently! A little background on sunscreen and me... I am allergic to chemical sunscreen and discovered that when I was a little girl. I put it all over my body and face. Long story short, my dad said that it looked like I was in a boxing match because my face swelled up so much. Over the years, I've tried different sunscreens and have a lot of funny/not-so-funny stories about sunblock. Fast forward to today, non-toxic sunscreen for the family is easily available now! HOORAY!

I am sharing the family faves that we've used all Summer (and previously). Of note, these sunscreens only contain physical sunscreens like titanium dioxide and zinc oxide. My daughter and I are allergic to chemical sunscreens that contain avobenzone, homosalate, octyl methoxycinnamate, etc.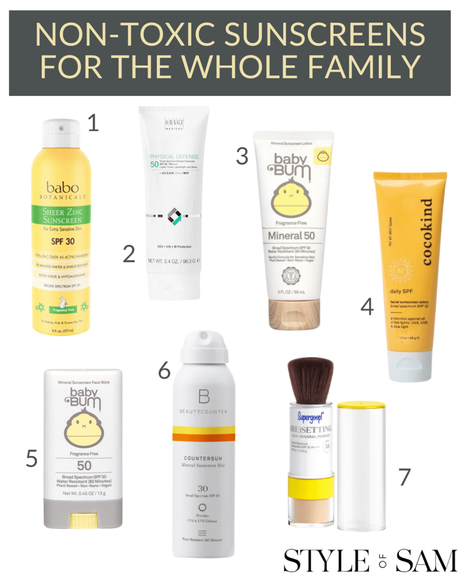 1. BABO BOTANICALS SHEER ZINC SPRAY SUNSCREEN (SPF 30): With 100% Zinc oxide as its active ingredient, this sunscreen is a family go-to! Not only is it able to protect for 80 minutes with sweat and water, it's also fragrance-free and hypoallergenic. Get it here for only $12! We love this one because of the convenient spray that can be locked for travel.
2. OBAGI PHYSICAL DEFENSE TINTED BROAD SPECTRUM MINERAL SUNSCREEN (SPF 50): A little bit goes a long way with this tinted sunscreen which is why it's worth every penny! It defends skin from visible light and infrared rays as well as damaging free-radicals known to accelerate the aging process. I've used the tinted and non-tinted versions. The tinted version gives your skin a nice tan glow which is easier to rub in compared to the white mineral suncreen. However, just know that it can stain your swim suits.
3. BABY BUM MINERAL SUNSCREEN LOTION (SPF 50): Our family loves anything by this brand since it's formulated for kiddos! This one is lightweight, non-greasy/non-oily, and easy to blend into the skin. Made with coconut oil, shea butter, and cocoa butter, this sunscreen truly nourishes the skin while protecting it, too!
4. COCOKIND DAILY SUNSCREEN (SPF 32): This is one of our favorite unscented sunscreens that is also paraben free, dye free, sulfate free, and cruelty free to name a few. It provides broad spectrum protection and defends skin against blue light and pollution as well as skin damage and early aging. This is a great facial sunscreen that I apply last in my morning routine and have been applying to the top of my hands too!
5. BABY BUM FACE STICK (SPF 50): Another Baby Bum fave is this mineral roll-on face stick for sensitive skin. It's so great for the kids and super convenient to have with you at all times since it's a travel size! It absorbs quickly to the skin with a non-oily finish for sun protection. The kids love applying it on their face themselves - they feel like big kids when they do it!
6. BEAUTYCOUNTER COUNTERSUN MINERAL SUNSCREEN MIST (SPF 60): I personally love a good mist sunscreen, and this one is no exception! It's formulated with a non-nano zinc oxide and provides an effective shield from the sun while being gentle on the skin. Again, the spray formulation makes it so easy to apply.
7. SUPERGOOP! RE(SETTING) MINERAL POWDER FOUNDATION (SPF 35): Last but not least is this all-in-one powder foundation with PSF that offers on-the-go protection from the sun while helping you achieve flawless complexion. Nothing better! It goes on so smooth and sheer while minimizing unwanted oils on the skin. This is great for re-application on your face or to apply over your makeup without messing up the application.
THE BEAUTY Rx: Keep your skin looking young by protecting it with sunscreen! Don't forget about your neck and hands! Start young with the Littles too!
WHAT IS YOUR FAVORITE SUNSCREEN?!
Happy Tuesday Friends! We are heading to California today to visit Mr. S's college roommate and his family! It's been a couple of years since visiting them and we are so excited to hang out! They are letting us stay at their beach house which is so fun (and also absolutely stunning)! The kids are most excited about the understairs playhouse that's in it! LOL! Anyhow, they've been troopers because our flight was delayed for 3.5 hours. California, here we come!
Thank you so much for stopping by and supporting SOS!
CHECK OUT MY INSTAGRAM SHOP HERE TO SHOP ALL OF MY INSTAGRAM LOOKS!
// STAY CONNECTED //
stay glam, do good