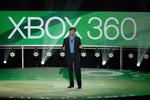 LOS ANGELES, CA - JUNE 6: Don Mattrick, Senior Vice President of the Interactive Entertainment Business at Microsoft Corporation, announces developments at Xbox Live during the Xbox 360 media briefing on the eve of the Electronic Entertainment Expo (E3) on June 6, 2011 in Los Angeles, California. (Image credit: Getty Images via @daylife)
Microsoft is launching a promotion from April 19 to 23, unlocking all entertainment apps so that users who do not subscribe to XBox Live Gold ($60 a year, or $25 for 3 months) can enjoy unlimited streaming through their Xbox 360 to all supported services available in your region, including Netflix, Hulu Plus, VUDU,  YouTube, iHeartRadio and Crackle, among several others.  Xbox users can also take advantage of free trial periods from Netflix, Hulu Plus and EPIX.
It should be noted that other gaming consoles like PlayStation3 and Wii also support a number of major streaming services, but they do not charge a fee like Microsoft does.
If you are interested in movie streaming, but are unsure where to begin, there are a few things you need to get squared away (and if you have an Xbox, you'll want to tackle this list immediately):
Make sure your current broadband connection is at least 3 Mbps to handle streaming without annoying buffering
Determine whether your internet provider has placed data limits on your subscription.  There can be penalties with a handful of internet providers if you consistently go over your data allotment.
Research and compare the various streaming services to see which one best suits your needs.  Better yet, take advantage of their free trials, and cancel the ones that fall short.
Make sure you look into renting individual titles of more currently-released movies from services like iTunes, VUDU or Amazon.
Check out a great checklist for Movie Streaming, as well as How-To Guides to set up your home system.
How to Set Up a Streaming Player
How to Set Up Streaming Through Your Game Console
How to Stream Through Your Blu-Ray Player
How to Connect your Computer to Your TV Set
Source:  http://www.computerandvideogames.com/344166/xbox-entertainment-apps-unlocked-for-non-gold-users-this-weekend/