What is the value of 'Allium cepa'…..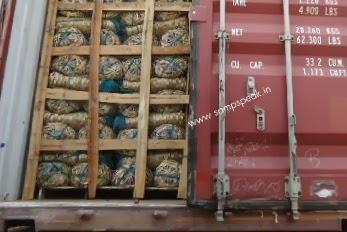 Though not a rule – in general, small articles of high value are more prone to thefts; common goods which are sought in market place are prone to thefts; those goods which have a gray market attract burglars.  Heavy material,  Bulk goods, low priced goods, goods with short expiry date, technology driven items which are used only specialists, special medicines and the like are not 'theft-prone'…… Insurers with long experience  would vouch that losses do not follow any pattern and there are many surprises at times.
Goods in transit from one place to another are exposed to many risks – theft and non-delivery are one amongst them. The purpose of taking a Marine Insurance Policy is to cover the goods whilst they are moved from one to place to another.   The  coverage is governed by the clauses attached to the Policy and in India – it would be 'Inland Transit (Rail/Road) clause' when the transit is by road / rail and Institute Cargo Clauses [C/B/A] when moved by sea.
Besides the basic perils, there is 'Theft, Pilferage and Non-delivery' clause attached specifically to policies extending coverage. In legal parlance, Non-delivery, is failure to convey or transfer a legal instrument or goods as required by law or custom. The coverage offered under Marine Policy in respect of 'non-delivery'  is primarily one providing indemnity when the consignment in its entirety is not delivered at destination by the Carrier to whom the goods were entrusted. BY the TPND clause, coverage is extended for shortage / short delivery too.  Of course losses should be established to have occurred and should be arising out of an insured peril. 
Some simplest of examples of 'non delivery' still not within the purview of coverage could be – seizure by Public authority, package jettisoned by the carrier [when the coverage is on restricted terms], misdelivery especially on production of documents, consignment taken to wrong destination by a carrier ……..and the like.
The cargo owner knows the value of their goods – it is not only the inherent value, the commercial value, or the Invoice value of the goods – also there is the potential profits that would be realized upon sale of goods at destination, the loss of market, market share, potential good will and other issues – hence generally, cargo owner would not like a loss to happen, even when they are fully protected by insurance. Still, you often come across instances of 'high value cargo' entrusted to literally unknown operators / carriers and often even basic check of vehicle / driver records are not carried out.

There have been instances where the carrier or the lorry driver ran away with the high value cargo, thus causing a huge loss to the cargo owner.
The onion (Allium cepa) also known as the bulb onion or common onion, is used as a vegetable and is the most widely cultivated species of the genus Allium. Its prices have been sky-rocketing causing concern for everyone including the politicians as this could impact their fortune when elections to some States are around the corner…….  Still none thought that unscrupulous robbers would add onion to the list of precious items.  Here is an interesting report from Daily Mail of 21.11.13
The Nashik police are on the trail of a truck driver who has vanished with 194 quintals of onions worth around Rs 10 lakh. The onions, according to the police, were stolen from Swami Samarth Enterprises. The firm's owner Anita Mahajan had purchased 194 quintals of onions from the market in Nashik. The onions were packed in 424 sacks and were to be sent to Uttar Pradesh.  Mahajan had booked a truck belonging to one Faisal Khan to transport the vegetables to Uttar Pradesh on November 11

. Normally, it would take around 30 hours for a truck to reach Uttar Pradesh from Nashik. However, the onions didn't reach the intended destination even after four days.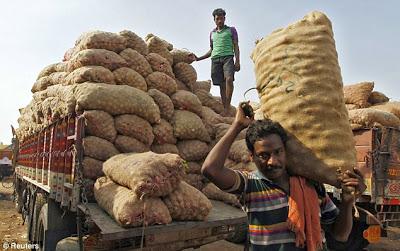 not this truck though !!


Failing to locate the driver and the truck, Mahajan on Monday filed a complaint with the police. Police said the truck driver, identified as Sanjay, has been missing. Police suspect he has already sold the onions.  "He must not have entered Uttar Pradesh and could have sold them in Madhya Pradesh. We have formed three police teams to trace the driver," said a police officer. CB Holkar, a member of NAFED, said such incidents are known to occur whenever prices go through the roof. "We see one or two such instances during the years when prices of onion go up. Even several quintals of sugar had gone missing when the sugar prices went up in the past."  He added that in most such cases, the traders come to know about the robbery very late. They are also aware that on certain occasions, the truck could have broken down.




"When you don't hear from the driver of the truck and if the delivery to the intended destination is delayed by more than two days, you need to go to the police immediately," said Holkar. According to him, traders should check the registration and other documents of the transport company and should rely only on those who have been in the field for a long time. In October, a shop in Thane district was robbed of onions worth Rs.18,000.




Onions, Marine transit and …. a possible Marine claim…. Interesting !!




With regards – S. Sampathkumar


22nd Nov. 2013