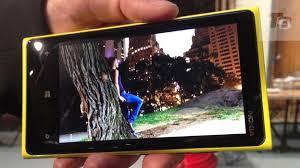 Nokia Lumia 920 is the latest from the house of the Finnish mobile phone maker. And it is destined to earn a lot of cash for Nokia.
Verdict is in! You have chosen Windows Phone as your new operating system for the smarphone market. The Lumia smartphones have, hence, been blessed with several members. The high end segment is currently adorned by the majestic Lumia 920, which is also their flagship model. It is great to see a new operating system in the market since there is always better industrial output with the presence of several mobile phone makers in the market.
Coming back to the handset, there is lot to be discussed. The Lumia 920, sadly, does not support expandable memory space. But this will irritate some users only. And the 32GB of memory space is sufficient for most folks using this smartphone. But it is still a question to ponder why the Finnish mobile phone maker decided to do away with the micro SD card expansion facility.
In screen size, the Lumia 920 hits the bulls eye. It offers a right 4.45inches screen size, which is quite decent enough for one hand usage. The 4.5inches screen gives a resolution of 768 x 1280 pixels, and this is what high end smartphone should appear like. It is a huge relief to see that Nokia has not used a 5inches or bigger screen size, which is not practical by any standard. But Nokia could go with the trend as use a 5inches of screen size pretty soon.
The next big deal comes with the snapper incorporated in the smartphone. The 8MP snapper is of the PureView family, which offers great clicking quality and recording capabilities. It is not convenient to compare it with all the phones in the market. But a slight comparison with the iPhone is sufficient to make anyone purchase this smartphone. It even clicks great pictures in low light situations due to the presence of flash in the handset.
It also sports Near Field Communication, which is there for sharing, pairing and doing payments with your handset. And there is the wireless charging clause, which is slowly becoming a standard in the premium category.
Huge power is also needed in a smartphone of this caliber. There is a 1.5Ghz dual core processor, which is supported by 1GB of RAM. The result is quite apparent, and makes for another reason to get this handset. And there is the usual set of connectivity features, such as Bluetooth, WiFi, etc.
In the end, there is the Windows Phone 8 operating system. It is based on tiles, which is a refreshing change from what we have come to see in the Android and other operating systems.  There are Live tiles, which can be used as widgets.
 
Nokia Lumia deals are available with all the leading service providers in the United Kingdom mobile phone market, such as Vodafone, Three, t mobile, Orange, tec. There are several compariosn portals in the market offering these mobile plans. You can buy from Nokia Lumia 920 contract, pay as you go and SIM free deals. Visit a mobile comparison portal to get these mobile phone deals.