Have you ever thought about these little seeds that add tremendous flavor to our food. Yes, sesame seeds. "Open sesame"—the famous phrase from the Arabian Nights—reflects the distinguishing feature of the sesame seed pod, which bursts open when it reaches maturity.
These little seeds may be the oldest condiment known to man – adding a nutty taste and a delicate, almost invisible, crunch to many Asian dishes, a lot of Middle Eastern dishes and sweets, Kaak… and the best part is that they are available throughout the year…
They are very healthy as they are highly valued for their oil which is exceptionally healthy and high on important nutrients.
Here NGNO brings you a few of famous recipes which include sesame seeds.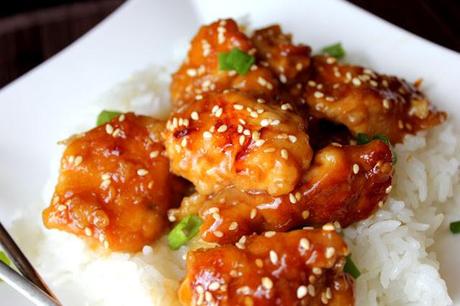 Sesame chicken
Sesame chicken (also called Chinese sesame seed chicken) is a syncretic dish, commonly found in Chinese restaurants throughout the English-speaking world. The dish is similar to General Tso's chicken but sweet rather than spicy.
Marinade Ingredients:
1/4 teaspoon baking powder
1/4 teaspoon baking soda
3 whole boneless chicken breasts
2 tbsp light soy sauce
1 tbsp cooking wine
2 tbsp sesame oil
2 tbsp flour
2 tbsp cornstarch
2 tbsp water
1/4 cup cornstarch
1 cup sugar
2 tbsp soy sauce
2 tbsp sesame oil
1 tsp chili paste
2 tablespoons toasted sesame seeds
1/2 cup water
1 cup chicken broth
1/8 cup vinegar
Frying Ingredients:
4 cups vegetable oil for deep-frying
Directions for the Sesame Chicken:
Toast the sesame seeds and set aside.
Cut the chicken into 2 cm cubes. Mix the marinade ingredients and marinate the chicken for 20 minutes.
Directions for the sauce:
Mix together all of the sauce ingredients.  Pour them into a small pot and bring to a boil, stirring continuously. Turn the heat down to low and keep warm while you are deep-frying the chicken.
Directions to deep-fry the chicken:
Add the marinated chicken pieces a few at a time, and deep-fry until golden brown. Drain on paper towels.
Just before you're finished deep-frying, bring the sauce back up to a boil.
Place the chicken on a large platter and pour the sauce over.  Sprinkle with sesame seeds. Serve the Sesame Chicken with rice.
Sesame Salad Dressing
2 tsp rice vinegar
2 tsp sesame oil
1 tsp sugar
2 tsp soy sauce
1 tsp finely chopped pickled ginger
2 Tbsp ground white sesame seeds
3 tsp mayonnaise
Directions:
Mix all ingredients together.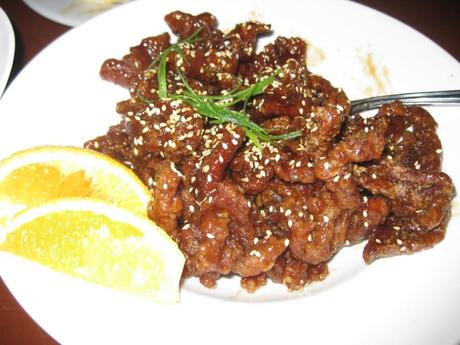 Stir-fry Sesame Beef
Ingredients:
1 tbsp vegetable oil
2 tbsp soy sauce
2 tbsp cooking wine
2 tbsp honey
2 tsp rice vinegar
1 tbsp white sugar
1/2 tsp red-pepper flakes
1/2 tsp cornstarch
Another 1 tsp vegetable oil
350 gm pound  steak, thinly sliced
2 red bell peppers, ribs and seeds removed, thinly sliced
1 tbsp sesame seeds, roasted
Directions:
Mix soy sauce, wine, honey, sugar, vinegar, red-pepper flakes, and cornstarch. In a large casserole, heat 1 tbsp oil on medium fire. Add meat and cook until brown. In another casserole, add 1 tsp oil and bell pepper and cook until peppers soften. Add the soy sauce mixture to the beef and let cook, stirring until sauce thickens. Add the roasted sesame seeds.
Serve along with boiled or steamed white rice.