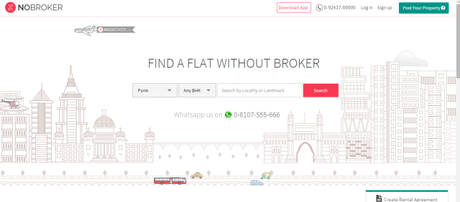 In one of my recent posts (about DoctorInsta), I have mentioned how I have had the opportunity to feature several Indian tech. startups in the past two years. And it's a matter of delight for me to see them progressing well and gaining success. One such service is NoBroker. It is available through NoBroker website and and serves to enable prospective tenants and house owners to get connected directly. Using NoBroker, a person can very easily search out a property available for renting. Just set up your criteria and browse through the list of available properties that meet the criteria. Similarly, house owners can also easily list their properties by filling in relevant details about the property. For more information, you can check out my review of NoBroker.
I recently learnt that NoBroker is progressing well and is incorporating a few changes to make its services even better and more convenient for its users.
The chief of these changes deals with the problem of missed calls. NoBroker allows the users looking for property for rent to call the owners of selected properties directly. However, as we all know, people can miss calls due to various reasons. NoBroker noticed that a lot of calls were getting missed. And a major number of NoBroker users who missed calls were not calling back. And the caller too didn't often bother to try calling again as there were several other properties available. This was inconvenient for users and led to loss of business.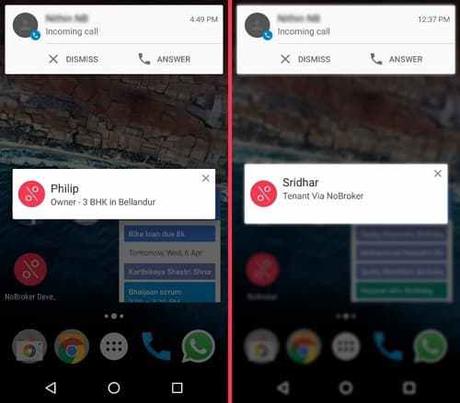 NoBroker has addressed this problem by launching a feature called NoBroker Badges. Now whenever a person using the NoBroker app calls another person using the app, a badge will get displayed saying 'NoBroker Owner' or 'NoBroker Tenant.' Since this feature has been launched, NoBroker has noticed that 45% of owners or tenants who miss a call are now calling back. And that is a marked improvement form earlier situation.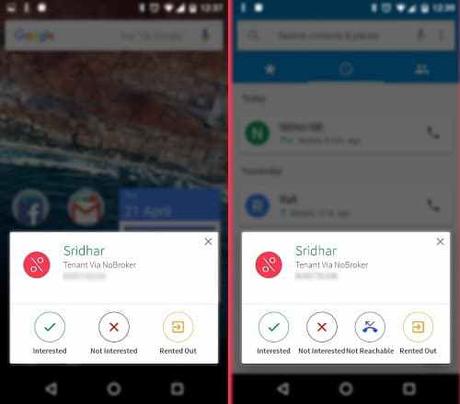 NoBroker has also made it easier for the tenants and home owners to express their interest or disinterest more easily. With just one single click the caller and the receiver of the call can give Feedback and express their decisions about the renting of the property. The callers get four Feedback buttons on their screen and the receiver of the call gets three Feedback buttons. Using these buttons, they can give quick feedback which helps the other party to make decisions sooner.
The NoBroker service is as yet available only in Mumbai, Bangalore, Pune and Chennai. I hope it would soon spread over to other cities as well to make it easier for more people to rent houses.
To know more about NoBroker, check out their website at: http://www.nobroker.in/