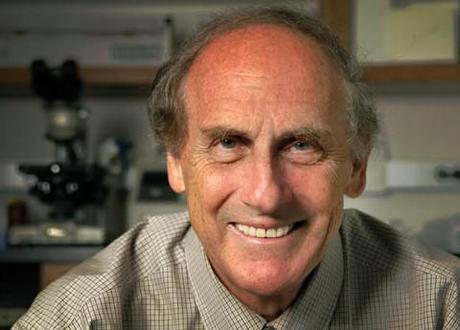 Ralph Steinman - a great scientist, an untimely death. Photo credit: Rockefeller University
In an unprecedented twist of events, a Nobel Prize will be awarded posthumously for the first time since 1961. On Friday 1 October 2011 Canadian-born Professor Ralph Steinman died of pancreatic cancer at the age of 68. On Monday 3 October, he was awarded a Nobel Prize for medicine by a committee unaware of his death, the Associated Press reported. Only when attempts were made to contact Steinman did the Nobel Foundation learn of his passing. This presented a dilemma for the "red faced" jury, as the rules of the awards state that "work produced by a person since deceased shall not be considered for an award". The statutes, however, go on to say that "If … a prizewinner dies before he has received the prize, then the prize may be presented," and the jury's interpretation of this rule allowed them to announce that the prize would still be awarded. Steinman shares the prize with American Bruce Beutler and French scientist Jules Hoffmann.
A great scientist. Steinman was awarded the Nobel Prize "for his discovery of the dendritic cell and its role in adaptive immunity." In 1973, Steinman discovered "dendritic cells", "that play a critical role in activating the body's adaptive immune system, and his subsequent research led to a new understanding of how they function" the New York Times wrote. In a statement released on the Rockefeller University website, university president Marc Tessier-Lavine said that his "research has laid the foundation for numerous discoveries in the critically important field of immunology, and it has led to innovative new approaches in how we treat cancer, infectious diseases and disorders of the immune system." Born in 1943, Ralph Steinman received a Bachelor of Science degree from the McGill University in Montreal, before receiving his MD from Harvard Medical school and going on to work at Massachusetts General Hospital. A much celebrated immunology researcher, Steinman won a number of accolades, from the Mayor of New York's Award for Excellence in Science and Technology to the Cancer Research Institute's William B Coley Award, but none could compare to the Nobel Prize he never knew he won.
Steinman won a number of prestigious awards but none could compare to the Nobel Prize he never knew he won.
Treated his own illness. Steinman's identification of dendritic cells was a major discovery in medical science, despite being controversial at the time. Steinman's dedication and belief in his research extended to his own treatment, and he had been "treating himself with a therapy based on his own research into the body's immune system", according to the Guardian. Steinman was determined to cure himself of the illness, rather than face chemotherapy, although he did undergo some of the treatment, said Rockefeller colleague Dr Michel Nussenzwieg "he felt the immune system would be the best way to effect a cure, as opposed to just living with the disease." Dr Alan Venook, from the University of California, however, warned against putting too much faith in Steinman's unique treatments: "It's a disservice to the field for anyone to say that his immune therapy prolonged his life." He warned that publicly celebrating the effects of an untried method could lead to public misconceptions and dangerous medical treatments being attempted.
Dr Sarah Schlesinger, a close colleague of Steinman's, said "When he got sick, he realized he needed to call upon these cells to induce a strong enough immune response to fight his tumor, and that is what he did."
An untimely death. Writing for The New Yorker, Amy Davidson, saw the irony of the situation as "the Nobels exist because of the mistimed news of a death: Alfred Nobel, the man behind dynamite, saw a premature obituary calling him a merchant of death, and decided that he couldn't allow his real one to read that way."
A unique situation. The decision to award the prize was made because "The Nobel prize to Ralph Steinman was made in good faith, based on the assumption that the Nobel laureate was alive." Göran Hansson of the Nobel committee told The Guardian: ""We never inform the winners in advance. I couldn't get through to Dr Steinman for obvious reasons, so I sent an email that was picked up by his daughter, who contacted the president of Rockefeller University. He then contacted us with the news."
A noble gesture. Canadian outlet The Globe And Mail declared the decision to let the prize be awarded a "noble gesture", and the announcement has been welcomed across the board. Tessier-Lavigne called the situation "bittersweet", while Steinman's family were "touched … He would be truly honoured."
More tragedy »