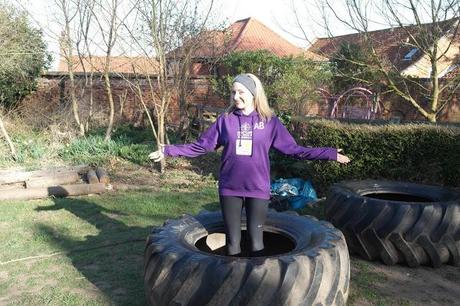 You know the situation when you agree to something that you believe is a splendid idea at the time, then you get to the event and you wonder why the devil you agreed to it?! Well this was one of those scenarios.  When Travel Supermarket contacted me and asked if I'd like to join some other bloggers on a long weekend trip to No1 Bootcamp in Norfolk, I immediately replied screeching 'Yes I'd love to!' 
As the time drew closer and I did my research into what I'd be doing and thats when the fear suddenly set in... What if I wasn't good enough? What if I was the least fit? What if no one likes me?
Thoughts like this seemed to swamp my mind. 
I managed to get my kit list ready but I knew I'd quite clearly over packed, but like my Mum I always pack for just in case situations.  My boyfriend and I stayed in Long Sutton at the Riverside Inn the night prior.  We were visiting family and whilst there we indulged in a delicious curry, then a bacon sandwich in the morning before making our way to the No1 Bootcamp Norfolk ...I know, I know naughty food choices but I simply figured I'd be exercising lots so I justified it all.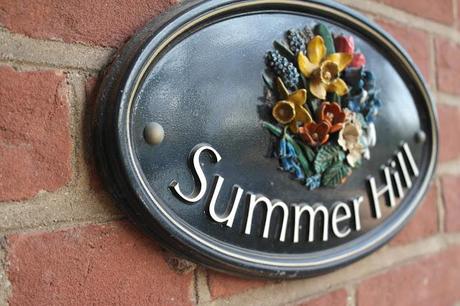 I was the first to arrive, greeted by the lovely Paula and was shown to my room. I was sharing with 3 others but no one had arrived so I got myself settled in. My boyfriend left me and made his long journey back to the East Midlands, later he text me saying it was like dropping a child off for their first day at school! Thing is it really felt like that!
The room was gorgeous over looking the beautiful grounds, picture perfect, blissfully quiet and polar opposite to what I experience on a day to day basis.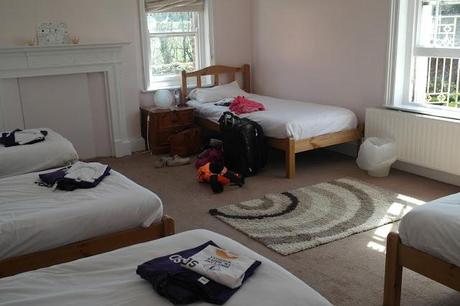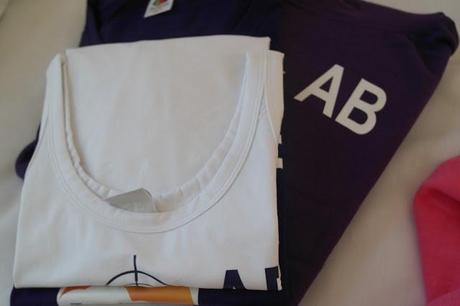 We each had a hooded jumper, vest top and tshirt with our initials on for us to train in.  When I put my case down I soon realised I really had packed far too much and getting the train home was going to interesting.  My train journey aside, at this point I knew I had bigger fish to fry... it was all about exercising.  I met my lovely roommates and any fears I'd had were shared equally with them as well.... Phew! I could finally relax as I wasn't alone.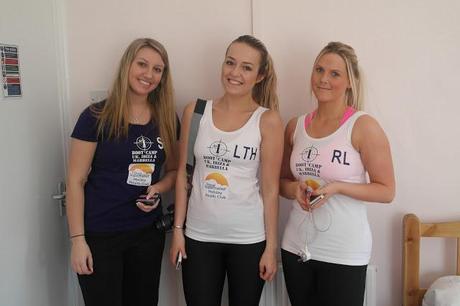 My bootcamp roomies; Scarlett, Lucia & Remi
On went my gym gear and I was ready for action.
Before we kicked started our fitness plan we had a prep talk from Bootcamp Mummy, Paula and of course the team at Travel Supermarket.  Firstly we got told about Bootcamp Rules and had a weigh in.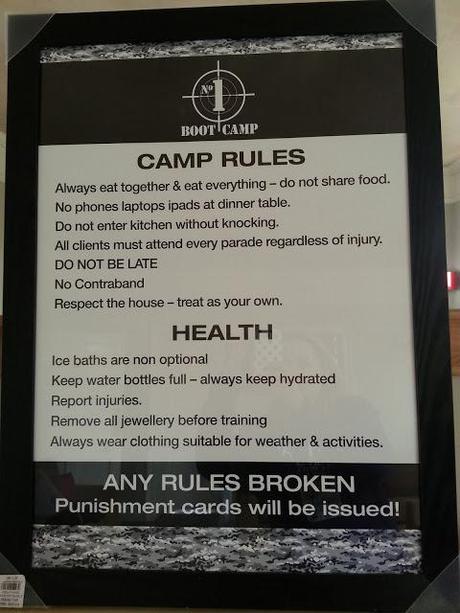 They began by advising us that each day we should tweet our peaks and pits, then the Bootcamp leaders would chose their favourites and two lucky winners would get a massage. I knew my pits were going to be far easier to create than my peaks!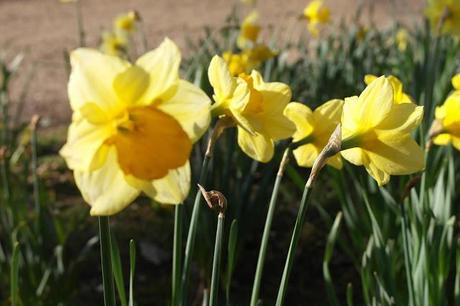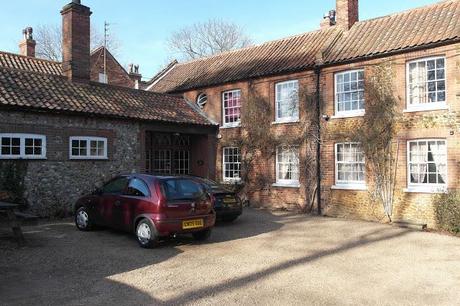 The sun was shining and we were eager to get started.  We were firstly told that we should never stand still, this was in order to keep the blood moving and if we were caught standing still we'd be punished! So I moved as much as possible!
We had some ice breakers initially, followed by sprint runs around the grassy area and more importantly we were introduced to the curse word of the entire trip... burpees.  I detest burpees with an absolutely passion they are the one form of exercise I will try to wriggle my way out of!  These little devils were our red card for the weekend, if you were late, if you didn't continue to move or if you were speaking over the trainer - you got burpees.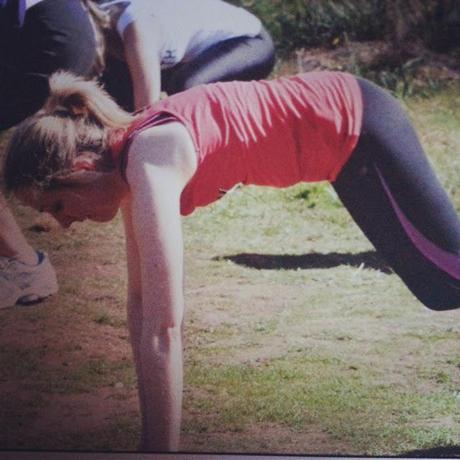 Concentrating hard on burpees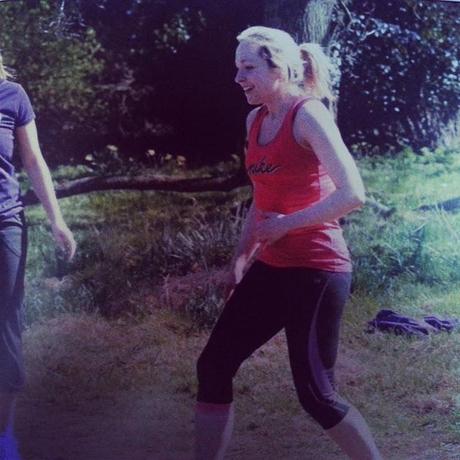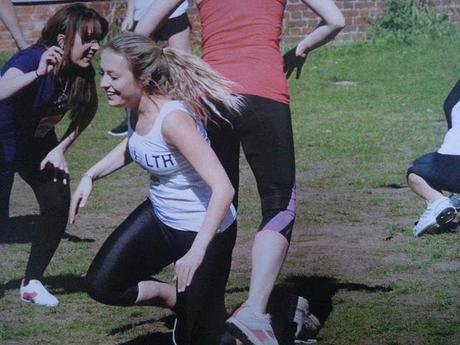 The rest of that introduction session was plenty of team games such as tag, stuck in the mud and after a break we went on to do the gun run.  I was a bit unsure of this but I truly love it in the end.  As you can see from the image below which is a 'gun' formed by wood poles, tires, sandbags and balls placed next to it.  What we had to do is go on a walk carrying all these items between us until we had a 30 second countdown, which was when we had to reform the gun as quickly as possible. It was tough as the main wooden pole was extremely heavy and the tires were a lot harder to steer than expected.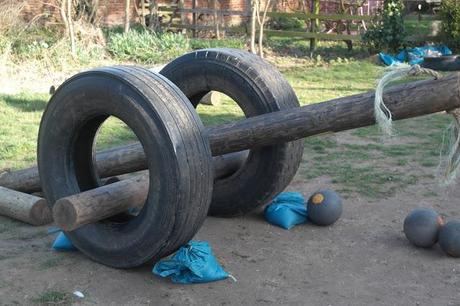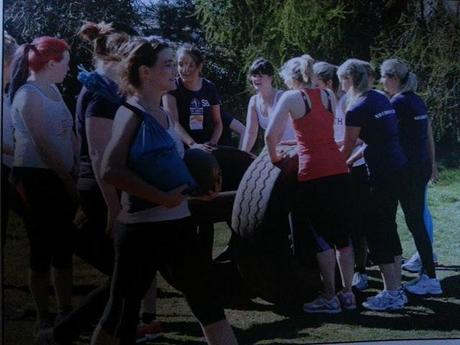 The day finished and we relaxed, drank fruit teas and headed to bed. After a well needed sleep we woke up with the sounds of the cockrel at 6am, so downstairs we all plodded attempting to appear as fresh as possible. We had a busy day ahead starting with our reps challenge.  Being really honest this was my least favorite part of the entire experience.  I can't stand circuit related exercise at the best of times, but doing layered reps and before breakfast?!  Exactly!  By the time we finished I was seriously annoyed with burpees!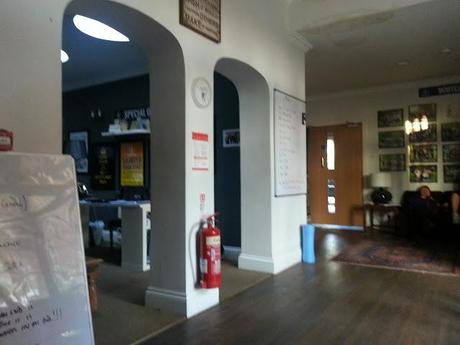 Inside the house
I can honestly say I've never been so pleased to see breakfast - I was absolutely starving! I do often do morning exercise before breakfast but nothing as intense, but on the plus side it did show me I could do it.  We next had work, play, rest session which was circuit exercises with a bleep test in the middle - basically it was partner work where you tag each other to move onto the next exercise.  I really enjoyed this, I think mainly because I didn't have time to think about how much something was hurting or if I felt tired.  To finish off the session we had a few team games where we had to create images out of people!  This was so much fun and our team were doing really well, especially when we had to create a pyramid.  My old cheerleading instinct kicked in and away we went.  I did feel sorry for Maddie, who was very brave and was the top of the pyramid!
The rest of the day became a blur from being so active, but next was the boxing hurricane session.  My word this was tough!  I have done body combat but that is as far as it goes, I've never done anything with punchbags and making contact with something.  Me and Remi were partnered together one with boxing gloves and the other with the punch pads.  Initially I was quite scared to punch hard but as it went on I really went for it and I must say its amazing for getting any aggression out of you! However I say that but when trainer Will came around and made me punch with him, my arms wanted to fall off! He kept pushing to really go for it so I truly tried as hard as I could! 
After an extremely intense morning I was absolutely over the moon to see we had a 7 mile walk ahead of us. I dog walk a lot so was really ready for a lovely long walk in the sunshine.  Now I'm not someone to faff when it comes to walking, I like to get a wiggle on and get to my destination.  This walk was wonderful as it was all in the countryside, in the sunshine and a perfect time to chat to fellow bootcampers.  I had some great conversations and even quizzed bootcamp trainer Craig on the way about exercise and eating correctly.
We got to some woods where we all pulled over to have a team talk. We were all going to be doing a team building exercise by creating 'shelters' using various items around us.  In our team we quickly started planning how to build it,  I would of been more competitive but my mind was elsewhere... I had been drinking so much water I was absolutely desperate for the toilet - off to the bushes it was for me!  I know that isn't very lady like but if you've gotta go, you've gotta go!  The shelter building was good fun and seeing how every other team had interpreted it differently was good.  After the show and tell we started heading back to camp.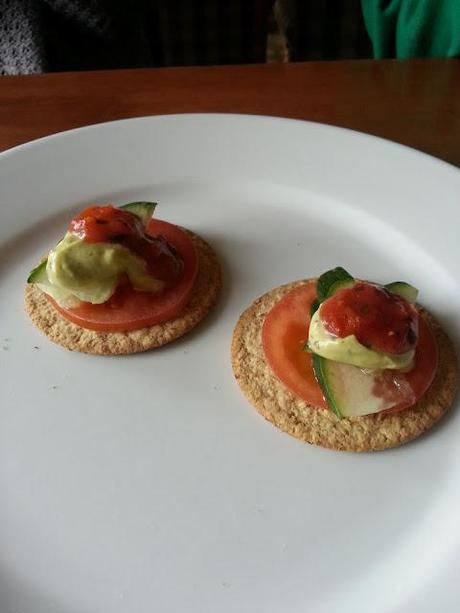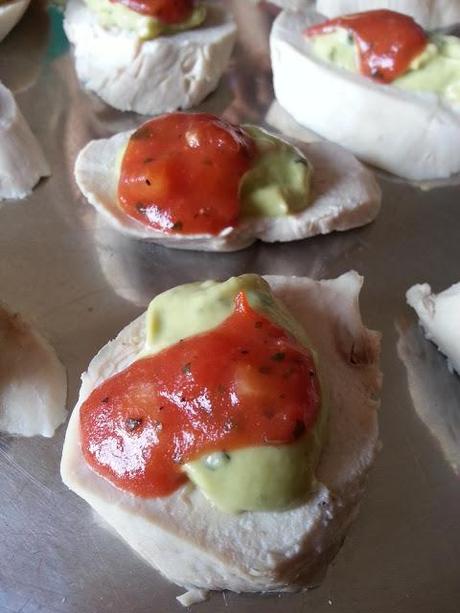 Some of the sorts of snacks we'd have
All I recall next was being super hungry and having an ice bath.  There was a a couple of animal cracker biscuits in my handbag and a piece of babybel cheese that kept talking to me all weekend!  Even though it was only a few days it really made me realize that without knowing I heavily relied on sugar.  I don't eat vast amounts of chocolate or junk food but I hadn't realised my food choices were lacking so much in protein.  I vowed after bootcamp I'd change my eating habits and my diet.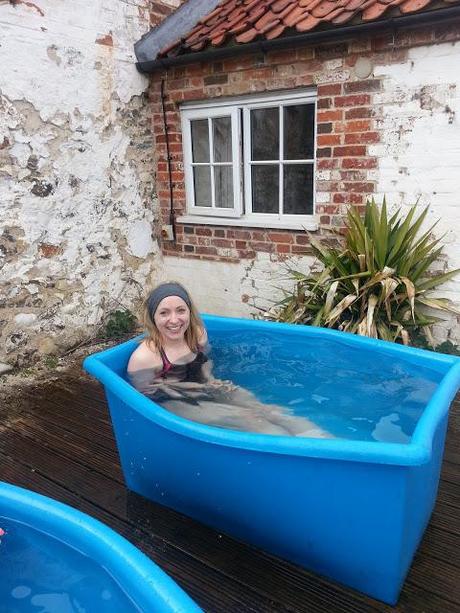 The ice bath was really scary, I thought I'd be fine but as soon as I took the towel off that was wrapped so tightly around me I felt ill! In we dipped and getting your shoulders down was hard, a bit like when you've been sunbathing all day then go for a dip in the sea! I learnt that if I didn't move too much it wasn't too bad!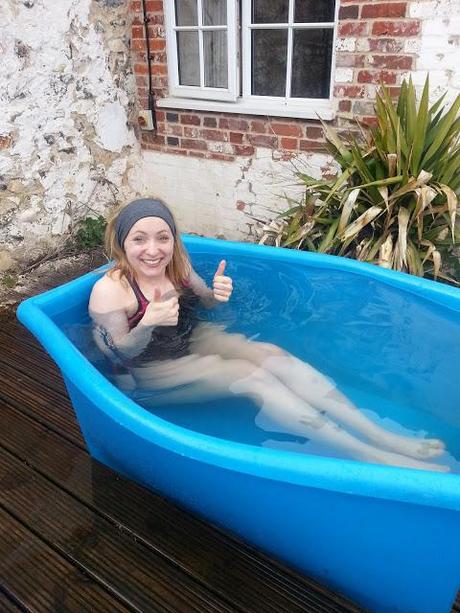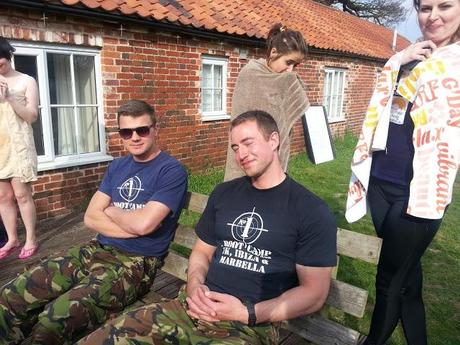 Will & Ali finding it all very entertaining... it's great when your sat all nice and dry!
 Our final morning itinerary
The next day was a bit broken as we all felt quite poorly so we didn't do the entire morning as planned.  I must admit I absolutely loved our first challenge which was lifting a huge tire and flipping it over along the track and back again in a race. Then we had to carry the tire as many times across the track as possible before dropping it... I managed 3 and a half times which made me the winner! My competitive streak had really come out and I was pushing myself constantly.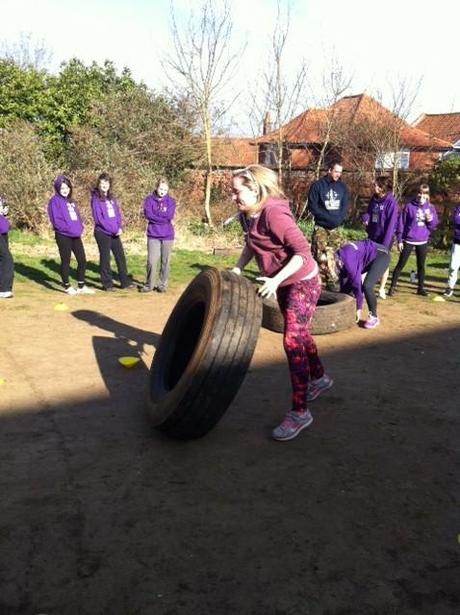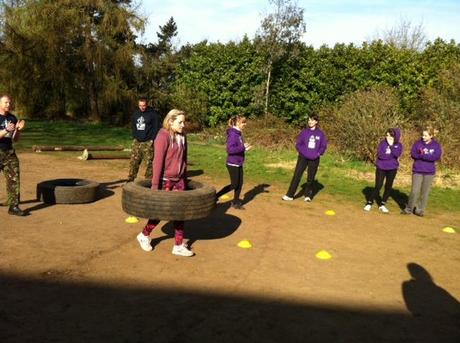 One thing I did discover at camp was my exercise faces.  Yes I make exercise faces!  Mainly of strain (see above) so I am certainly no model when it comes to fitness.
We then had a wooden post challenge.  We had three sized wooden posts that we had to lift up and flip over as quick as we could.  This looked quite easy but the largest pole was extremely hard to get a grip of and throw over!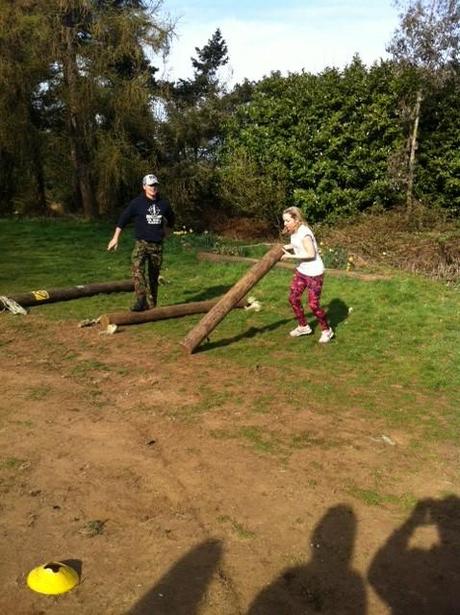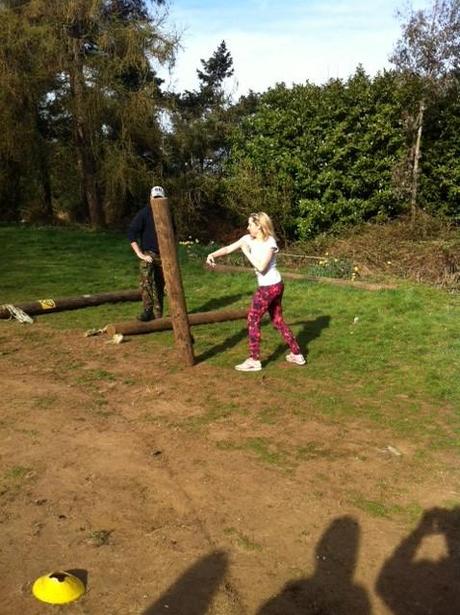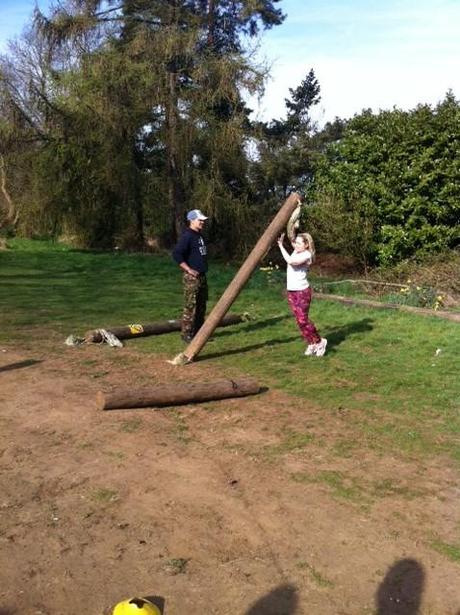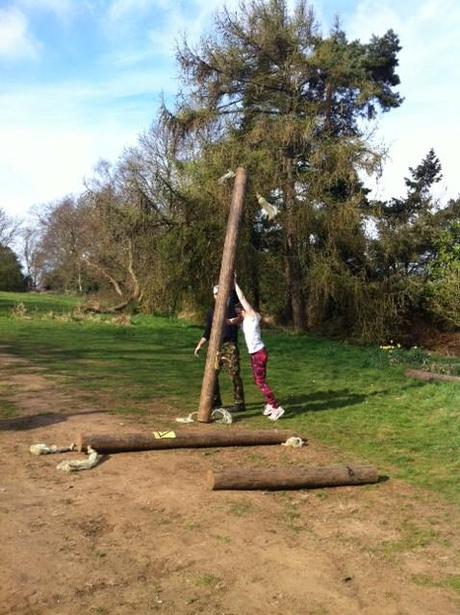 After we'd been log throwing and tire lifting we had a nutrition chat from trainer Craig.  It certainly gave us some great foundations to take home and build on.  I took on board everything he said and have tried to stick to them ever since I returned home.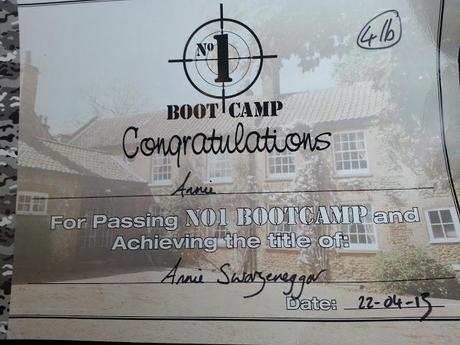 My bootcamp certificate with my bootcamp title; Annie Schwarzenegger
To round up my entire visit I can honestly say it was well worth it.  If you want to lose weight or generally get back on track with your fitness this is worth every single penny.  The trainers Craig, Will & Ali were fantastic, pushing us all the way and giving their help and advice. The house team Paula and co were super as they made us very welcome and at ease, it was an extremely friendly place with absolutely magnificent surroundings.  If you want to get away and exercise this is just stunning. 
I discovered when I set my mind to anything I can truly achieve it.  I learnt I was much stronger than I thought I was as I'd of never imagined being able to flip a tire tractor, or carry an old wooden telephone post!  I did feel very tired on the way home but if anything I wanted to have good nights sleep and get cracking the next day.... and I did, up at 6am going for a run.   I won't lie I felt achy but amazing.
Fantastic company with my new friends and an amazing experience, a huge thank you to Travel Supermarket #HolidayHealthClub for such a great long weekend! 
If you want to have a look at my lovely bootcamper buddies blogs, have a peak at the ones listed below.
Jess @ Copper Garden
Sabrina @ A Little Obsessed
Maddie @ Maddie Elizabeth
Marin @ The Hi Fashion Site
Remie @ Remie's Luxury Blog
Ali @ Bunn The Baker
Scarlett @ Scarlett London
Shay @ Shay In Wonderland
Cameron @ A Londoners Closet
Jessie @ We The People
Hannah @ Raspberry Kitsch
Catherine @ Perfectly Polished
Lucia @ Style Confessional
Amelia @ Love Mealie
Hana @ Beauty In Brief
Jess @ Feeling Stylish
Katrina @ Carousel Diary


xoxo