No surprise here folks, but it looks like there WILL BE a Magic Mike 2.  When Collider interviewed True Blood's Joe Manganiello about his new film "Sabotage," the actor offered a surprising update on Magic Mike 2, revealing that filming is poised to get underway this fall.
When they asked if he was still hoping to do the Magic Mike sequel, Manganiello told them that it's actually moving forward later this year: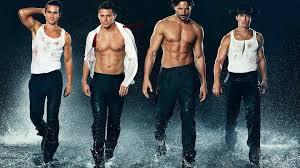 "Yeah, it's gonna happen this fall. I think they're going to announce it soon. It's crazy. I didn't think that would be my first franchise. I never thought that would ever be the direction of my career. But that said, it's just proof that I don't know best, all the time. It was the most fun I've ever had, and I can't wait to get back in and mix it up with those guys."
A director has yet to be announced for Magic Mike 2, but there has been speculation that Channing Tatum might actually co-direct with his producing/writing partner Reid Carolin. The two are looking to direct something in the near future, and recently met with producers about helming the crime thriller The Son. That said, there's also the possibility that Tatum may opt to simply act in and produce the Magic Mike sequel, in which case another director could be brought in to take the helm.
source: collider.com