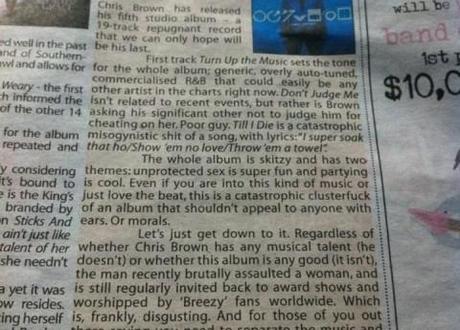 Chris Brown album review
The background
American R&B star Chris Brown's latest album Fortune has not impressed music critics or online audiences. It has a 41 out of 100 rating on review round-up website Metacritic (from 13 reviews) and a 3.9 out of 10 user score (based on 58 ratings).
Repugnant, catastrophic
But the really bad news for Brown is that one particularly nasty (and pretty damn funny) review in Australian magazine XPress Magazine has gone positively viral thanks to hearty plugs on influential websites including BuzzFeed, Reddit and NME. The review by freelance journalist Chloe Papas is truly savage and describes the "repugnant" 19-track record as a "catastrophic clusterf*ck of a album which shouldn't appeal to anyone with ears. Or morals." The track Til I die is labelled a "catastrophic misogynistic sh*t of a song."
"Regardless of whether Chris Brown has any musical talent (he doesn't) or whether this album is any good (it isn't), the man recently brutally assaulted a woman, and is still regularly invited back to awards shows and worshipped by 'Breezy' fans worldwide. Which is, frankly, disgusting," insisted Papas. "And for those of you out there saying you need to separate the music and the man; screw you, don't encourage his actions."
Read the full review here.
My Chris Brown review is featured on REDDIT today. REDDIT. So I can die happy now: reddit.com/r/funny/commen…

— Chloe Papas (@chloee24) July 31, 2012