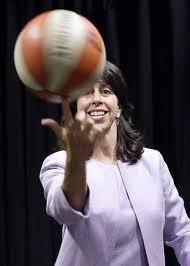 The PGA of America has engaged former WNBA President Donna Orender as a consultant to lead the Golf 2.0 "Connecting with Her" strategy, a key component in the industry's overall goal of reaching forty million golfers by 2020. 
Golf 2.0 is the new long-range strategic plan for the golf industry to substantially increase the number of golfers, the rounds of golf played and the revenue generated from golf over the next decade among current and potential consumers of the game with three core strategies:
"Retain and Strengthen the Golfing Core;" "Engage Lapsed Golfers;" and "Drive New Players" to the game.
If Orender wants to be successful in reaching her goal, start by attracting more women to the publinks. According to Greg Nathan, VP of the National Golf Association, "When women are made to feel as welcomed and comfortable at public courses, their play will go up." Women also bring with them the "power of the purse" which will increase revenue in other areas of the sport such as clothing and golf  equipment.

Although I feel welcome, I am in the minority as I am comfortable with my level of play. I also actively make it my business to go out as a single golfer and meet and greet other players. Most women feel more confident playing golf with their peers, playing from the same tees. Waiting at the front desk of a public course, you will see about one in every ten golfers is a woman. 

In order to reach potential women golfers, it's also not enough to provide TV coverage hoping that women will see other women playing a sport and want to play it themselves. This new consultant is going to have to cross the great divide reaching out to sports fans in tennis and basketball to make golf more visible, fun and easy to start for non-golfers interested in fashion, travel, and exercise for example.

Orender, who served as Women's National Basketball Association (WNBA) President from 2005-10, after working 17 years with the PGA Tour, is the founder of Orender Unlimited, a marketing, media and strategy company in Jacksonville Beach, Fla.
During her tenure with the PGA Tour, Ana Leaird, PGA Tour's Director of Public Relations and Media Operations said of Donna Orender, "Since she's been here, tremendous opportunities have opened up for other women. I call it the ripple effect."

Does she play golf? Not that it's necessary for Orender's new position but, in my opinion, it's important to be able to identify with the core group you will represent in order to understand their needs and desires. And, the answer is yes, she does, according to her tweets, @DonnaOrender.

In her consulting role with Golf 2.0, Donna Orender will:
steer industry efforts to grow women's golf participation;

identify and shape female-specific programming;

create a welcoming environment for more women to enter the game.

guide the establishment of partnerships with top women's organizations to leverage knowledge and resources in support of facility adoption and programs. 

position golf as an anecdote for women achieving balance in their busy lives, all the while pursuing good health, business networking, and family time in a fun-filled environment.
Perhaps Orender should also be working with Mike Whan and the LPGA to stop the losses of golf tourneys?
According to Golf Digest's Ron Sirak, "women will have played a woeful 23 contests this year -- only 11 of which fielded 144 or more golfers -- and competed for the fewest dollars since 2001."
"The PGA is thrilled to retain Donna Orender to lead in the strategic development of our 'Connecting with Her' initiative for Golf 2.0," said Darrell Crall, PGA senior director, Golf 2.0, for The PGA of America.
"Donna's expertise in steering the growth of women's sports at the highest level will be critical in guiding the golf industry, as we tap new initiatives to appeal to women, who represent our game's fastest growing demographic."
Among Orender's many accolades are being named to the 2005 Sporting News' Annual Power 100, 2005 Fox Sports.com's 10 Most Powerful Women in Sports, and the 2007 BusinessWeek's Power 100 Sports lists.
"Donna Orender's name is synonymous with the growth of women's sports nationwide," added Crall.
"We are delighted that she will serve as an advocate in the development of new programs for women to positively connect with the game of golf."
"I'm excited by this incredible opportunity to make a difference in people's lives through the game of golf," said Orender. "Our goal is to build dynamic and engaging growth-of-the-game programs that passionately appeal to women on both a personal and professional level."
Will Orender be successful retaining/bringing more women into golf?
Voice your opinion on Twitter @Golf4Beginners and friend us on Facebook.