By Susan Duclos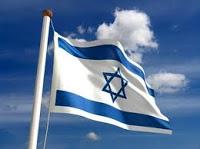 According to the newly published translation of an interview with Muslim Brotherhood's Mohammed Morsi, the ousted Egyptian president denounced the "Palestinian Authority as a creation of "the Zionist and American enemies for the sole purpose of opposing the will of the Palestinian people," and continues on to assert there can be no peace with "descendants of apes and pigs,"meaning Jews.
Morsi had also called for boycotting U.S. products.
The video below has English subtitles provided by
Middle East Media Research Institute
(MEMRI).
Transcript excerpts here.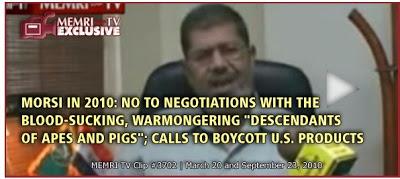 Related
: The Muslim Brotherhood is now claiming that Egypt's new interim president Adli Mansour is Jewish.
Via Washington Post:
Still, the IkhwanOnline article suggests that some elements of the Muslim Brotherhood may be indulging in conspiracy theories that ignore their own role in public outrage about Morsi's rule and may be promoting the anti-Semitic ideas that engendered so much international skepticism of their rule. There is no indication that there is any truth to the article.
The original claim has been taken down, but has been
republished here
.
(Corrections made to headline and post)