"Where shall we meet on Saturday?"
"Uhmmmmm, Don't know."
"Waaaaay too early for Red Cups and Gingerbread lattes"
"Yeah, certainly is – even if they do taste so good!"
… [pause for contemplation of christmas coffees from Starbucks] …
"OH! There's this new place on Frederick Street that I want to try"
"OK, what's it called?"
"Fredricks Coffee House"
That's pretty much how the conversation went on Friday when Mel and I were deciding where to meet on Saturday morning. I'd never heard of the place, let alone having actually visited and so it was settled – time to try somewhere new and independent.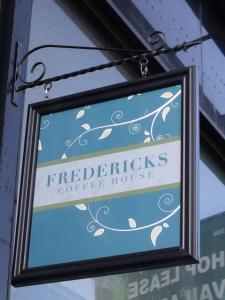 With the sun shining (as previously mentioned in Weekend Walkies) the city centre seemed full of people and whilst some people were under the gross misapprehension that when it's sunny in this city it's also warm others, like us, had planned ahead. After a little bit of shopping (read: laughing at some of the ridiculous gift sets you can buy people for Christmas – leopard print cards, really?) it was time for the all important caffeine boost.
When you walk up the (slightly dingy) stairs – Fredricks Coffee House is on the first floor -you are greeted by a couple of trees in pots and glass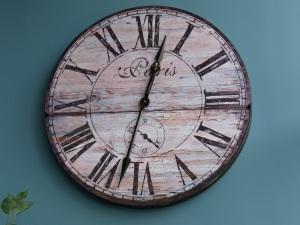 door that looks like an oversized PVC window. Perhaps not the best start, but everything is different when you come into the brilliant light of the main room. The enormous picture windows cover pretty much the entirety of the wall looking out to the street and fills the room with so much light that you stand blinking for a second. Once that's over you realise that this is like going for a coffee in someone's front room. Well, their front room and the one they've knocked into next door.
Borrowed from Edinburgh Coffee Lovers:
The walls are a fresh, bright blue with an asortment of chairs and tables of various sizes, a few sofas and a cow hide rug thrown in front of the fire for good measure. We opted for a table in the window, with a view up to George St (or down to the tram works, depending on what direction you were facing) and out on to Fredrick St itself – a perfect table for people watching, as it so happened. We went fairly basic with our orders, ordering a double shot capachino and a double shot americano. They duly arrived (my
americano with the tiniest thimble of warm milk, so small 'cute' is the obvious word to describe it, probably for the best that I drink it black), mine in a slightly oversized cup but tasted great. Despite a rather appetising snack/light bite menu we were only there for coffee and so decided to share a muffin, which also transpired to be a good idea as our orange and cranberry treat was at least the size of the saucer and definitely as tall as the coffee cups, in saying that though it was rather delicious (and didn't last very long).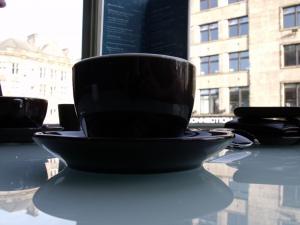 We actually stayed at our spot by the window for quite a while, happily soaking up the sun and watching the passers by below. During this time we struggled to come up with a way of describing the place without sounding a bit twee. It's quite quaint (but that's vastly over used in this city, usually along the lines of "GEEEEE! Ain't this place so quaint?") and it's just nice (which tends to have the implication of: A, actually being a little dull and B, used in the phrase "It's nice, but…") but neither of these really convey what we mean by them. The best we can come up with – apart from going for coffee in someone's living room – is it feels like it should be in St Andrews, or some other medium sized town, or perhaps somewhere out in suburbia, but not really in the New Town. But that, I think, will be its major success. The New Town by its nature is full of utilitarian coffee chains to which you go just to get your coffee, or perhaps to sit down for five minutes; where as with somewhere like Fredricks Coffee House it is more about sitting in and enjoying your coffee and conversation in a relaxed, calming environment. So Fredricks might be a little out of the ordinary for its location, but I'd say it may well be that little oasis of calm that serves great coffee we all want – even if it really should have an apostrophe in its name.
Cr