While we're sad to see the end of Sookie and True Blood, we applaud Anna Paquin to be celebrating the transition; and she's done it in a BIG WAY.  We hear though that this is a step back to her natural hair color and therefore, may not last too long, but while she keeps it, we'll be happy to join in the celebration. Bravo Anna!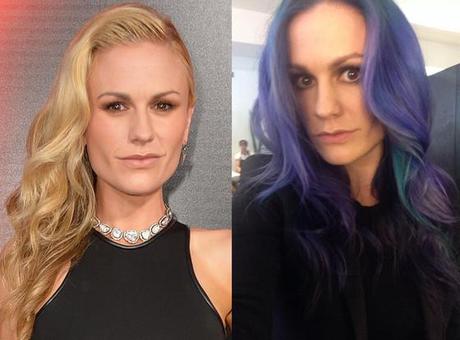 She proudly showed off her anti-Sookie look on Twitter, captioning the photo with:
"@Auracolorist just fulfilled my teen dream of being a mermaid. @_smoyer whatcha think?"
Anna's husband Stephen Moyer was quick to respond, clearly loving the look.
"Wow wife… You look amazing. #sookie is no more :( Long live Mrs Emery…! Xx #TrueToTheEnd #tbs7 #trueblood," he tweeted.
Anna was itching to dye her hair for a while, and when asked on Twitter on July 6 if she planned on dyeing her hair after True Blood, she responded,
"I'm changing my hair color as soon as I'm done."
And if Anna was going for a mermaid chic look, she totally achieved it with her candy-colored tresses styled in beachy waves.
source: eonline.com