It has been a while since I have blogged.  That's because my life has been a whirlwind of activity lately, with me taking on some things that have made my life busier than ever:
I am training for my

first marathon

, which takes a lot of time.  I get up early to do my workouts (and go to bed early so I can get up early to do my workouts), so this hasn't left a lot of time for my social media addiction.  I have, however, made time to chronicle my adventures in training for this event in another blog, which you can check out

here

.  I find that I just have enough mental energy to write about my workouts before sleepiness takes over each night.  Just be forewarned that I write a little more casually in that blog.

  

I have been exploring other opportunities for my career.  More on that in another post.

I have a student teacher this semester.  I love giving back in this manner, but it takes a lot of time at the start when the student teacher is getting acclimated and finding their own footing, style, and voice.  But I do like to give them tons of room to experiment, to test, and to fail, so they can learn how to be learners along with my students.
However, I do have some ideas and practices that I have started with my students that I would like to see my student teacher also implement as well, not only to maintain basic continuity between teachers but also to continue the ongoing process of thinking skill development (which, like marathon training, takes a lot of time).  One idea with which I have been experimenting (science teacher pun intended) lately is phasing out multiple choice as much as I can from my classroom.
I know that students supposedly need practice at answering these questions because of those tests they have to take as juniors at the high school level here in Illinois, and they are still going to get that practice on our common assessments that have already been developed in our departments and which are mandatory for me to use.  But, as far as giving me useful information about where my students' learning is, I am pretty much trying to get rid of the methods of assessment as much as possible that were developed to be convenient for the teacher and which have inadvertently developed a need in our students for a quick bubble to fill so they could move on to the next question and finish in the allotted time.
Also, I have had an increasingly hard time giving out assessments to students where the element of chance (i.e., guessing randomly at the answer) can blur the picture of what my students know and don't know--it doesn't help me design effective instruction to meet their needs, and it doesn't help them see where their true learning gaps are in order to determine the next steps for fixing their broken knowledge.  
In short, handing out multiple choice just doesn't make sense if you really want to see what students know, understand, and are able to do.  Not even the teacher that tried to convince me one time that multiple choice is the only type of score that should go in the gradebook because it is "purely objective" can change my mind on this one.
So what am I doing instead if I'm not handing out traditional comfortable, easy-to-score-but-muddy-to-interpret multiple choice questions?  One thing I am trying to do is implement more of what I call "Show me that you know it" days.  Since I put my student objectives in my gradebook rather than tasks, students can log in to the online gradebook and see which objectives at which they are not proficient, having been assessed primarily through their blog posts and the screencasted feedback I give them these days.  Then, students can decide how to fix the problem (often by discussing with other students), and then go fix it.  They are then responsible for showing me that they have fixed their understanding in a manner that they have chosen and is comfortable for them.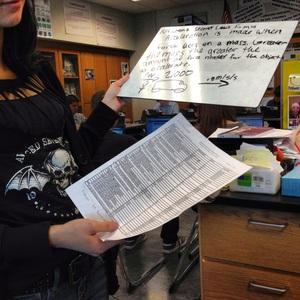 Whiteboards are a popular choice. Do these days give you huge payoff in helping you and your students see what they still don't know?  You betcha.  Better than any multiple choice assessment ever has in my sixteen-year teaching career.
Does it force the student to really look at the learning objective and see if they can do what it says?  Every time.  I send students back for fixing multiple times at first, simply because they have not read the objective.  For example, I have an objective that reads, "I can draw and summarize Newton's 2nd law of motion."  Students see the law of motion, go copy a definition from the internet, and then come back and show it to me.  I then have to have a conversation with them about what the objective says, what the verbs "draw" and "summarize" mean, and then ask the student to verbalize what exactly they will do to meet the objective.  I then send them back to go do that, and come back and see me a second time.  It's all about emphasizing to students to make their own meaning rather than steal someone else's.  
Do these days help you have more meaningful one-on-one conversations and relationships with students?  Absolutely, and that's my favorite part.  I feel like I really know my students as learners by having these fixing knowledge days, and I feel like I have made much more solid relationships with my students by sitting down and discussing not only science stuff, but what they could do to learn the science stuff.  Even though I have a 1:1 classroom, these conversations are still crucial.  It helps my students get their eyes off their screens and onto their learning.  Discussions with me and with other students about what they don't know and what they will do to fix what they don't know are still key to helping younger humans learn--and students can still have discussions while having devices in front of them.  
Do these days take a LOT more time?  Absolutely, but the time spent is so well worth it.  If we're ever going to break our students of the mindset that school and learning is about copying stuff from the internet, a book, or a teacher's brain, then we've got to carve out the time to help our students be better learners.
I know it's going to be hard for my student teacher to really see the value of these days, especially since teacher preparation programs are more concerned with what the teacher is doing rather than how the student is learning (I noticed on my student teacher's evaluation forms that all of the areas are concerned with what she is doing in class--there are no discussions or areas of rating for what the students are doing to learn and to support their own learning).  
But these "Show me that you know it" days are something that I am going to make sure keeps happening.  I know she won't be comfortable with not giving multiple choice to my students, but one thing I will keep emphasizing to her is this: often what's best for students isn't the easiest for us.