When Kyla of House of Hipsters asked if I wanted to be apart of the No Makeup Home Tour she was hosting, it was an immediate 'yes' from me. I feel like it's easy to only share the pretty shots of our homes online, and for the most part I feel like that's what people follow along for: inspiration. But only posting those perfectly coifed shots, starts to set an unattainable standard of perfection that's just not feasible if you have a family, actually live in your home, or are a real, live human person. All this to say, here's a raw look at my house: dirt, cluttered shelves, baby bottles, and cords in all it's everyday glory. Eat your heart out!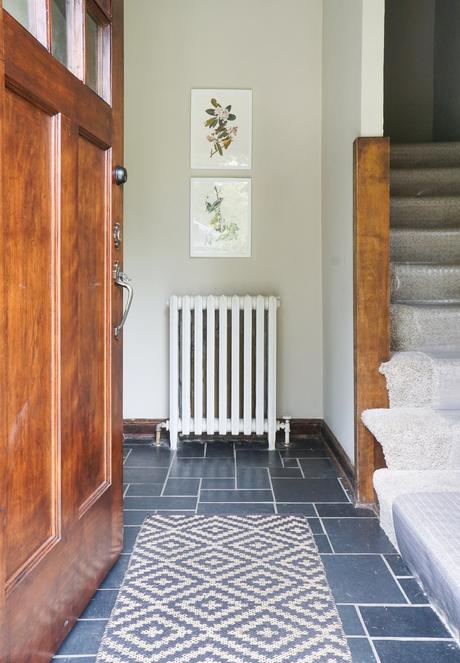 Our home is a duplex. This first image is a shot of our foyer where we split between units. The stairs lead to our tenant's upstairs apartment and turn left from the foyer and you'll find yourself at the door to our home on the main level. I don't often use the word 'unit' in relation to our space, as it takes any ounce of homey-ness right out of our home. Sometimes I call it the 'owner's suite', but that seems too pretentious for a no-makeup post, so I'm sticking with 'unit'.
I don't share this space often because we really haven't touched this area since moving in, other than refinishing the front door, adding a plastic runner to protect the carpet (très chic, oui?), and throwing in a few accessories. The previous owner put in this black slate, which I really actually like, but it's really tough to keep looking nice as it shows EVERYTHING. I have a pretty Moravian Star on order for in here and one day I'd like to paint it a moody, dark color.
I keep our office/guestroom pretty sparse, so it's a blank canvas for working on projects and photographing them along the plain, white wall. I have a collaboration coming up with Sara from The Forest Fern, and so that's the black tassel project you see hanging on the moveable rack. When I'm photographing projects in here, everything often gets piled on top of itself in the corner with the wall shelves-out of lens view.
Guest linens are stored above the murphy bed and all my background substrates (like foam core and matte boards) are stacked vertically next to it.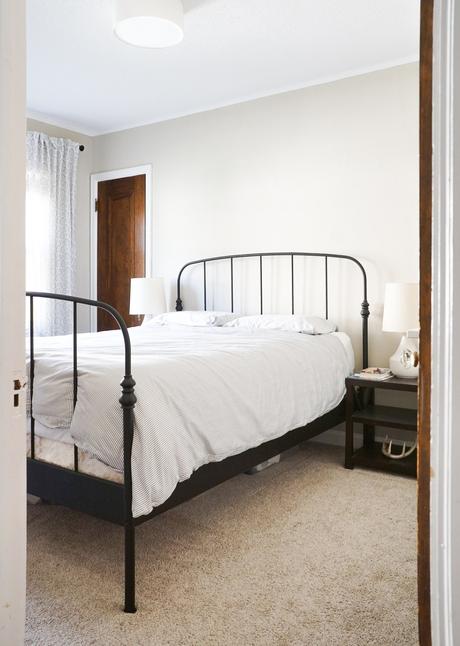 Our bedroom-where do I begin? It's just kind of a forgotten room that I *hope* to tackle soon. It's still painted the previous owner's blah beige, along with the previous owner's blah beige carpet. I dream of tearing out this carpet, but someone in the last 90 years, laid asbestos faux wood vinyl tile OVER the hardwood floors in here and the nursery. Ugh.
Sylvia's room stays pretty clean these days, because as a 7 month old, her toy situation is still pretty manageable. I have these cute Emily Windfield Martin prints that I want to frame out above the changing table eventually.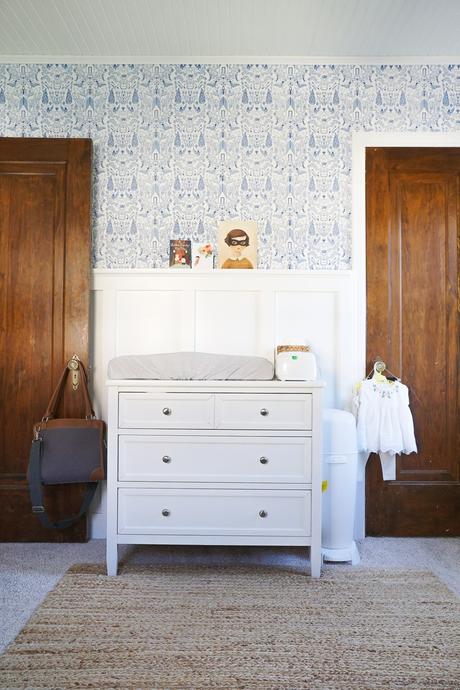 Thanks for stopping by today! I've linked to all the uber-inspiring bloggers' real-life home tours below so make sure to go check them out as well. And a big thank you to House of Hipsters for organizing the tour! I'm hoping to do more IRL peeks in my Instagram stories too, so if you enjoyed today, hop over to Instagram to follow along!