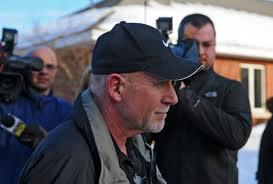 Post Star reports
Edward O'Rourke, whose son used a gun he found in his father's bedroom to accidentally kill his 12-year-old friend in December 2010, pleaded guilty to a misdemeanor Thursday and will serve no jail time.
Edward O'Rourke, 58, pleaded guilty in Saratoga Springs City Court to child endangerment. To the dismay of Naumkin's parents, Judge Jeffrey Wait sentenced O'Rourke to no jail time or probation, but banned him from owning firearms and required him to submit a DNA sample to the state's database.
A misdemeanor conviction can carry up to a year in jail or up to 3 years of probation.
O'Rourke's son, then 12, killed Nicholas Naumkin on Dec. 22, 2010, while the boys were alone in the O'Rourke family's home on Birchwood Drive. Edward O'Rourke kept the 9mm pistol in an unlocked drawer, according to prosecutors.
Disarming guys like this is the most important thing. Jail time serves no purpose other than to satisfy the revenge fantasies of the victim's family.
What's your opinion? Please leave a comment.