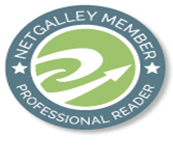 No Dominion by Louise Welsh
Published by John Murray
Ebook
Expected publication 15 August 2017
384 pages
NetGalley
Connect with the author
Buy the book: affiliate's link
I was given an ARC by the publisher via NetGalley and voluntarily reviewed it.
WHAT'S IT'S ABOUT
It is seven years after the first outbreak of "the Sweats" destroyed the world, almost overnight. Two refugees from the death and decay of London, Stevie Flint and Magnus McFall, have both washed up on the Orkney Islands. A rural community clinging to survival, the islands are home to a generation of youth who barely remember a time before the pandemic. One of them, Magnus' foster son, Shuggie, is fourteen years old and angry as hell: he and his young friends blame all adults for the loss of the technological and scientific wonders of the past.
When the foster parents of Shug's girlfriend, Willow, are found murdered and the young couple vanishes without a trace, Magnus fears the worst. Refusing to believe they could have committed the crime, and in order to find Shuggie and Willow before something terrible happens to them, Magnus and Stevie set off on a quest into the decaying city of Glasgow-and into the heart of a post-apocalyptic landscape they tried to leave behind when they fled the chaotic streets of London.
OPENING
Seven of the children on the Orkney mainland were survivors of the Sweats.
WHAT I THOUGHT
No Dominion is a fantastic conclusion to a great trilogy. I loved the first two books, A Lovely Way to Burn and Death Is a Welcome Guest. These books are not obviously linked and can be read separately. The link appears at the very end of Death Is A Welcome Guest. The link between Stevie and Magnus stories comes into full force in No Dominion. I love post-apocalyptic fiction so No Dominion was a joy to read. This is a bit more intense and violent than the other two books but the violence is necessary to tell the story. I absolutely loved the world created in this book after Stevie and Magnus are forced to leave Orkney. They realise just how sheltered their lives on the island has been. The world after the Sweats is harsh, dark, brutal and terrifying and my heart was in my throat as I read the book. I felt awful for Stevie and Magnus as their life starts to unravel and they realise exactly what horrors were waiting across the water. There are a lot of dark scenes in this book but I felt they were necessary. I was hooked from page on of No Dominion. This is a cracking end to a trilogy and I would highly recommend it.


Published