This post may contain affiliate links. Please read my disclosure.
Healthy, no-bake peanut butter balls! They are easy to make, super delicious, kid-friendly, and decadent; but are also vegan, gluten-free and low in sugar. At less than 100 calories, they make for a healthy and tasty snack or dessert!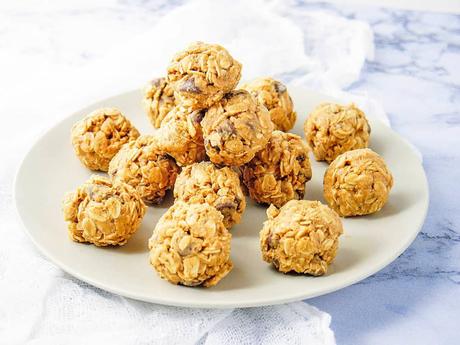 These tasty No Bake Peanut Butter Balls (or, as my daughter likes to call them, "Cookie Bites") are so satisfying, they're the perfect guilt-free treat!
With just 5 simple ingredients, they're easy to make and are a really great way to get kids involved in the kitchen. Layla absolutely loves making them with me, and it's something (at the age of 5) that she can pretty much do all on her own. I love cooking with kids because it's really wonderful to see them get excited about creating something for the whole family from scratch. It fosters creativity, inspiration, ownership and a love of food, and it's especially helpful for getting picky eaters to try new things!
Tools and Equipment You'll Need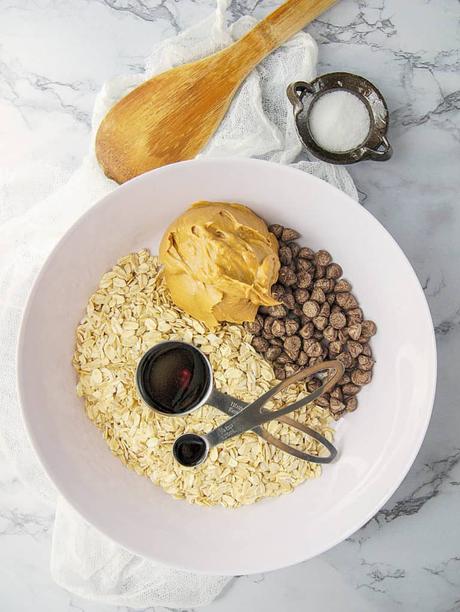 How to make No Bake Peanut Butter Balls - step by step
Step 1: In a large bowl, using a wooden spoon, stir together the oats, peanut butter, chocolate chips, maple syrup, vanilla and salt until combined.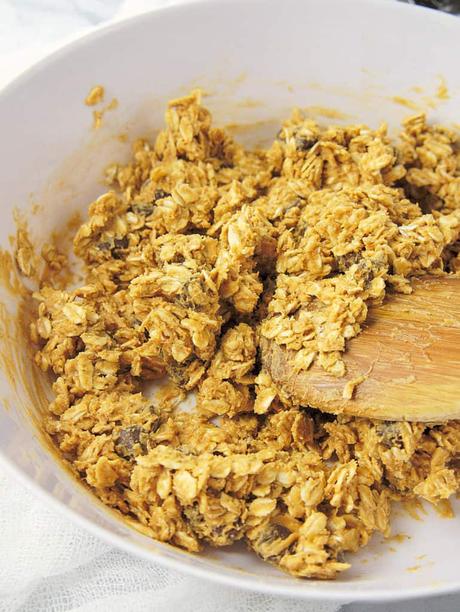 Step 2: Line a baking sheet with parchment paper. Taking small handfuls of the mixture, roll them into small balls 1-2 inches in size. Or you can use a cookie scoop. Place them onto the baking sheet.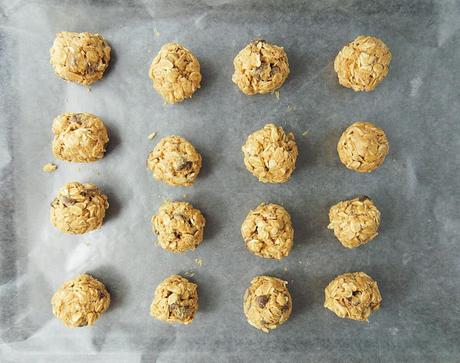 Step 3: Refrigerate the bites for 30 minutes or until solid. Store in an air-tight container in the fridge (they will last at least 1 week, and likely 2!)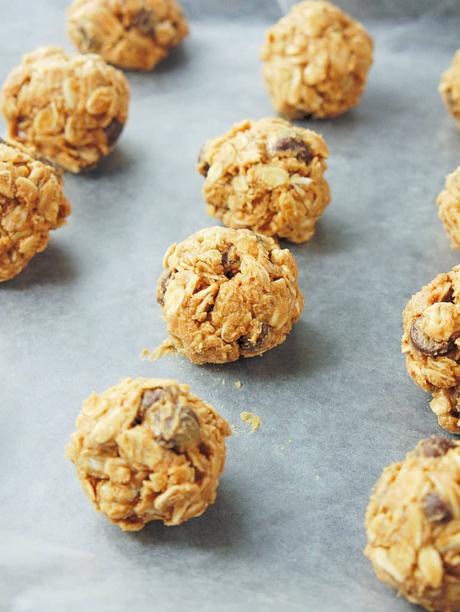 What Makes These No Bake Peanut Butter Balls Healthy?
These tasty bites are gluten-free, vegan, vegetarian ... but they taste decadent and indulgent! Here are some of the reasons why they're so good for you:
Low in sugar: You don't need a lot of maple syrup or chocolate to make these bites sweet. A little bit goes a long way. You won't believe that each of these cookie bites has less than 4g sugar and less than 100 calories - because they really do taste naturally sweet.
100% whole grain: Oats are a heart healthy whole grain. They are rich in fiber, manganese, phosphorous, magnesium, copper, iron and zinc.
Healthy fats: Peanut butter (and all nuts/nut butters) are rich in healthy fats!
Will kids enjoy these no bake peanut butter balls?
This is one of the best kind of kid-friendly treats: kids love it, and it's actually good for them! My kids are always super excited when they know this is on the menu for the week. It's perfectly sweet, easy for little hands to hold, and the chocolate makes it feel like dessert for them!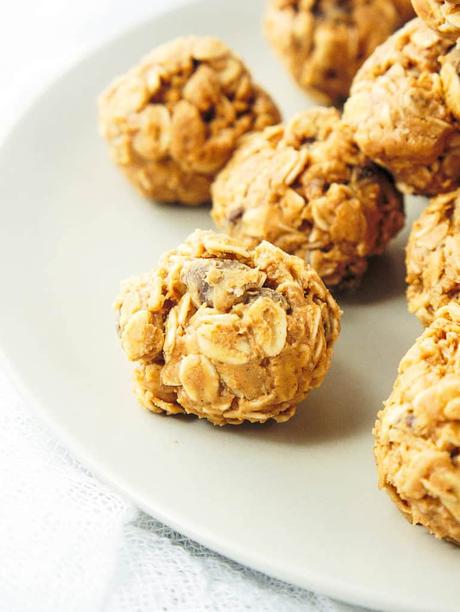 How long does it take to make peanut butter bites?
These are no-bake, so they do require some time in the fridge (at least 30 min) so that they can come together. But they require only 15 minutes of active time from you! Then all you have to do is wait for them to chill!
How do you store these peanut butter balls?
These peanut butter bites are perfect for an easy make ahead dessert. They keep well in the fridge for over a week. This recipe makes a batch of 16, but if that's not enough for you, the recipe is easily doubled!
Top tips for making No Bake Peanut Butter Balls
Use a cookie scoop to get the balls all the same size.
If you or someone in your family is gluten intolerant, be sure to use gluten free oats.
This is such an easy recipe for kids to make - get them in the kitchen!
If you don't have peanut butter, try almond butter as a 1:1 substitute. Other nut butters should work as well, but the bites might have a slightly different consistency since some nuts create "more thin" butters than others!
If you want to make these truly sugar free, you can omit the maple syrup and they will still taste pretty good 🙂
Store the bites in an air-tight container in the fridge for up to 2 weeks!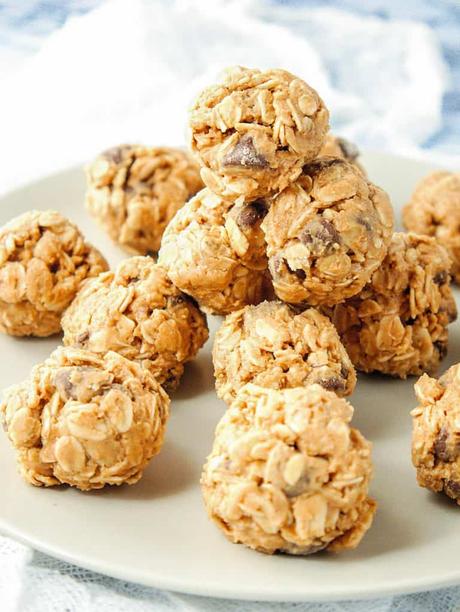 Be sure to check out these other tasty treats!
If you have tried these no bake peanut butter balls, or any other recipe on my blog, then please rate it and let me know how it turned out in the comments below! You can also FOLLOW ME on , , and to see more delicious, healthy, family friendly food!
No Bake Peanut Butter Balls